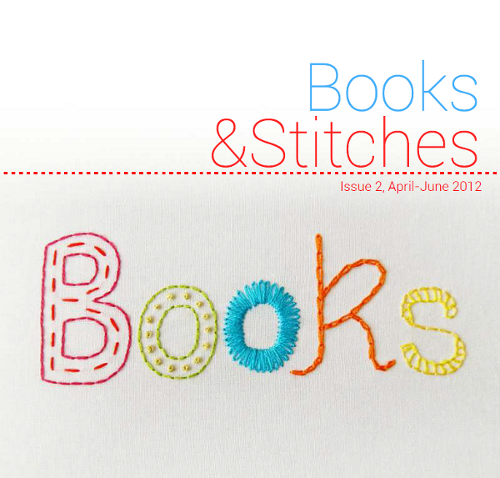 The latest issue of &Stitches zine is available and I am a contributor! This issue is all about books: embroidery books themselves, book themed patterns, fun contributors (like Aimee Ray and Cate Anevski) and a couple of tutorials for some really neat stitches (Turkey stitch).  It's a fantastic issue once again.
My project & article is all about teaching embroidery to kids.  I picked one of my favorite projects, "Poetry Pockets" that we have done with several groups of 1st and 2nd graders at the Textile Center and gave some tips for ways to teach embroidery to kids, like picking the right needle and thread.
Threading needles is always the biggest hurdle in teaching kids (or adults) to embroider, so I have a bonus tip for you, which I always show in my beginning embroidery classes: Making your Own Needle Threader.
You can get "needle threaders", which look like a little bit of metal with a wire loop on the end.  You pass the loop through the eye of the needle, put the thread through the wire loop and them pull it back so the thread goes through the eye.  Great idea, but I can tell you from experience that if you put one of these in the hands of an 8 year old boy it will last about 13.5 seconds before it is completely mangled.
However, you can make your own needle threader for large-eyed needles (embroidery or chenille) out of a tiny slip of paper.  Just cut a piece of scrap paper about 2 inches by 3/16 inches.  Fold it in half.  Lay your thread end in the fold.  Now push the fold of the paper through the eye of the needle.  Easy! (And you can make more when they get mangled.)