I'm not really a home decorating kind of person, so when Spoonflower introduced a new Grasscloth Wallpaper, I was intrigued to know what it was like, but it was pretty unlikely that I was going to be inspired to wallpaper parts of my house. So I decided to think about another project I could do with wallpaper. I have been very slowly working on a "Book Arts Certificate" from the MN Center for Book Arts here in Minneapolis over the past couple of years. I've loved book binding, marbling and paper making and have not really loved the letterpress because of major ink fumes and inaccessibility (I can't really do it at my house.) But I love working with paper.
So I decided to make a pamphlet book. I am woefully un-expert at all of the vocabulary of book arts; there is a LOT. But basically a pamphlet book is sheets of folded paper, stitched together to make a binding, with a heavier paper on the outside for a cover. With my sewing background, I love sewn bindings. So I ordered a swatch of grasscloth wallpaper in one of my designs and decided to use that as my cover. When it arrived, it was rolled up and wouldn't lay flat, so I unrolled it, slipped it under the heavy cutting mat that sits on my desk and let it flatten out for several days.
Grasscloth wallpaper is like a woven fabric backed with paper. It has a warp and weft that is very prominent, making its iconic texture. One set of threads are heavier than the other, which gives it a rib like texture. On the sample you can see at the top, the heavier threads are running parallel to the selvedge (that unprinted edge of the wallpaper sample) or horizontally across my design. This is the sisal or the grass in grasscloth. The threads running the other way are much thinner. As a wallpaper, it has a really rich looking texture. It has a very matte finish and feels like a piece of art paper when you run your fingers across it.
The first experiment I did was to see if I could fold it because I needed to make at least one fold to make the spine of my book. It folds much better parallel to those heaver threads than if you fold across them. They are brittle, so they crack rather than folding. So I decided I needed to keep that in mind when I was cutting my cover. That meant that I needed to rotate 90 degrees so that my fold and the heavier threads were going the same way. It doesn't really matter on this design, but you'd have to keep that in mind with a more obvious directional print.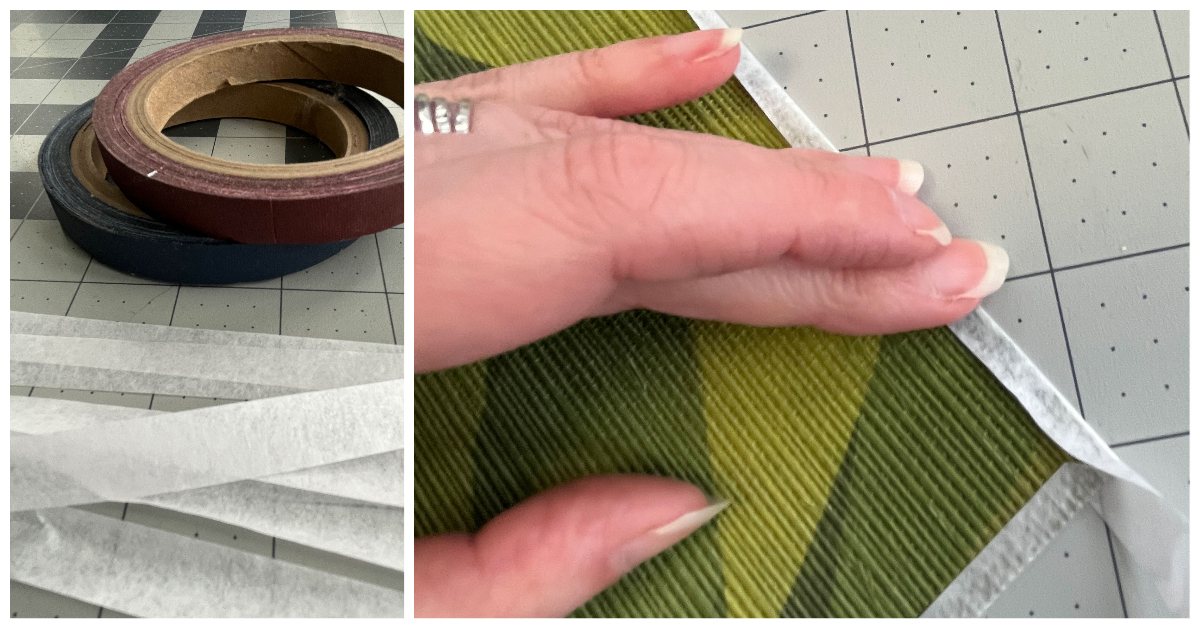 One thing I noticed right away when I unrolled my wallpaper sample was that the edges felt a little fragile. It was easy to catch the fibers and peel them up from the backing. If it was glued flat to a wall that wouldn't be so much a problem, but for a book cover it wasn't ideal. I decided to bind the edges of the cover like you do with a quilt by wrapping a narrow strip around them. I tried a fabric tape I had and some simple 1/2 inch strips of white tissue paper. I didn't have any in green, but I think that might have even kind of disappeared into this design. I made a couple of little samples and decided that I liked the way the tissue paper didn't add any bulk to the cover, so I decided to go with that. For this one, I used gluestick to attach it to the cover. I think next time I would use a brush and some PVA (Elmers) glue because the glue stick was drying so fast, it was a challenge to get everything lined up and stuck in place. I stuck it to the back and then folded over to the front of each edge of the cover. I burnished it down with my bone folder to make sure it really stuck well to all of the bumps in the paper texture. It works great and traps all of those cut ends so nothing is rough or catching.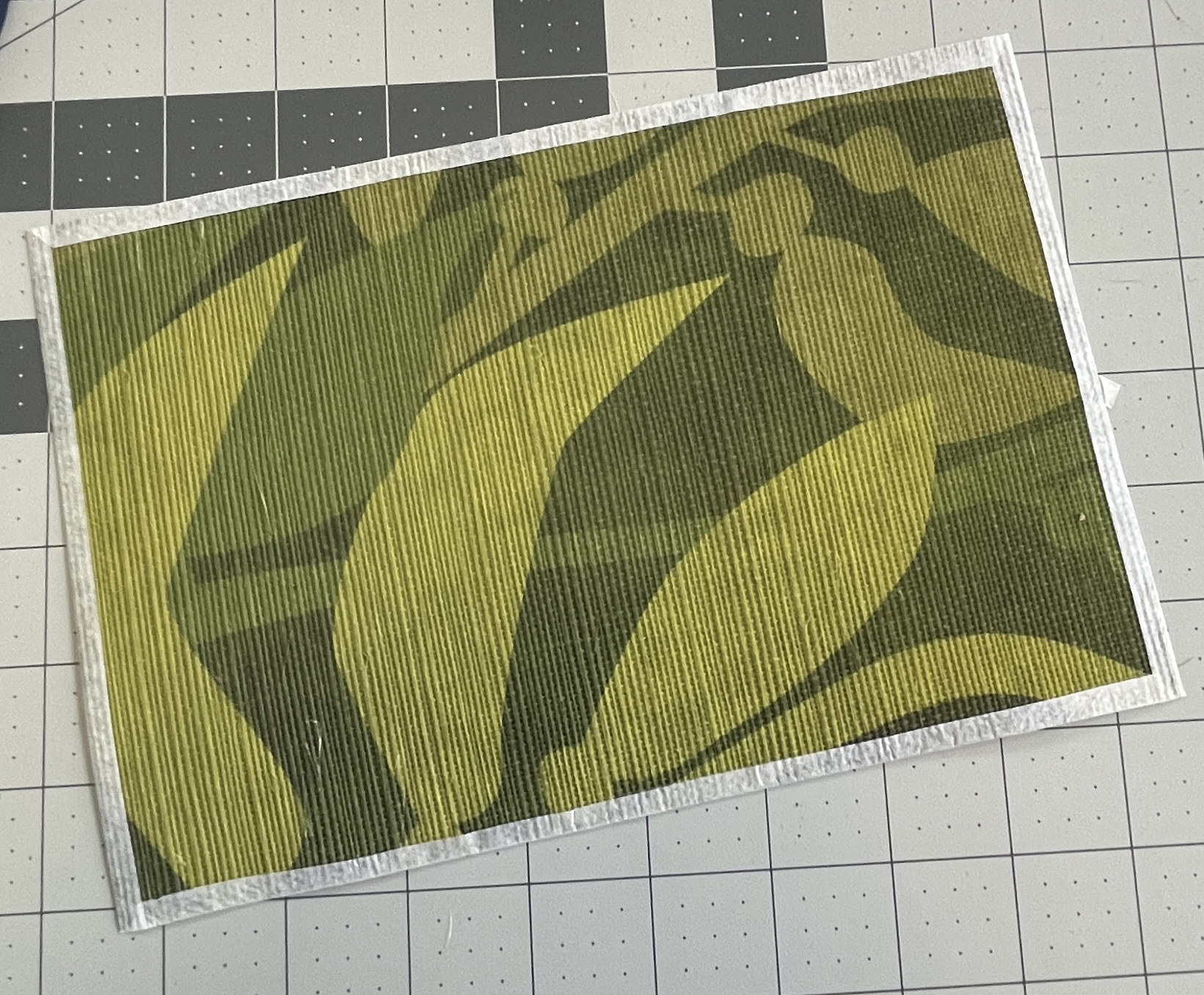 Finally I used the bone folder to score the cover and carefully fold it in half. I added the pages, which I made from some lightweight drawing paper, and used an awl to punch holes through so I could stitch the binding using some perle cotton thread. It makes a great paperback journal! I'm going to put mine under a heavy book for a couple of days to really set the fold so it doesn't pop open. If you want to try one like mine, I cut my papers and cover to 9×6 inches and the strips of tissue paper were 1/2 wide and I trimmed them to length after I glued them. Here's a really simple tutorial on how to make a pamphlet book like this. In the photo with the book cover open you can see the back of the wallpaper, which is a nice plain white paper. It comes without any paste on it, so you don't have to worry about it getting wet or sticky, which makes it a better choice for a project like this than the Smooth Wallpaper that comes pre-pasted. I will probably be able to make 4 books like this from the 24×12 inch swatch I got. It was really fun to see if this would work and I think it makes a beautiful book.