About Ada's Orchestra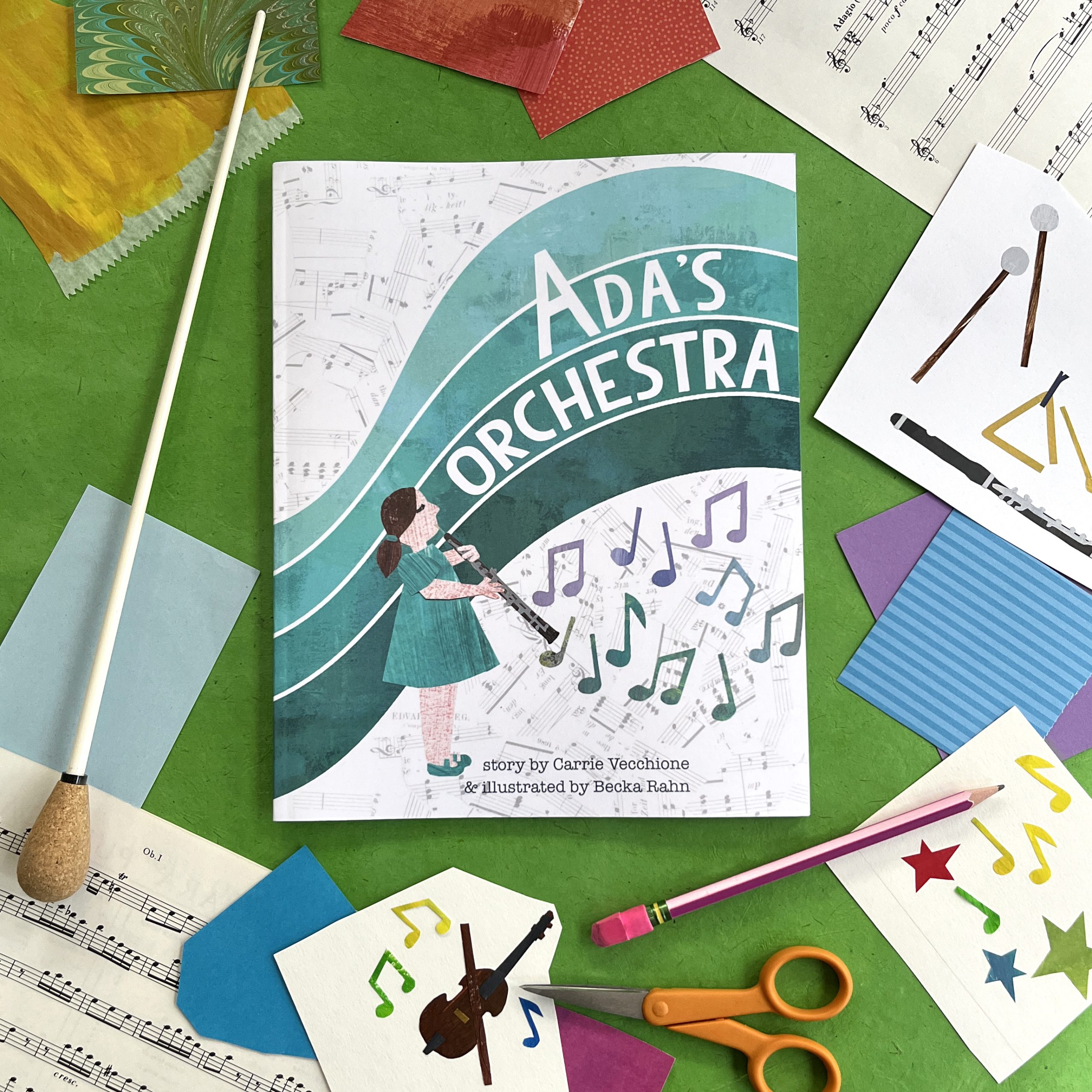 Introducing a delightful children's book, written by Carrie Vecchione and illustrated by Becka Rahn, that will transport young readers to the enchanting world of classical music!
In this charming tale, readers will follow a little girl named Ada as she meets many different musicians in the orchestra. The story is brought to life through Rahn's cut paper collage illustrations, which are bursting with color, texture, and personality. Each page is a visual feast, filled with intricate details that will capture the imaginations of children and adults alike.
As the story unfolds, readers will learn about the different instruments in the orchestra and the important role each one plays in creating beautiful music. They will also discover the joy and excitement of performing in front of a live audience, and the importance of working together.
With its engaging story, vibrant illustrations, and educational value, this book is the perfect addition to any child's library. It will inspire a love of music, encourage creativity, and spark a sense of wonder and curiosity about the world around us.
So join the musicians on their musical journey, and experience the magic of the orchestra like never before. This book is sure to become a treasured favorite for children and parents alike!
I created the illustrations for the story Ada's Orchestra in 2022. They are all made from handpainted paper using a cut paper collage technique. The story is written by my friend, Carrie Vecchione. Carrie plays the oboe. She and her husband Rolf, who plays the bass, are professional musicians who bring music education programs to schools and community centers. This is a story that they perform during some of their programs and we talked about how it would be great to have pictures to go along with the story. So I wrote a grant proposal to the Minnesota State Arts Board and was thrilled to receive support for this project.
Making the art.
This page is all about the ART in the book! (You can learn more about the music in the book by visiting OboeBass.com.)
Below you will find pictures of some of the pages in the book. Click or tap around on the pictures to see video and photos of  the secret behind-the-scenes parts of making the art for the book.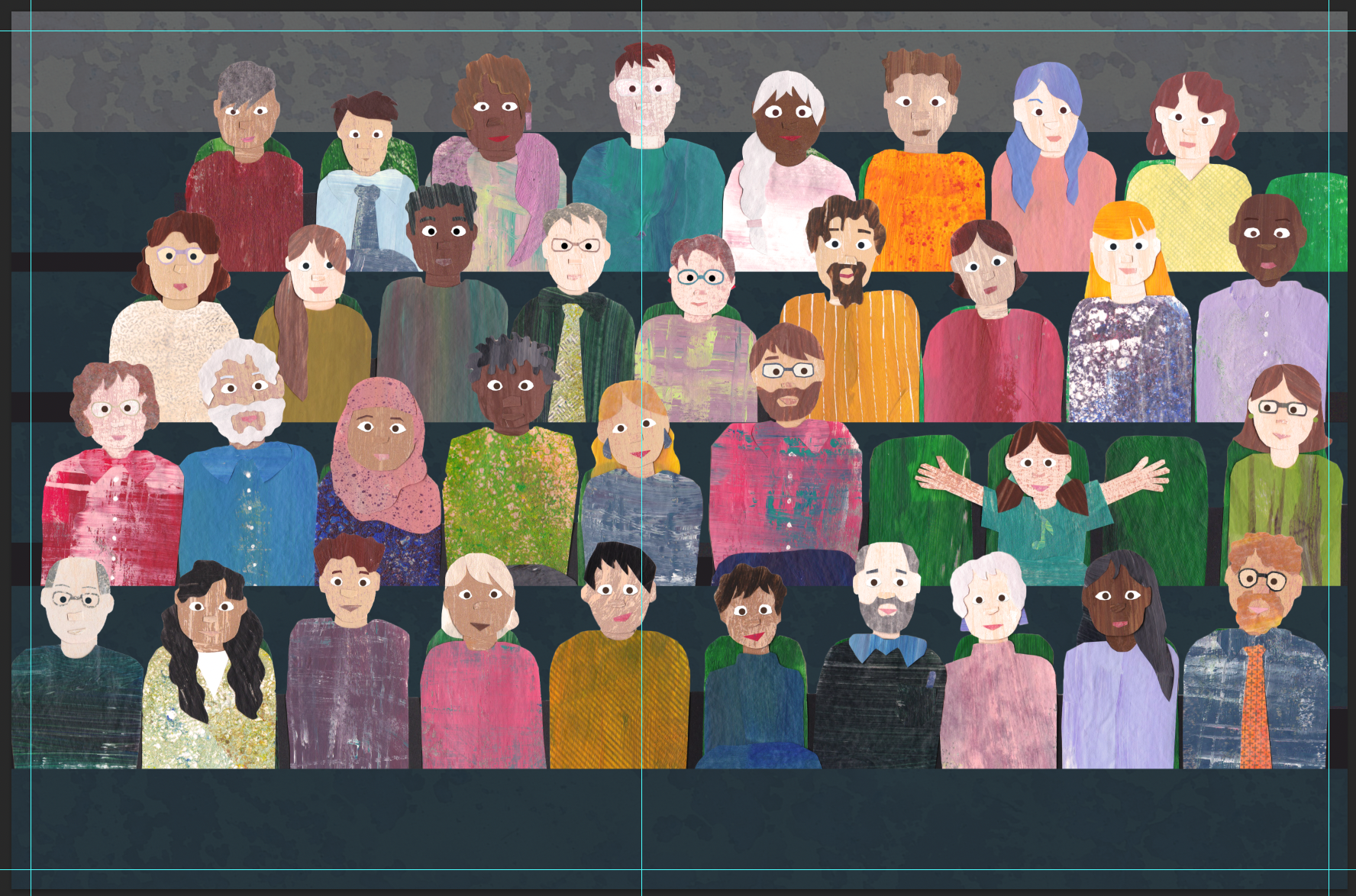 It's me.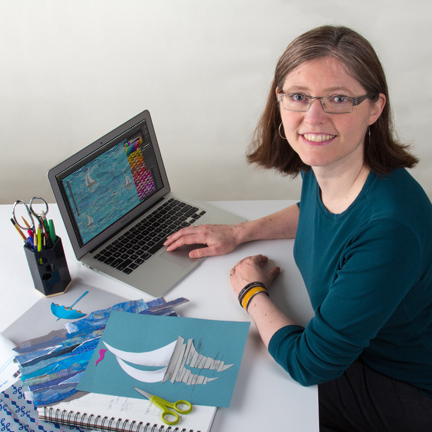 This is me. I decided to put myself into the audience.
This is my parents.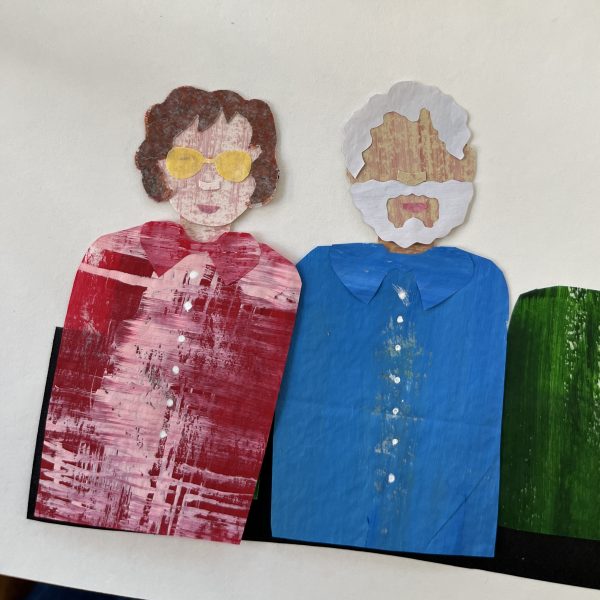 I decided to put my parents into the audience too. You can see this art isn't quite finished. I realized that making teeny tiny eyes and glasses from cut paper was really hard, so I drew eyes with Photoshop.
I made this in pieces.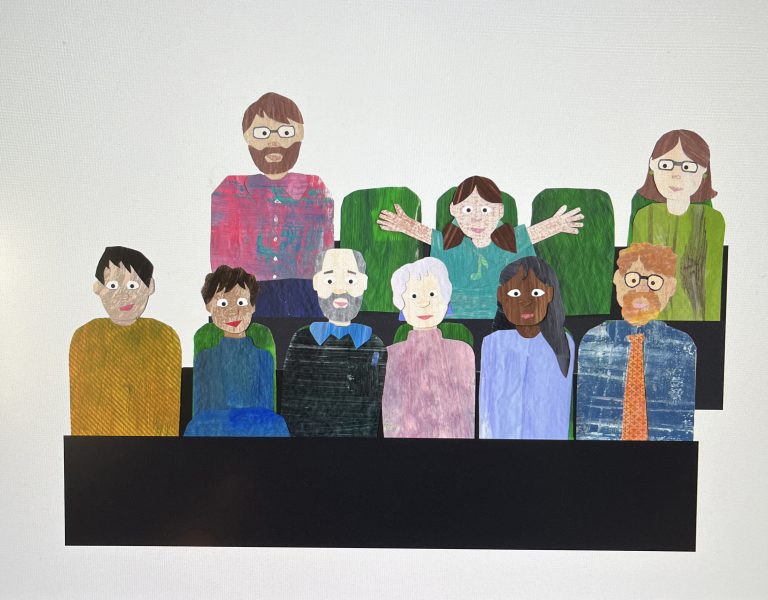 This was a really complicated illustration, so I made it in 8 different pieces so I could move each row of the audience around.
Sometimes I work upside down.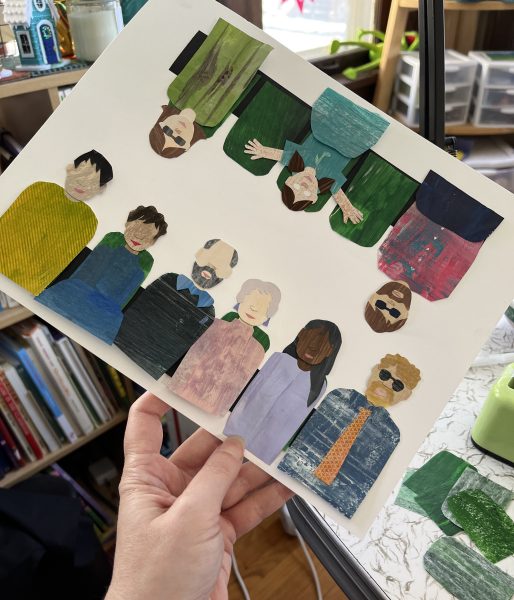 When I get done with the paper art, I scan it so I can put together the pages. My scanner isn't very big, so I try to fit everything I can on a page. Sometimes they are upside down.
This is Ada.
Here I've started to make Ada sitting in the audience.
Green.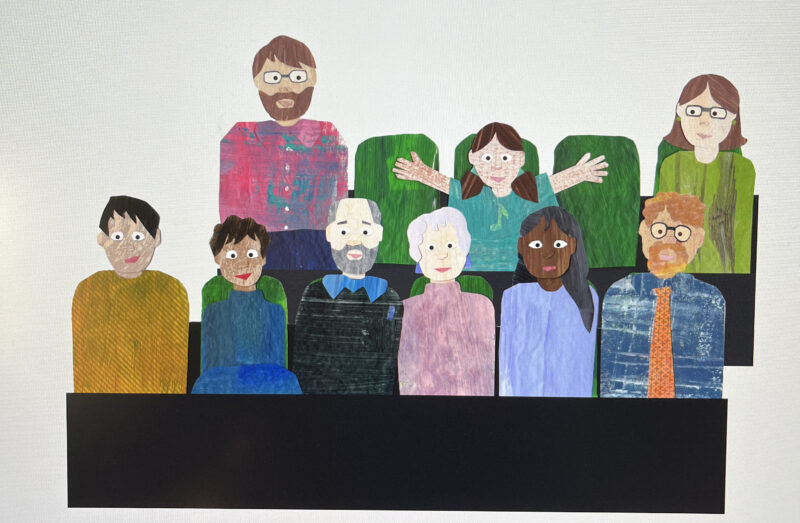 Every time I go into a theater it seems like the seats are always red. So I made mine green, which is my favorite color.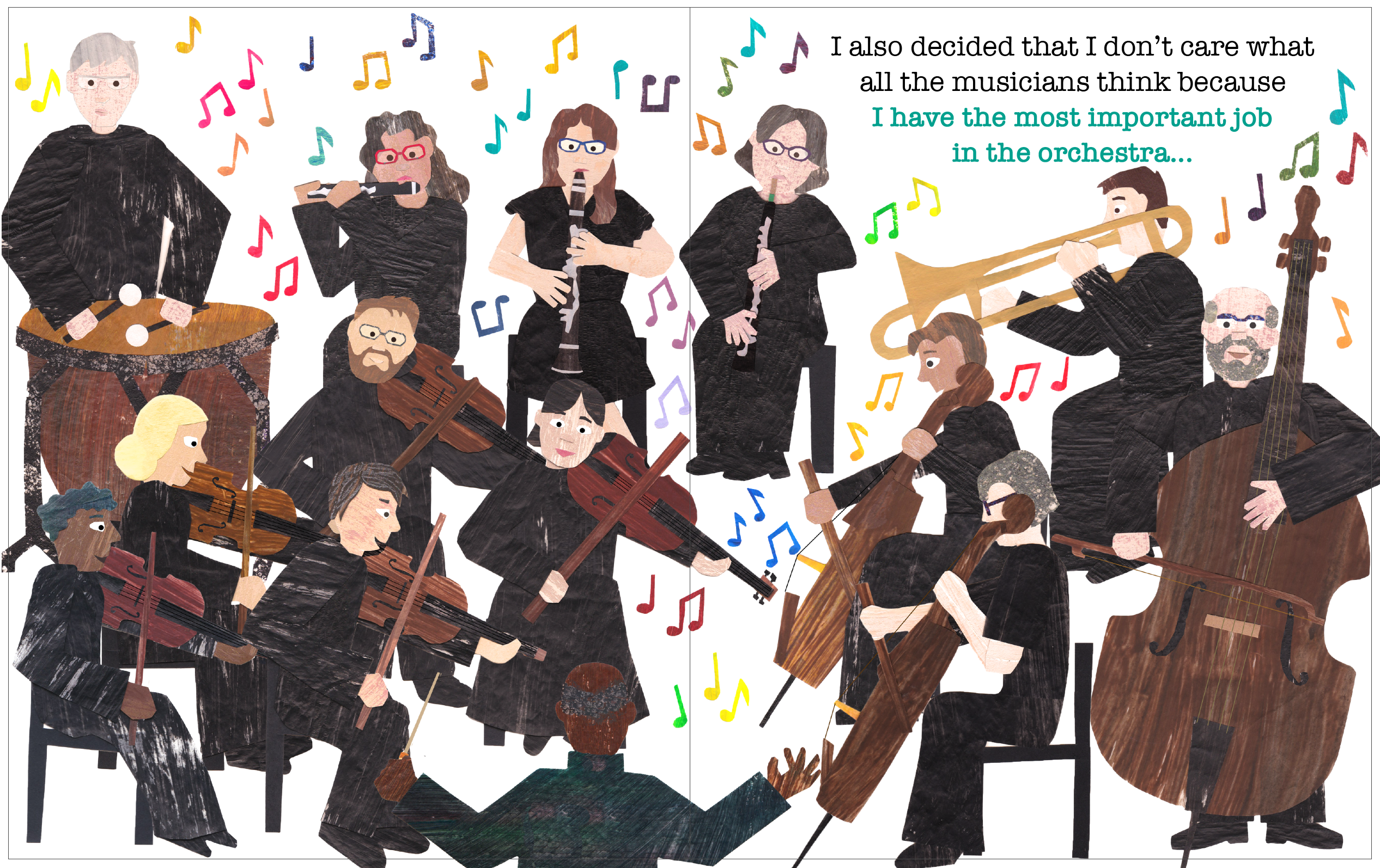 Making the cellist.
Here's a video of making the cello player from cut paper.
You might recognize her.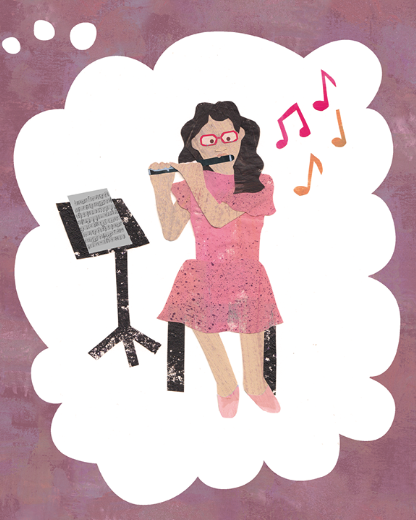 The musicians from the other pages of the book are playing together in the orchestra on this page.
There are lots of musicians.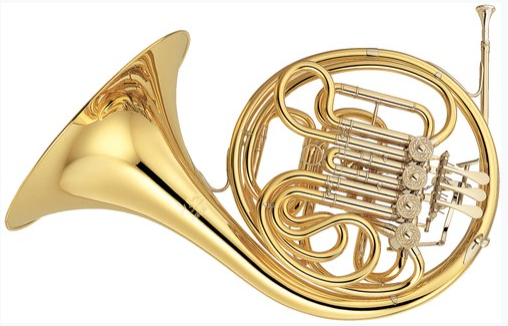 Orchestras often have many more musicians and instruments than I could fit on the page. The french horn is one of my favorite instruments but there just wasn't space to fit one in.
Front and back.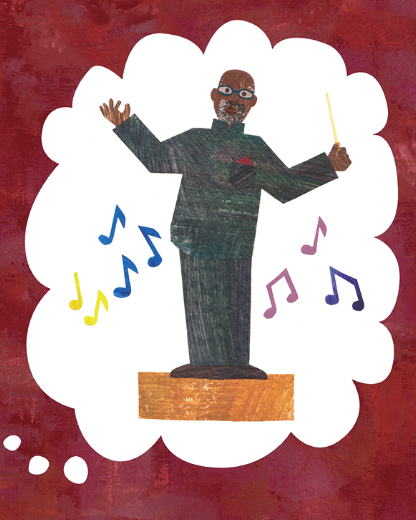 The conductor was the only musician I had to draw from the front and the back. When he does his job, he stands facing the orchestra, so the audience sees his back.
Want to make a violin?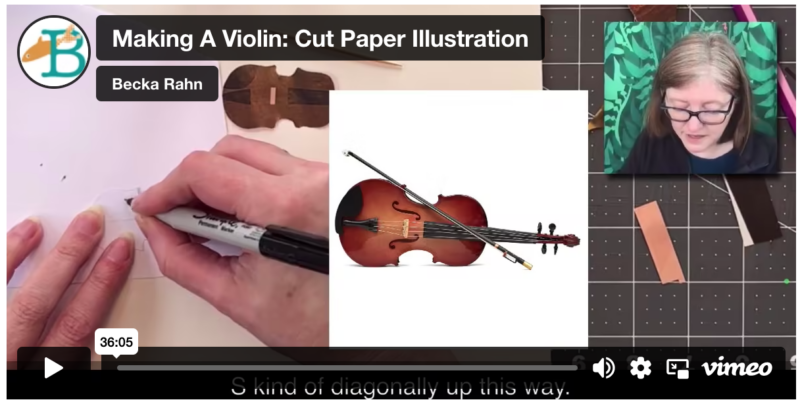 Scroll down on this page and you can learn how to make a paper illustration of a violin just like this one. Maybe you can make a self portrait imagining yourself playing a violin.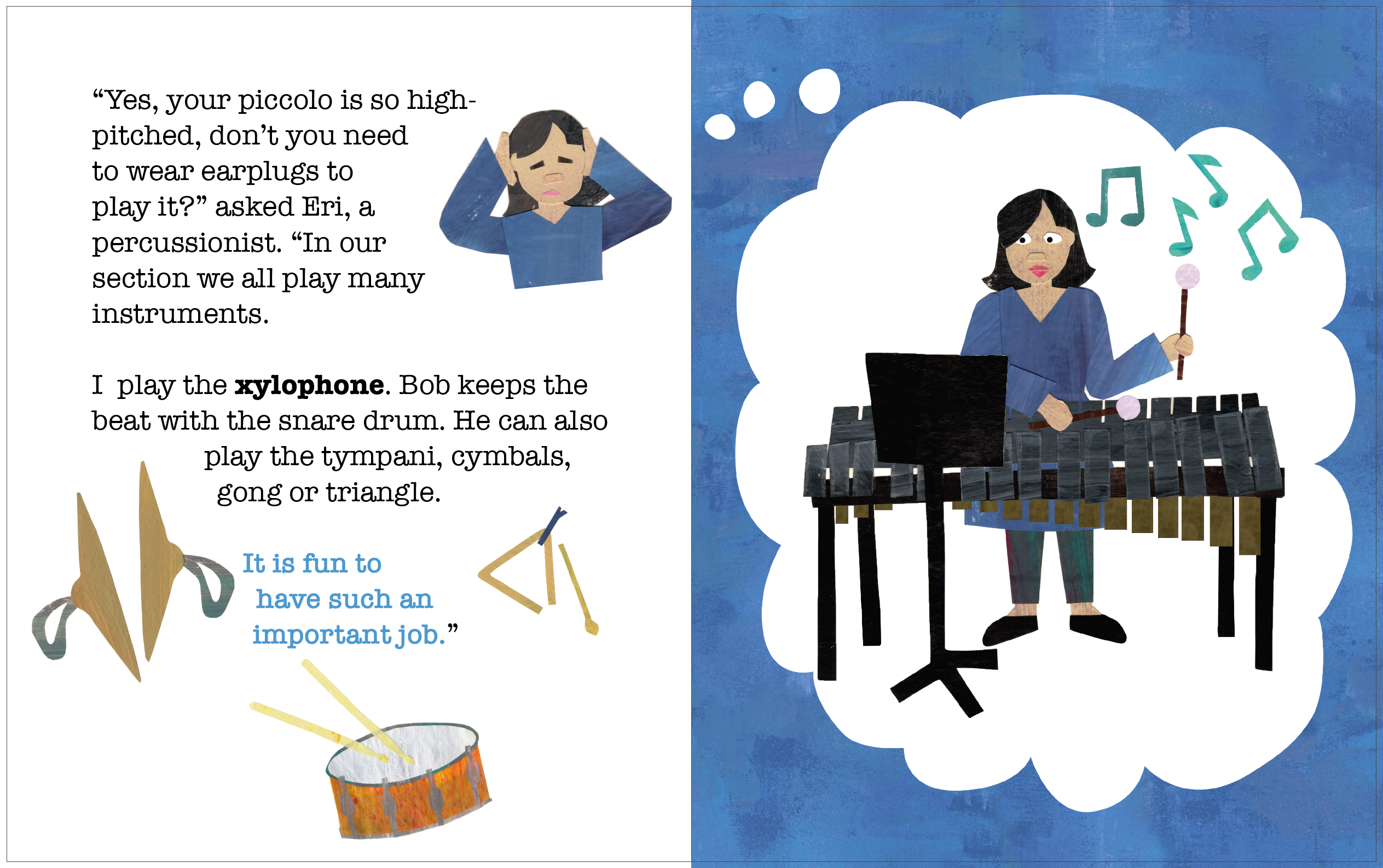 I had to study the musicians.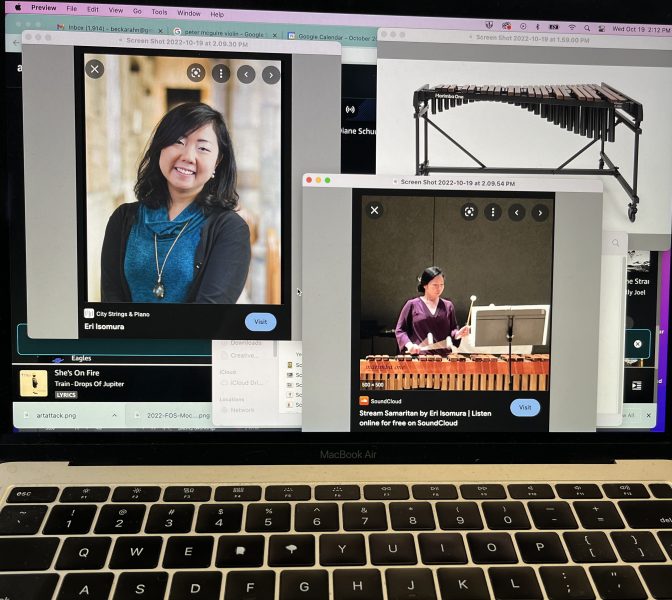 I looked up lots of pictures of musicians playing their instrument so I could make sure my illustrations were holding it correctly. This illustration was based on a real musician named Eri.
Handpainted papers.
All of these illustrations are made from handpainted paper. For this one I used card stock and deli paper. That's the same kind of paper you might get a bagel wrapped up in.
152 notes.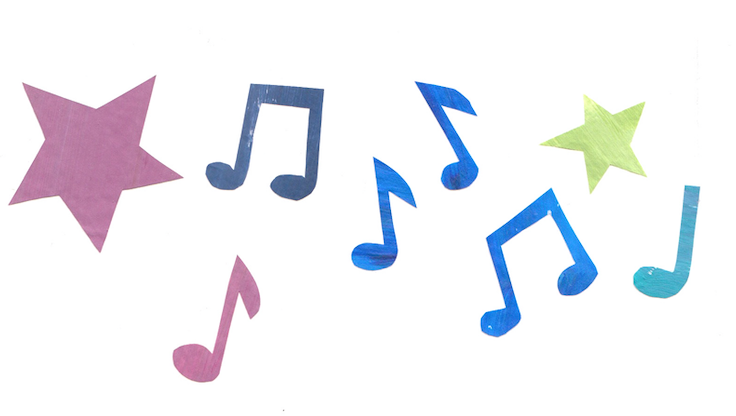 I cut out 152 music notes for all of the illustrations in the book. They are mostly eighth notes and quarter notes. You can tell them apart because eighth notes have flags or bars at the top and quarter notes don't.
Lots of percussion instruments.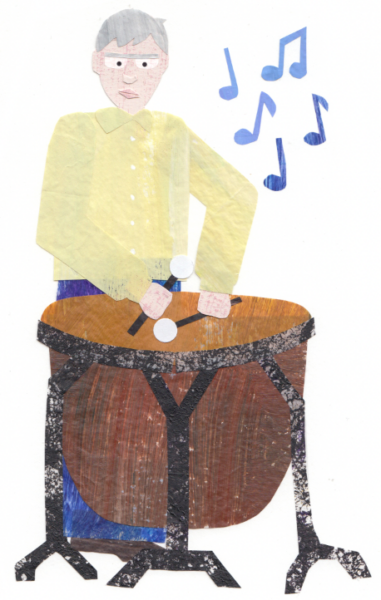 Percussionists play lots of different instruments during the same piece of music. This image shows a percussionist playing the tympani. Eri is playing the xylophone. On the page you can also see a triangle, cymbals and a snare drum.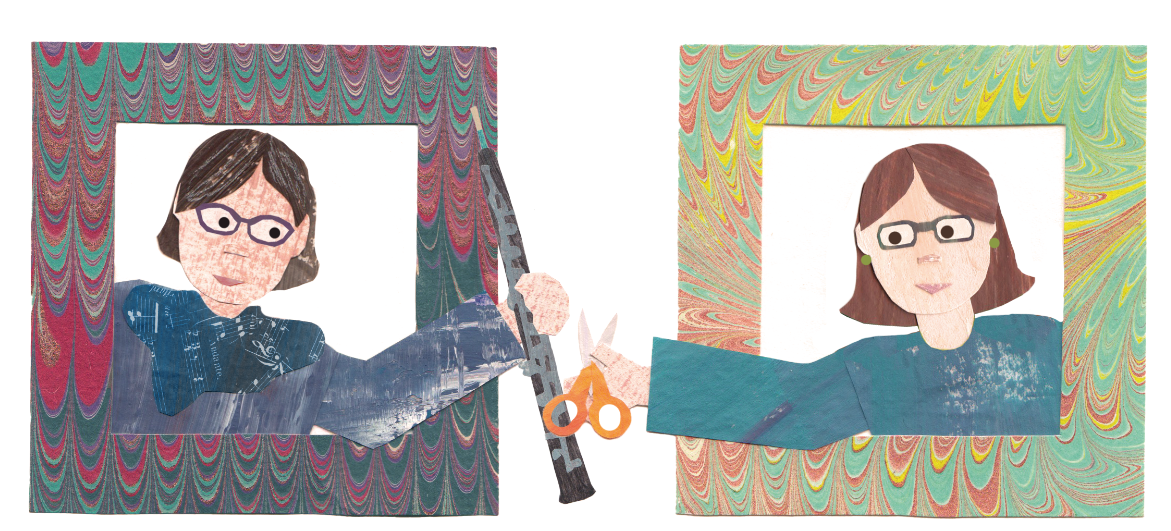 A self-portrait.
Here I am making a self portrait.
Marbled paper.
Here are some of the hand marbled papers I made.
Tools.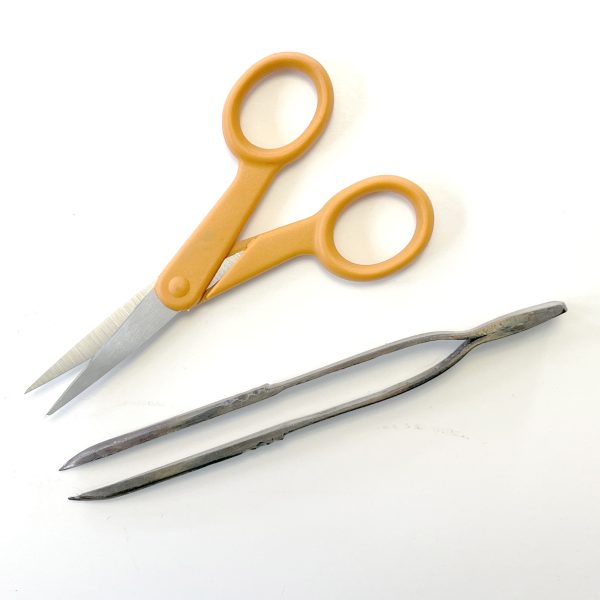 The only tools I needed to make this art were some scissors and a pair of tweezers. I used a computer after the art was done to help put the book together.
Carrie writes and plays the oboe.
Carrie wrote the story for this book but she also plays the oboe. When Ada talks about "Mom" in the story, that's actually Carrie.
Make your own violin illustration with me
Becka Rahn is a fiscal year 2022 recipient of a Creative Support for Individuals grant from the Minnesota State Arts Board. This activity is made possible by the voters of Minnesota through a grant from the Minnesota State Arts Board, thanks to a legislative appropriation from the arts and cultural heritage fund.