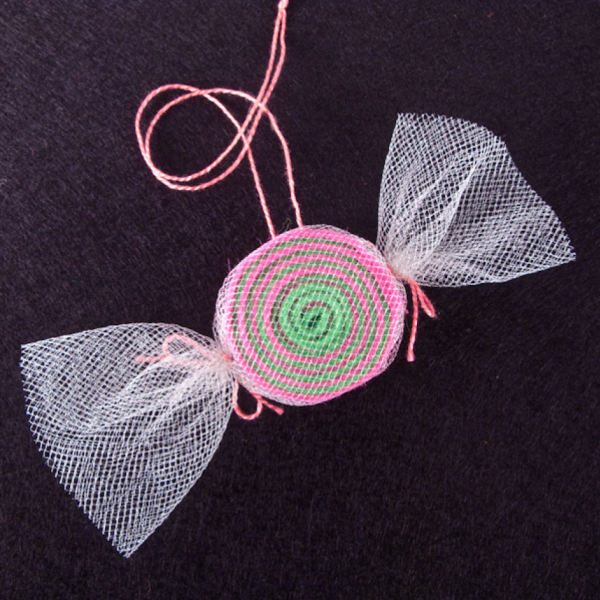 Materials
Felt – two 9 by 12 inch sheets in different colors
4 x 8 inch piece of fine bridal tulle in a pale color
embroidery thread
Tools
rotary cutter, mat and ruler
scissors
sewing needle, thread
Instructions
1. Using the rotary cutter and ruler, cut the felt in to strips 1/2 inch wide by 12 inches long. You will need 2 strips of felt for each candy.
2. Choose two different colored strips. Layer one strip on top of the second, matching the long edges. Starting at one short edge, roll up the two strips. You will now have a disk with a two-colored spiral. This is your candy.
3. Stitch the short ends of the felt to the roll with a couple of small stitches to hold them in place.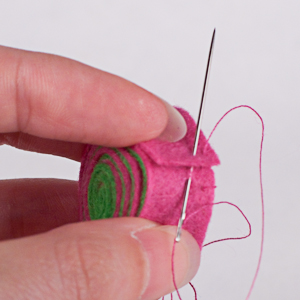 4. Cut a rectangle of tulle about 4 by 8 inches. It should be wide enough to wrap around your candy with a little overlap. This will be the wrapper.
5. Wrap the candy in the tulle wrapper. Cut two pieces of embroidery floss or ribbon. Use a square knot to tie the ends of the wrapper on each side.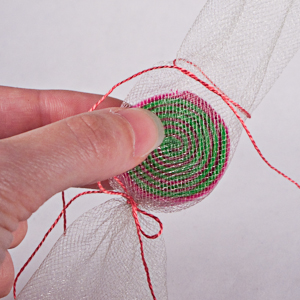 6. Trim the ends of the wrapper so they are even.
7. Thread a piece of embroidery thread in your needle. Stitch through the candy and then back again to the other side. Remove the needle and tie the ends of the thread together to make a hanging loop.