You might not know this about me, but I was a theater major for a few years in college. I was a huge highschool theater geek; the queen of the costume shop. I worked for five summers at a summer childrens' theater and I fell in love with my husband in a truly ridiculous show where I played the Damsel in Distress and he played the giant sea monster that ate me. (It did have a happy ending.) That's us in the photo above, right in the center.
I never wanted to be an actor; I was a designer. Sadly, I didn't have the self-confidence I have now and when faced with the larger-than-life personalities in the department, I never found a place where I felt like I was contributing anything other than endlessly washing paintbrushes. So I drifted off and changed my major and found other creative channels.
But it was in my first class as a theater major that I met Stephen Sondheim. I don't mean that literally of course, but the first thing we studied in "Theater Appreciation" was the musical Sweeney Todd and it was the first Sondheim musical I'd ever seen. I remember that we watched the "Great Performances" version and we had to split it up over about 3 classes to be able to see the whole thing. I sat with all of the freshman theater majors in a row in the front of the auditorium. It was a required class for theater majors and filled a humanities credit for a whole lot of other people, so we were surrounded by football players and business majors. Looking back, Sweeney seems like the strangest choice to introduce to Theater Appreciation, but I still remember it 30 years later.
I remember walking to dinner or somewhere after watching the first act of Sweeney and thinking seriously WTF. I had never seen theater like this. I am a HUGE musical theater fan. I have watched every big old Hollywood movie musical dozens of times. I think "My Fair Lady" was my first live show when I was 8 or 9 years old. I knew all the words to "Phantom of the Opera", which all theater kids did in 1992, and the "Guys and Dolls" cast album was among the first half dozen cds I owned. I grew up in South Dakota, where touring companies don't travel, so I didn't see my first real Broadway show, "Thoroughly Modern Millie", until I was an adult. This was not like those musicals.
If you don't know the story, Sweeney Todd, in short, is a musical about a serial killer and Victorian era cannibalism. It's creepy and full of dark humor and more than a little twisted.
So, walking back to my dorm room, I remember thinking "what is this demented thing they have us watching? This isn't a normal musical." and also "why haven't I ever heard of this before?!"
It ends up that I love Sweeney Todd. I didn't have a chance to see it live until a decade or so ago when a friend played the lead in a community theater production, but I've watched that same recorded version several more times and a concert version too. I've since discovered more Sondheim. My husband introduced me to "Into the Woods", and I also watched the Great Performances version of that. I've never liked "West Side Story" although I've seen it a couple of times.
But my great Sondheim love is "Sunday in the Park with George". A friend took me to see it a bunch of years ago and although I had heard of it, I really didn't know much about it. It was breathtaking. I don't think it's too much of a spoiler to say that the musical centers around George Seurat and at one point in the production they make the painting "Sunday Afternoon on the Isle of La Grande Jatte" come to life in a way that's purely magical. I don't remember a lot about that production other than liking it. I do remember very vividly going on a trip to the Art Institute of Chicago a year or so later.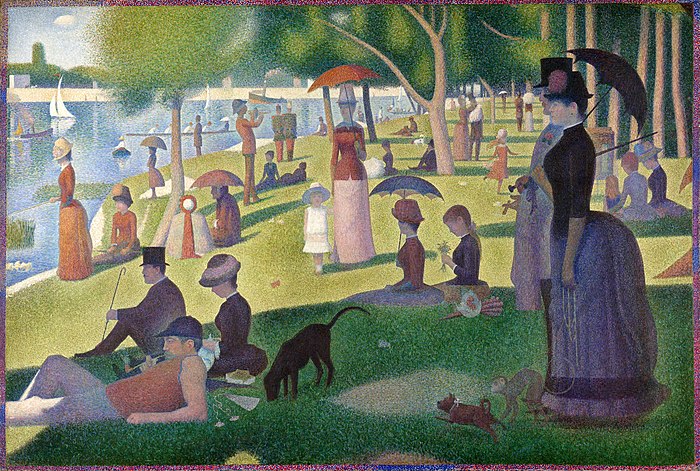 I didn't know the painting was there and I came around a corner and literally took a step backwards. It took my breath away. I stood for minutes in front of it just mesmerized.
Years later, I was contacted by the gift shop manager from the Guthrie Theater here in Minneapolis. She and I had met at an art show that I did and she had a brainstorm. Could I design some fabrics inspired by the musical they were doing for the summer and then they could carry that work in the gift shop? I jumped at the chance! She says, "You might not have heard of this show. It's a little weird. It's called "Sunday in the Park with George".
So, I spent a couple of months studying it. I listened to different cast albums and watched the movie versions. I studied the painting and George Seurat. I designed a whole collection of designs inspired by elements from the show and the painting and they are some of my favorite designs I have ever done. I listened and read the lyrics to every song, looking for phrases and words to bring in to my designs. I named one design "Rue de Magenta" because that was the Paris street where Seurat had his studio. I made the black dog from the painting into one of my black labs posing to be painted.
After I had made the collection, we went to see the Guthrie's production of course. I had tears running down my face at the moment that the "painting" snaps into place. I was a total wreck in the absolute best way possible. It was amazing.
I won't forget those two breathtaking moments with the painting and the show. I think it's because Sondheim and I shared a moment and understood something together about art and artists and this amazing painting. What a gift. Stephen Sondheim passed away this week and I am sorry that I won't get to share more new moments with his art.