I was really excited to get a yard of Spoonflower's new Cotton Lawn to try out. This new fabric is a very finely woven lightweight cotton. It's very smooth and has a crispness that makes it feel really nice in your hand. I got just a yard of fabric printed in one of my designs and decided to make my favorite tank, which is the Gemma by Made By Rae. I have probably made a dozen of these tanks over the years and if you have ever taken an in-person class from me, you probably have probably seen me wearing one. It's my go-to teaching outfit.
Usually I make this tank in the poly crepe de chine because it has always been the lightest weight and most drapey of Spoonflower's fabric options (I am not counting chiffon, which is very transparent and not so appropriate for this kind of garment.) So I thought that lawn would also be a great option, but I have to say that I have mixed feelings about this version in lawn.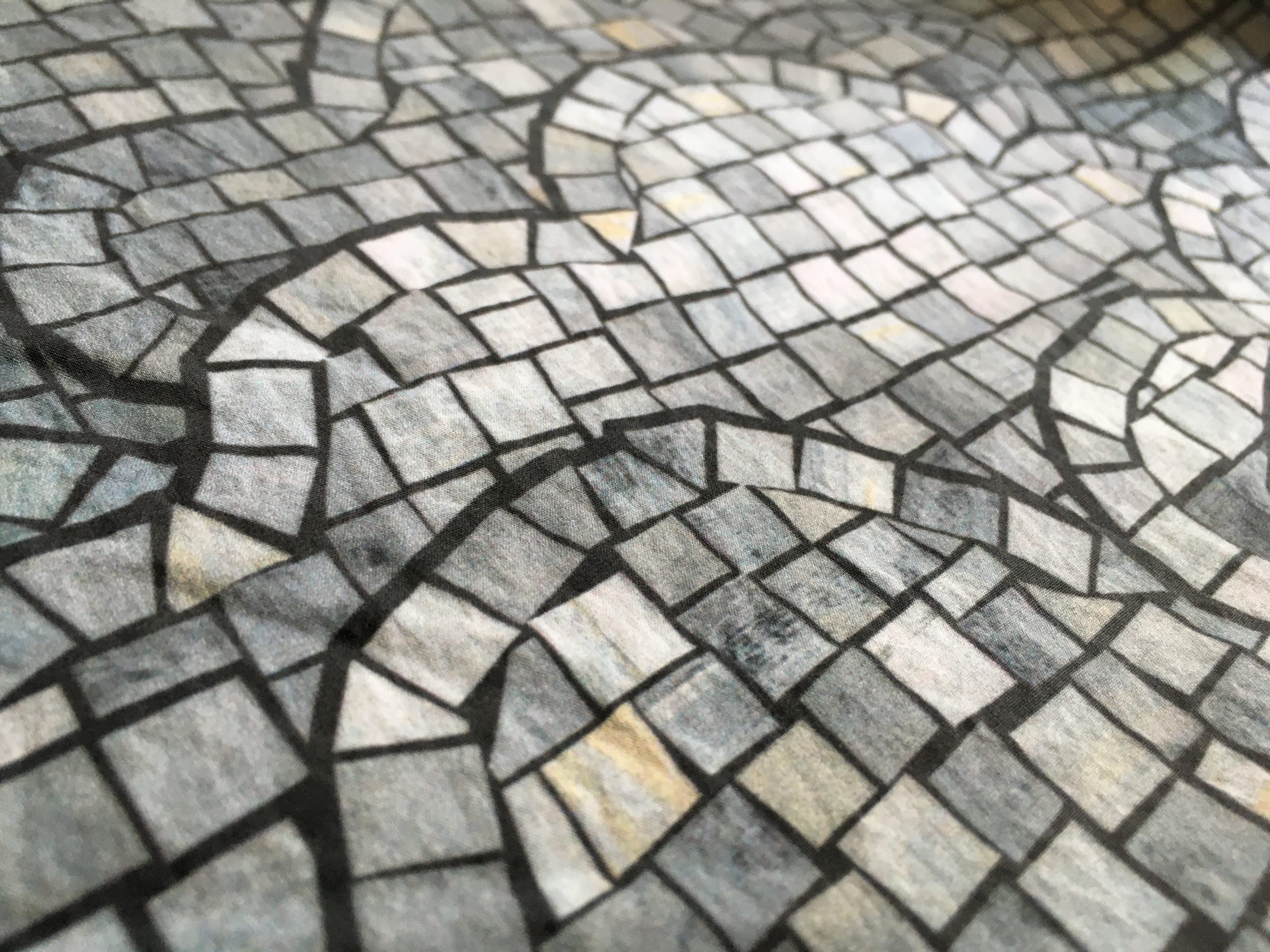 Print Quality
The sharpness and color of the printing on the cotton lawn is just outstanding. As I talked about in my earlier review of Spoonflower's Signature/Poplin/Sateen, some of the finer details can get lost on the more textured fabrics. The lawn has such fine threads that it really captures all of the texture. This is a design that I made with cut paper mosaic tiles made from handpainted deli paper. You can see all of the brush strokes and color depth really well. This might be a new favorite for me when we are talking strictly the look of the printing.
Sewing with the Cotton Lawn
Since this is a pattern I have made many times before, I just got out my pattern pieces and set right to work. I made the size I usually make. Because I noticed when I washed this fabric that it really didn't fray at all going through the washer and dryer, I chose to just leave the seam allowances unfinished. I usually serge them when I am working with the poly crepe de chine.
Where I started to have issues was when I started sewing. The first seam totally shredded the thread about half way through the side seam. I thought that was a little weird, but I figured I probably just needed a new needle, so I ripped out the stitches and traded needles on my machine. For the kind of sewing I do most often, I use a standard Schmetz Universal 80/20 needle, so that was what was in the machine and also the new needle I put in, but after the second seam I was still having issues with the thread. So I unthreaded and rethreaded my machine and tried again. I was starting to get a little frustrated.
Then I decided that maybe lawn needed a finer needle than what I normally use. Trading out needles project by project isn't something I do often but I decided that was worth a try. I dug through the drawer where I keep my needles and came up with a 70/10 Universal needle, which is just slightly smaller. The 70/10 was somewhat better, but let's just say that I wouldn't show anyone the stitches on the inside of this top. The trick I discovered was to stitch really slowly and steadily with this smaller needle and it seemed to do just fine. If I went too fast, the thread would start to shred again.
Probably a microtex/sharp needle would be even better, but I didn't have any of those in my stash and I didn't feel like a special trip to the store made a lot of sense for this one project. I will for sure get some if I decide to sew another project with lawn.
Do I love my finished project?
The thing that surprised me the most about my finished tank was that I totally don't like the way it drapes in the lawn fabric. Like I mentioned earlier, this lawn has a crispness to it which means although it is soft and lightweight, it is not very fluid. When I put on the tank top, it feels like it stands away from my body a little bit too much and the same size that I always make felt like it was too big. It feels frumpy and a little like I am wearing a maternity top, to be honest.
Here's a photo of the exact same tank in cotton lawn and poly crepe de chine, side by side. You can see how differently the two fabrics hang in this finished garment. I knew the crepe de chine was a much more fluid/flowy fabric, but I didn't think it would make as much difference as it does. After I looked at the version in lawn I decided that I am going to add some darts to reshape the underbust/waist a little so it hangs a little better, but I wanted to get this photo in its original version first. I think that will help take out some of the extra fabric that is letting it bell out away from my body and it will feel more like it fits. The fabric feels really nice to wear, but I think if I was choosing a pattern for cotton lawn next time, I would pick something slightly more fitted or structured to take advantage of that fabric crispness.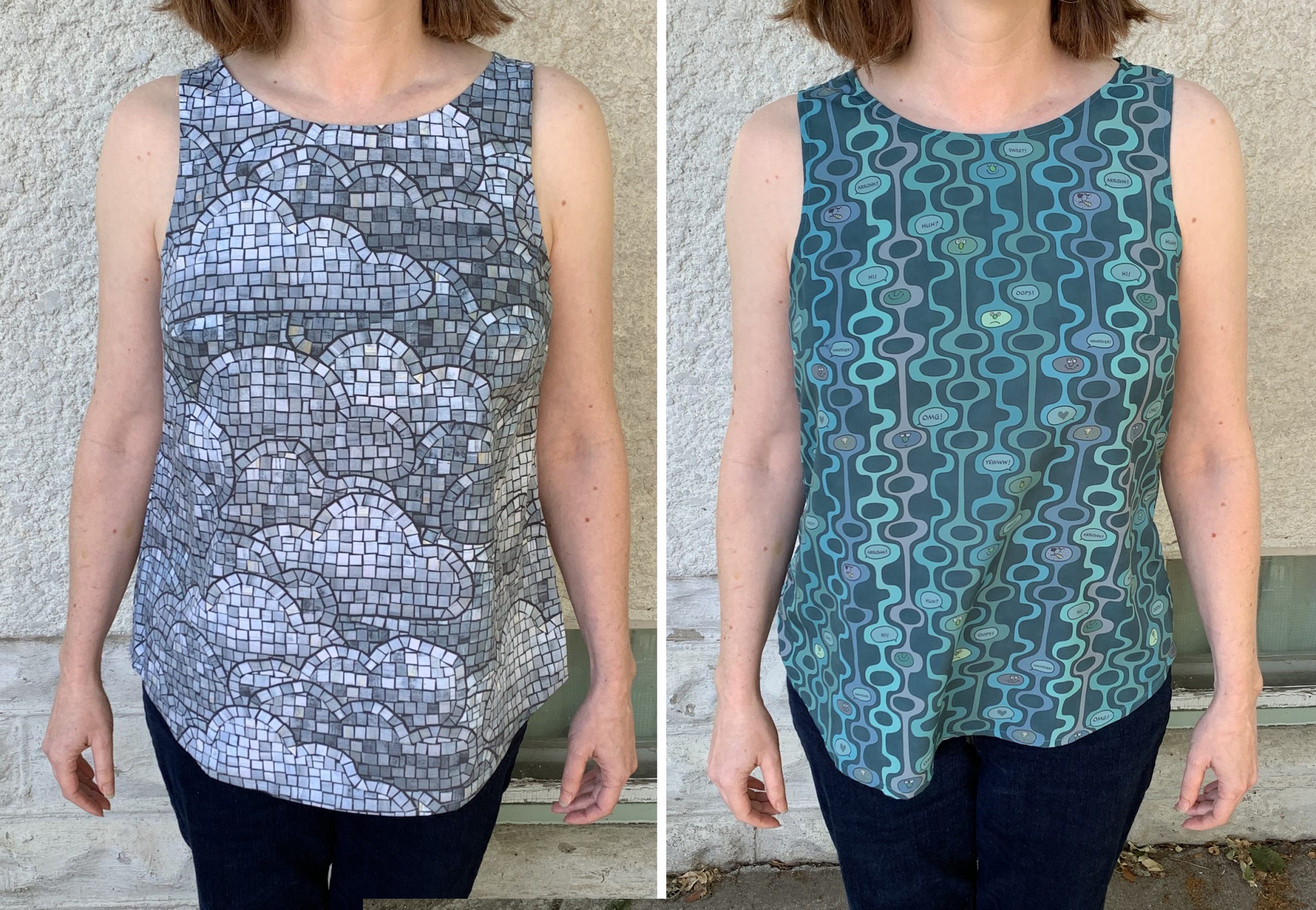 Other things to note
A few other details I noticed. The lawn irons beautifully. It came out of the washer and dryer with very few wrinkles and even after I made this and had it sitting folded on my studio table for a few weeks, the creases were minor. One of my big issues with a previous cotton lawn that Spoonflower had years ago was that it wrinkled like crazy and it held on to creases and wrinkles. This one is a great improvement over that.
I occasionally need to print labels for garments or projects and I think that cotton lawn may be my new favorite fabric for that. Because of the fine smooth surface I think text will be more easily readable and the relative lack of fraying means it may be able to hold up to leaving raw edges exposed.
Overall impressions
I think it's a lovely fabric and a nice addition to the Spoonflower line-up, but I think it might require a little more patience or careful choice of sewing tools/threads to sew it well. I will plan ahead a little more before I tackle my next project.