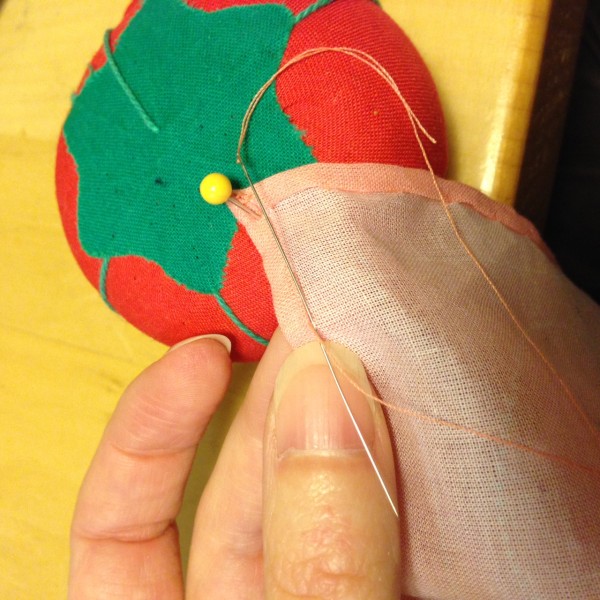 I had a vast quantity of tiny rolled hems to do this week.  The project is something I can't really share yet, but I can talk about rolled hems and what I learned.  So I have done both machine stitched and hand stitched rolled hems before and although I am pretty good at the machine variety, I hadn't really mastered the hand stitch. I could make it work, but they were fiddly and so very slow.  It was frustrating.  So I started to do a little research.  Maybe there was a better way to do the stitch?
The tips that really helped?
Rolled Hem Hankies at the Purl Bee.  Not only are the photos beautiful and clear, but the tip about slobbering on your fingers is essential.  I did just grab a damp washcloth and throw it on the table in front of me, but it's amazing how much of a difference that made in getting the roll to happen.  She also does the stitch just slightly differently than what I was taught (with much of the stitch hidden in the roll) and this is much nicer.
It turns out that the best "tutorial" I found has no words.  But just by watching an anonymous and skilled seamstress hem a Hermes scarf, I picked up another really helpful hint or two.  If you watch the video you will see how she pins the scarf to a heavy pincushion.  This is genius.  It's like having an extra hand to put some tension on what you are stitching and I could go twice as fast.  My tomato pincushion isn't heavy enough.  I ended up weighting it down awkwardly with a pair of scissors.  But the next time I have a batch of hemming to do, I will take a few minutes and make a heavy weighted pincushion.  You can also watch how she does the corner. I am not sure exactly what she did, but based on my observations, I folded just the tiny tip of the corner at 45 degrees and then double rolled to make a neat little miter at the corner and secured it with a couple of tiny stitches.

My own trick is to use a beading needle to do the stitching.  Although this one was a little long (I couldn't find my short ones), I really like working with tiny needles.  When you are only trying to make a stitch that catches 2 or 3 threads of the fabric, it is so much easier with a small needle.  I almost always hand stitch my hems.  I like hand stitching and I like the way a hand stitched hem can just disappear and not draw attention to itself.
If you want to learn more beautiful hand stitched hems, the Coletterie blog has been posting a really great series about all kinds of hem finishes.  Here is their take on the hand rolled hem.