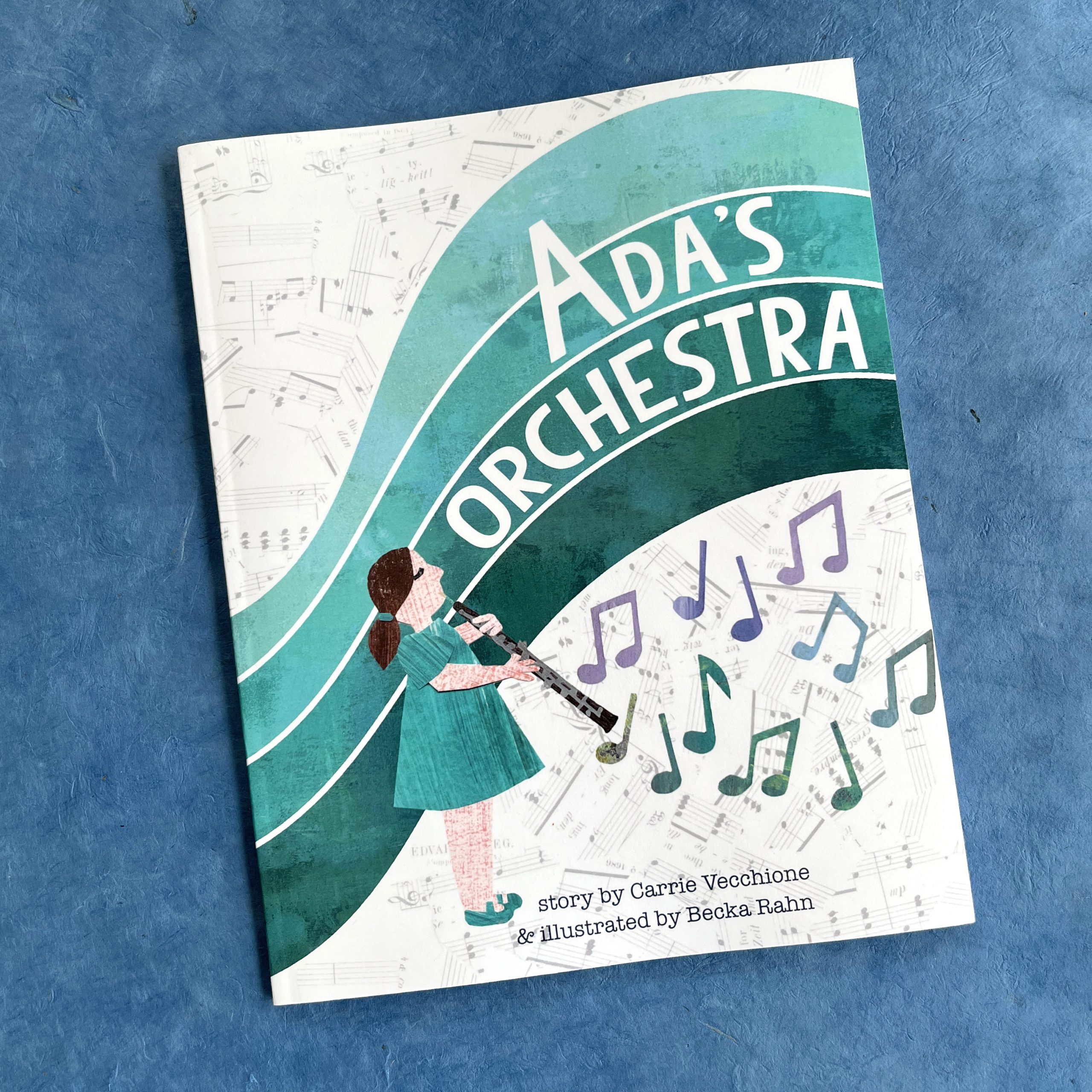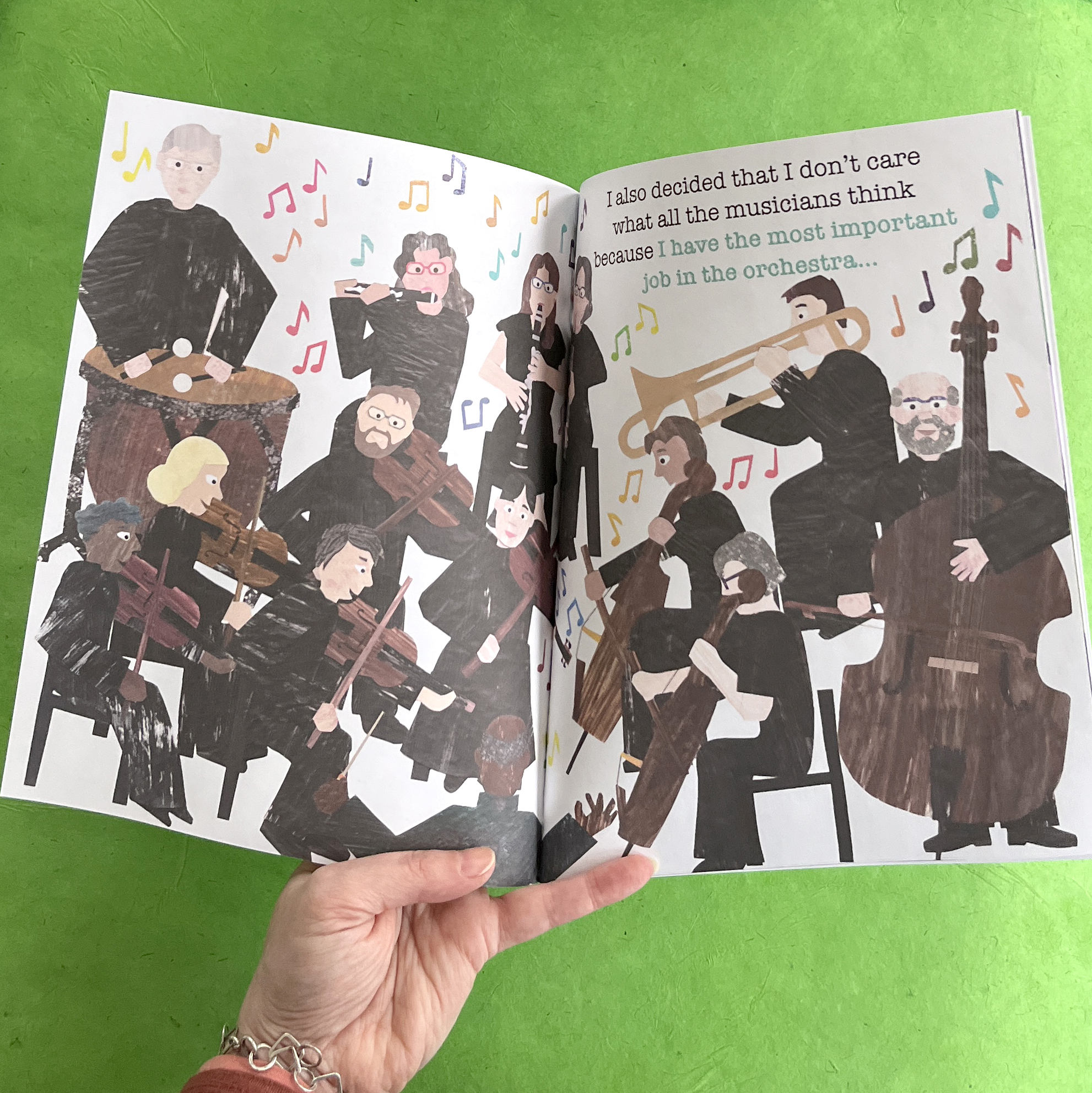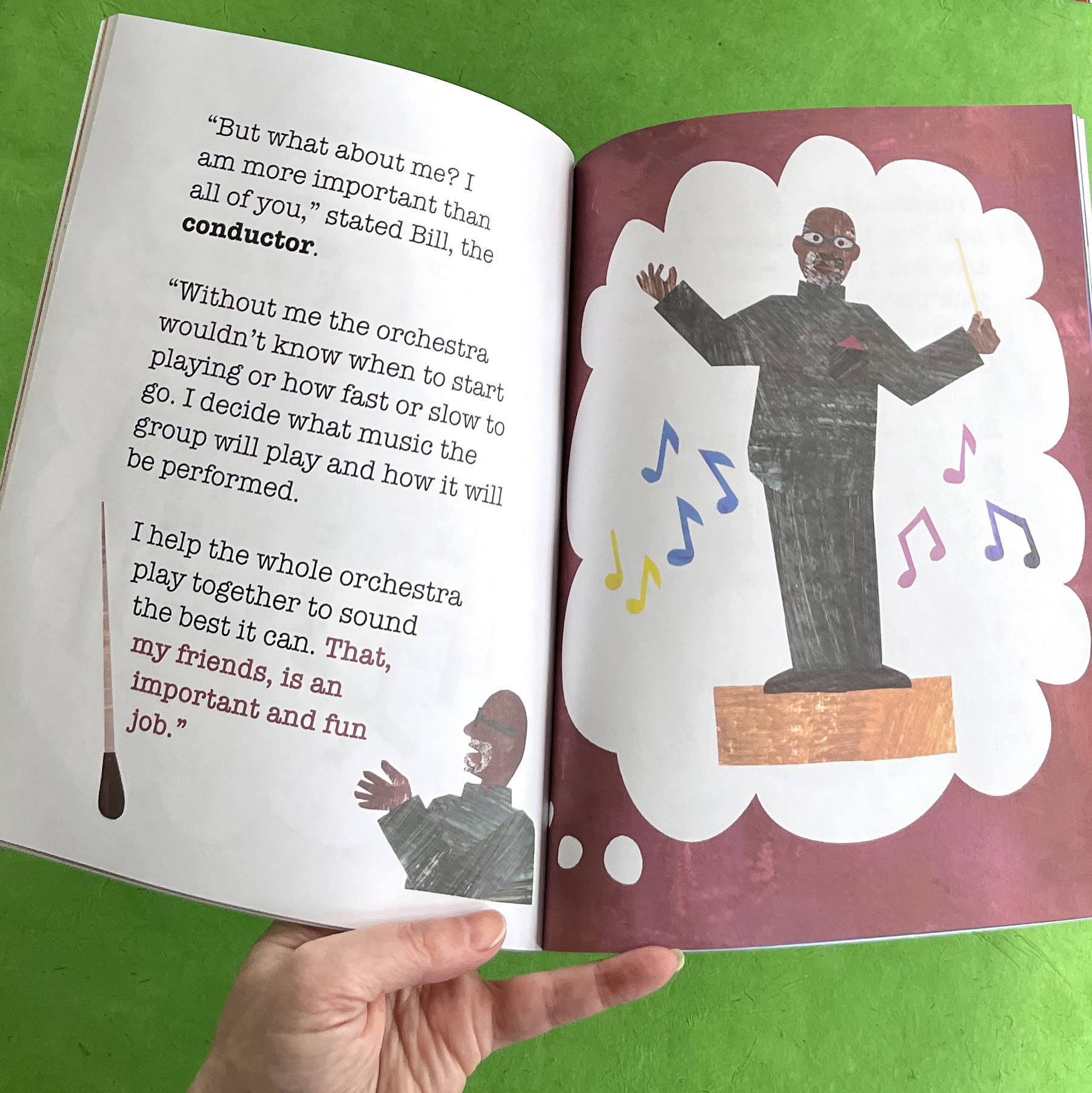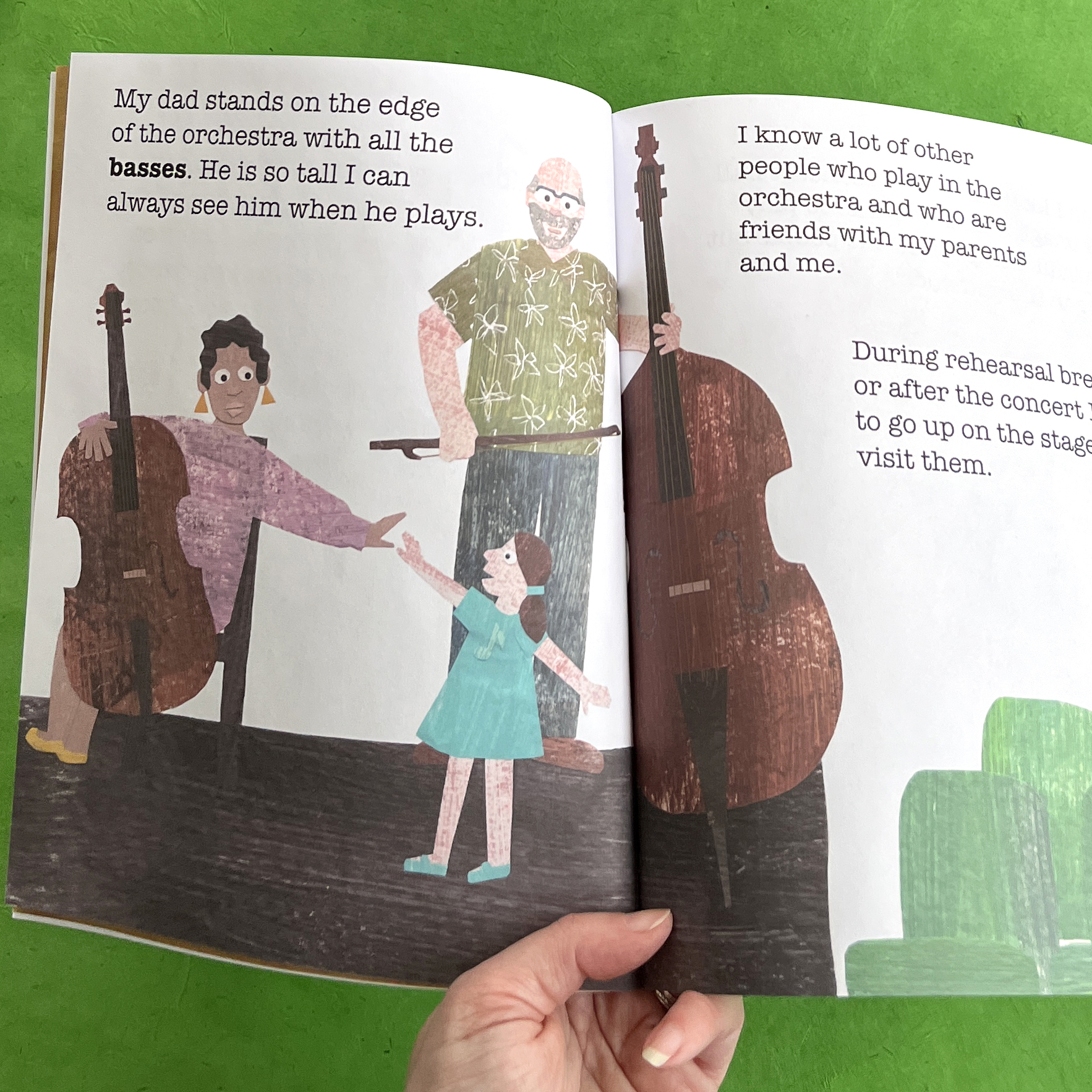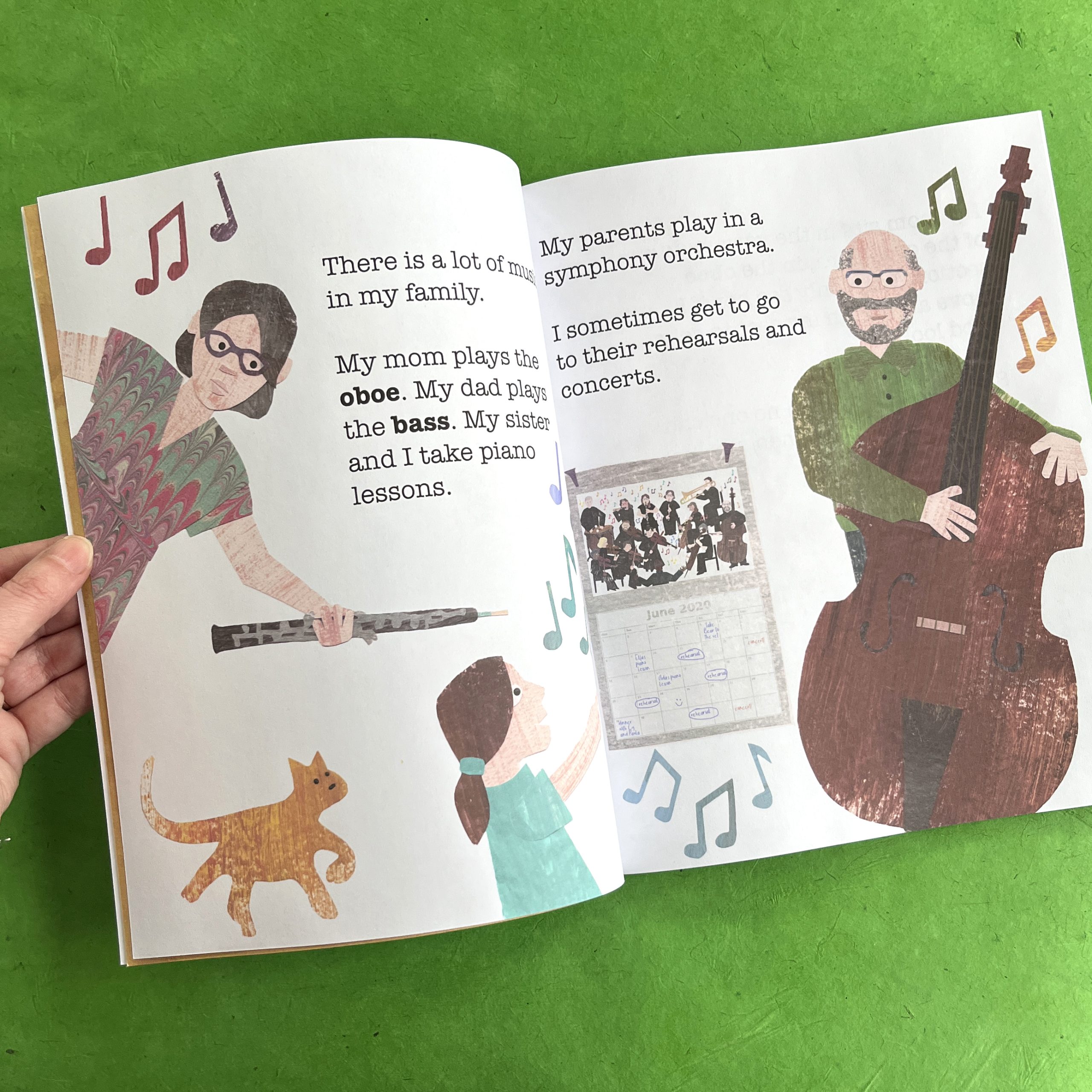 Ada's Orchestra
I illustrated this story, written by my good friend Carrie Vecchione. Ada's Orchestra is about a little girl learning about all of the things that musicians do when they are part of an orchestra. Although they don't all agree on whose instrument has the most important part, Ada discovers that she might have the most important job of all.
The illustrations are all made as cut paper collages made from hand-painted deli paper. Want to learn more about the art? I have a whole page with behind the scenes videos and a lesson on how to make your own paper violin!
Paperback. 8×10 inches. 44 pages. 2022.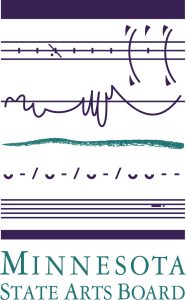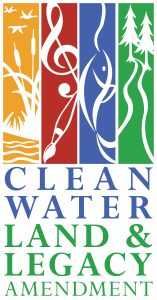 Becka Rahn is a fiscal year 2022 recipient of a Creative Support for Individuals grant from the Minnesota State Arts Board. This activity is made possible by the voters of Minnesota through a grant from the Minnesota State Arts Board, thanks to a legislative appropriation from the arts and cultural heritage fund.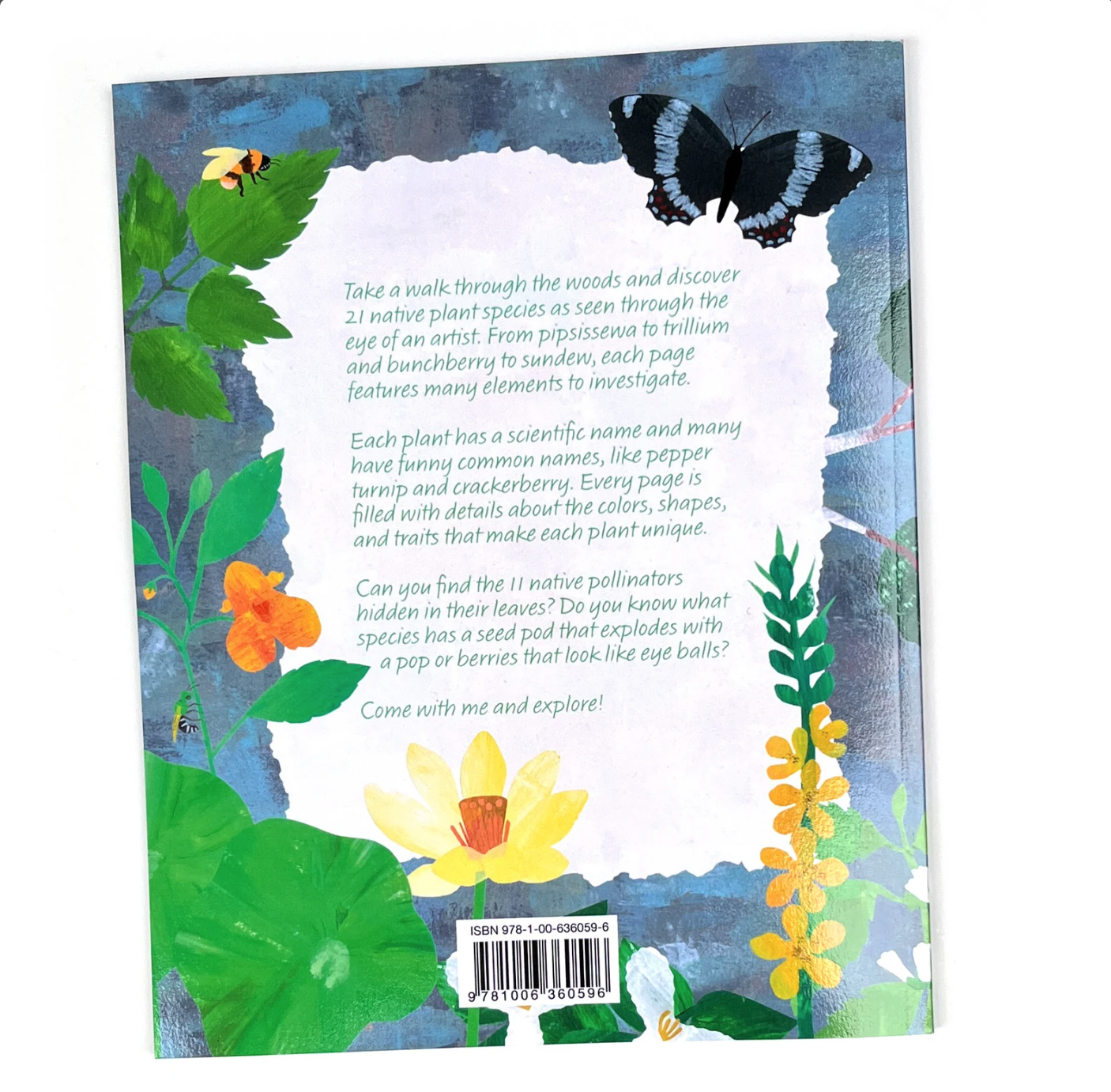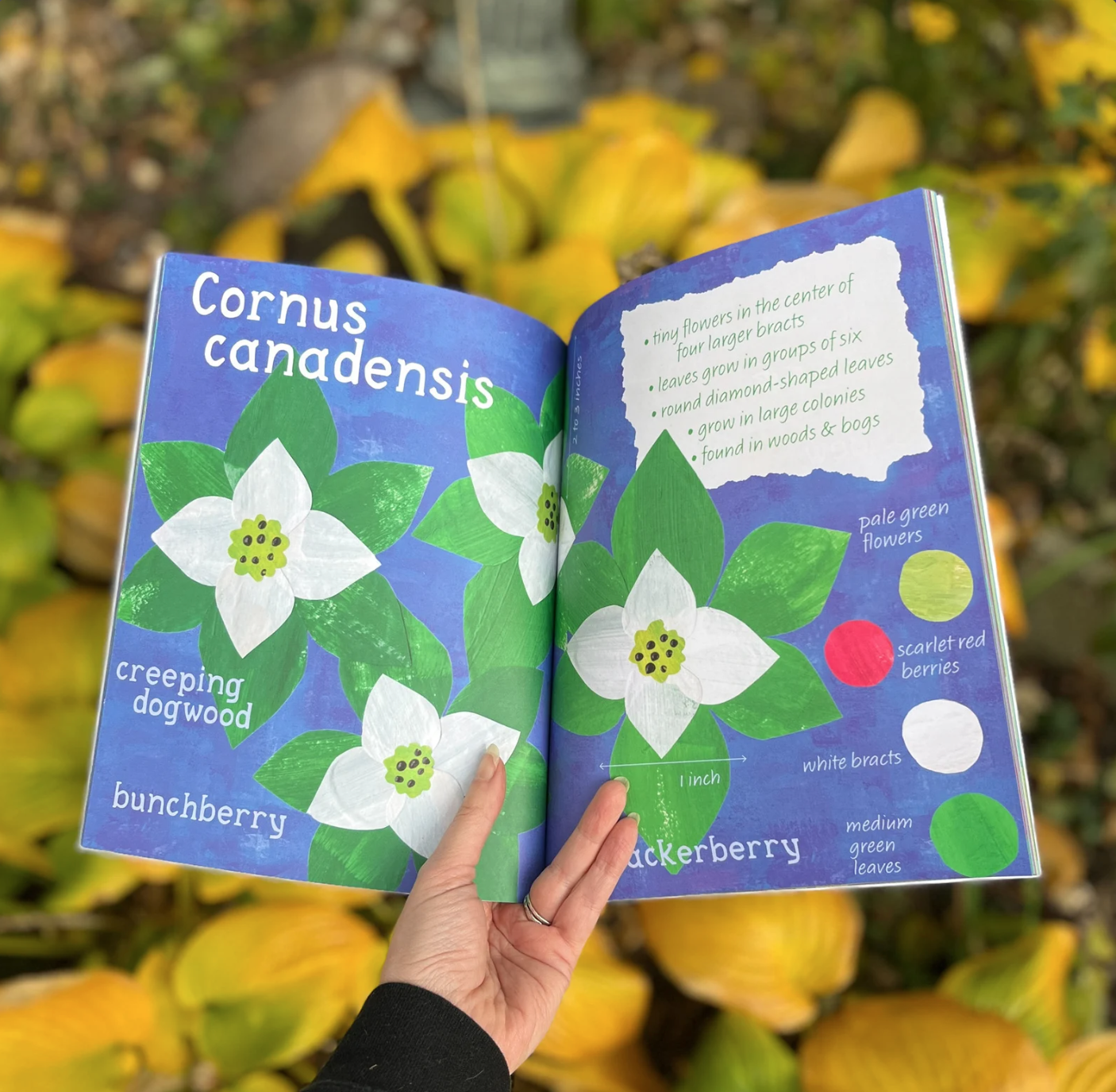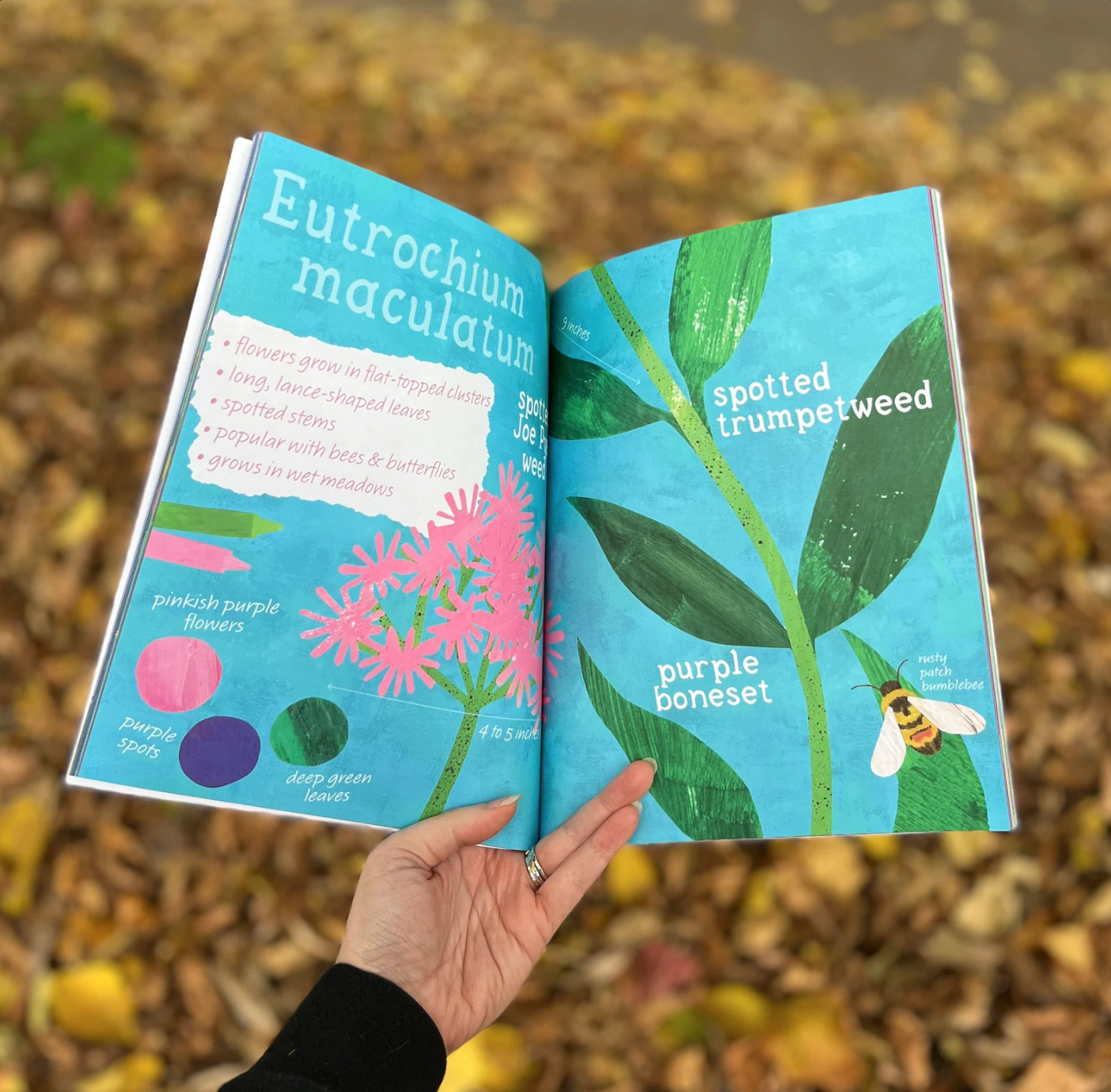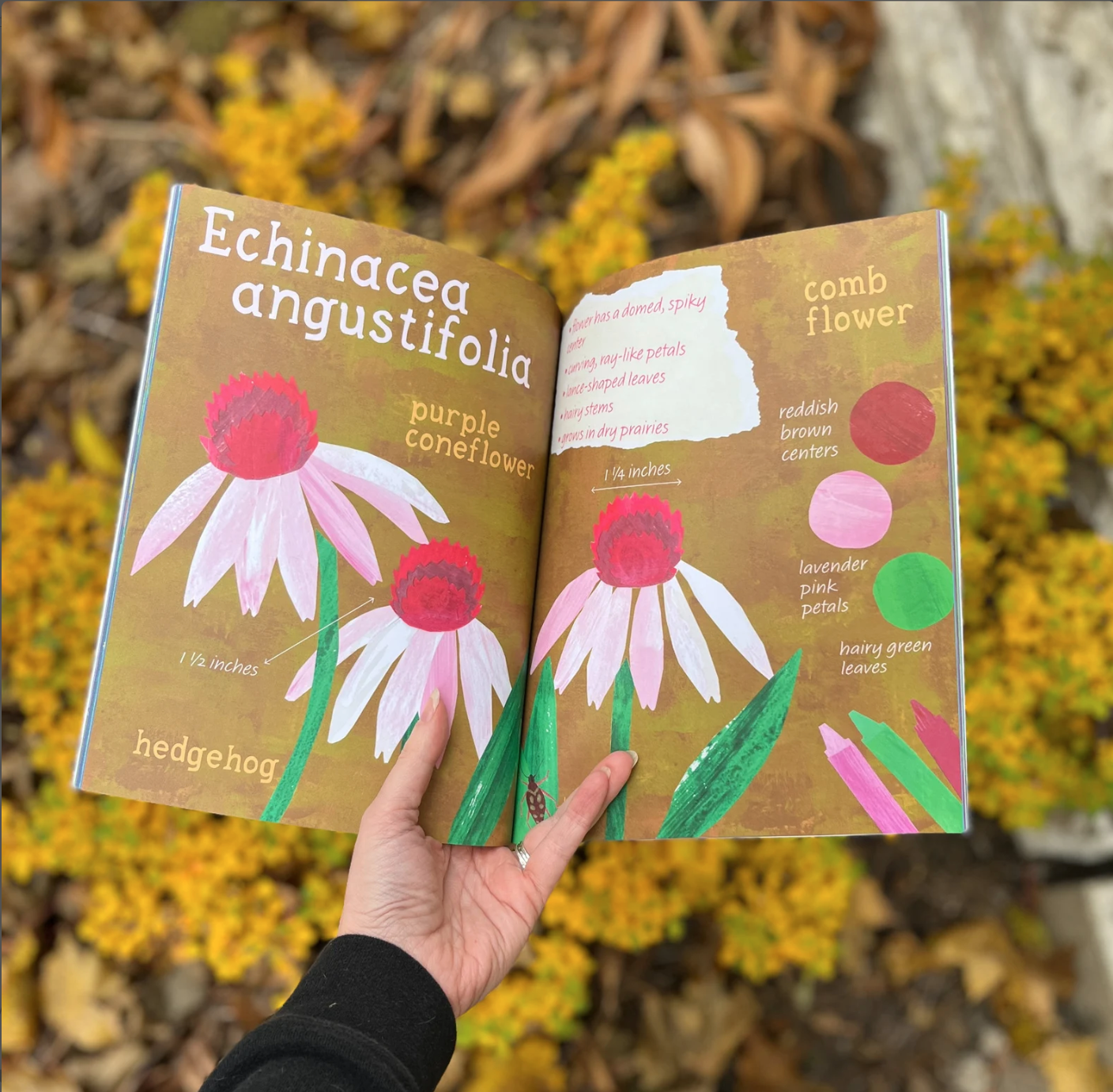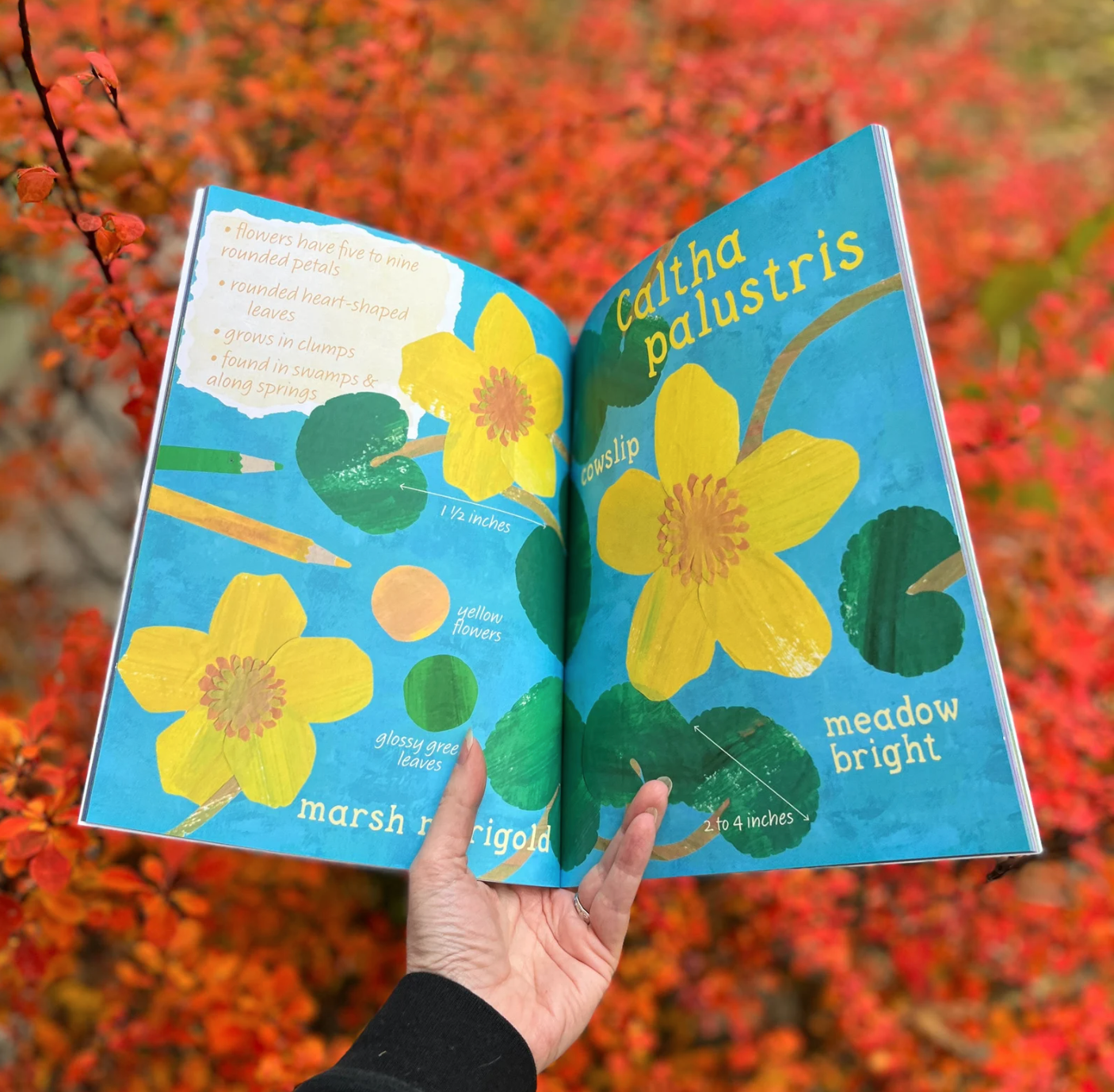 Native Plants of the North Woods
Native Plants of the North Woods features 21 different plant species and 11 native pollinators in a family-friendly field guide. Each page has details and quirky facts about each kind of plant and is geared at an upper-elementary age reading level. Each plant illustration is larger-than-life so you can really see the details, shapes and colors unique to each plant. All of them grow in Minnesota, but I realized that many of them are also native to the north woods regions all across the US including upstate NY where my parents grew up.
Paperback. 44 pages. 8×10 inches. 2021.
Illustrations made from cut paper collage using hand-painted deli paper. This project was supported by an artist residency grant from the Bell Museum of Natural History with funding from the McKnight Foundation.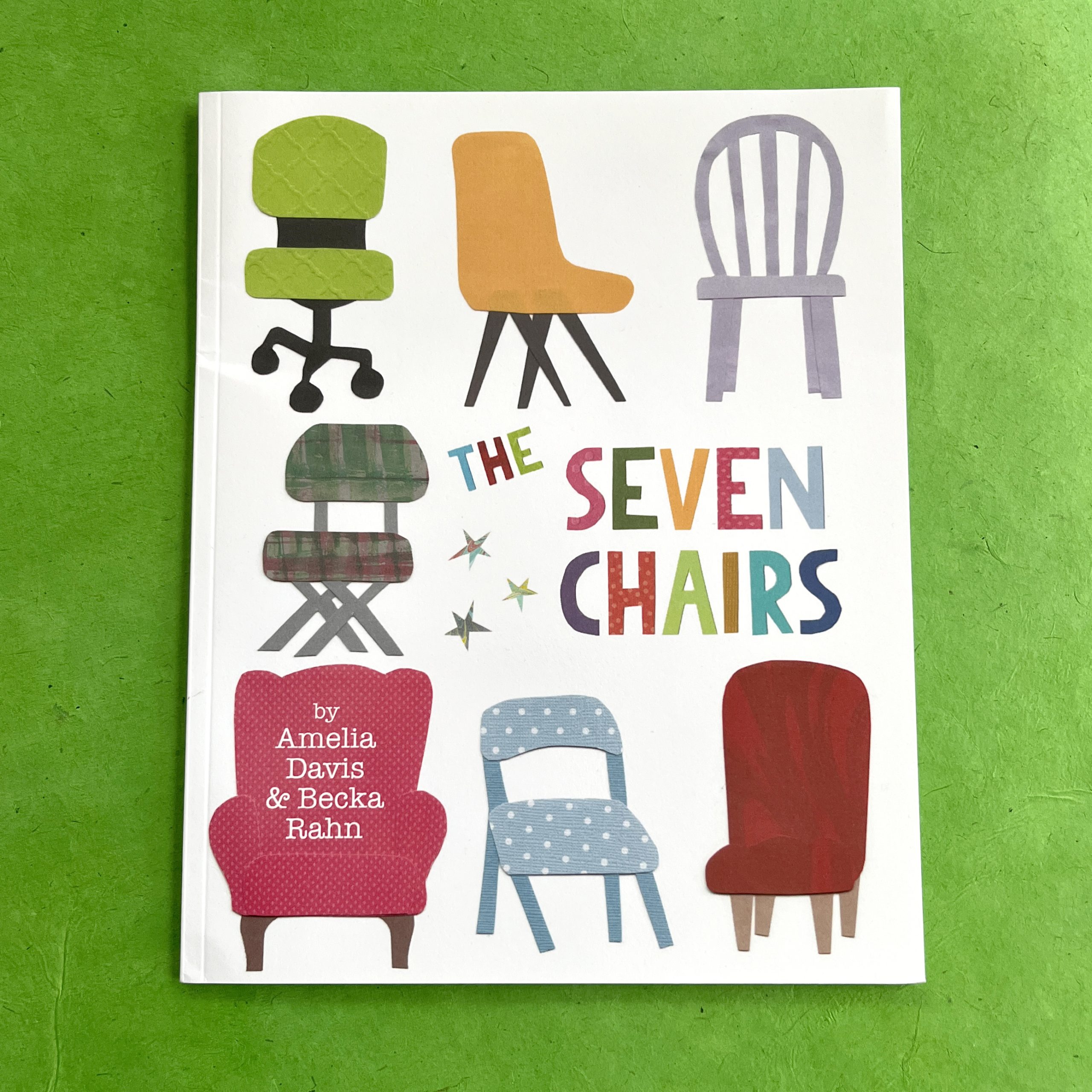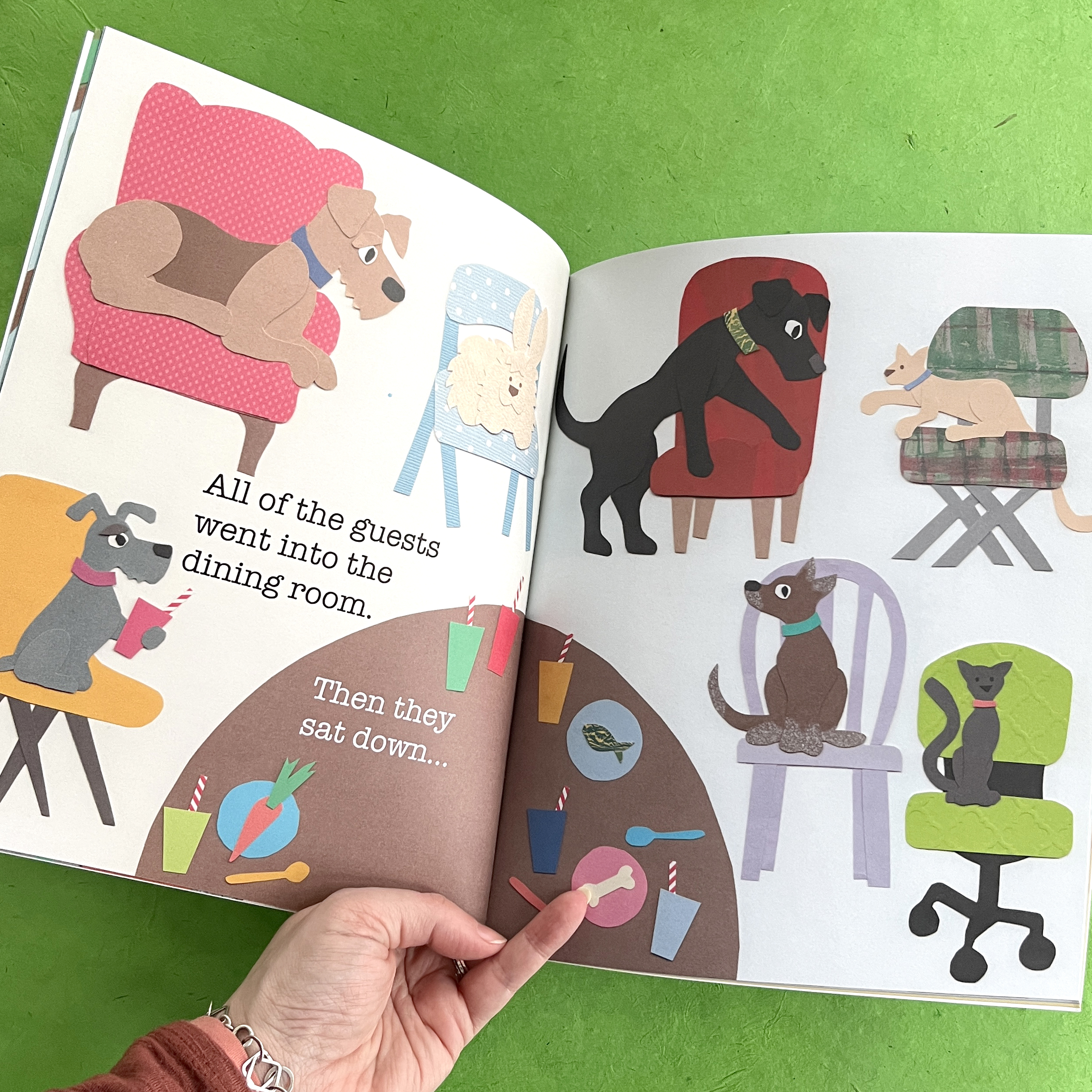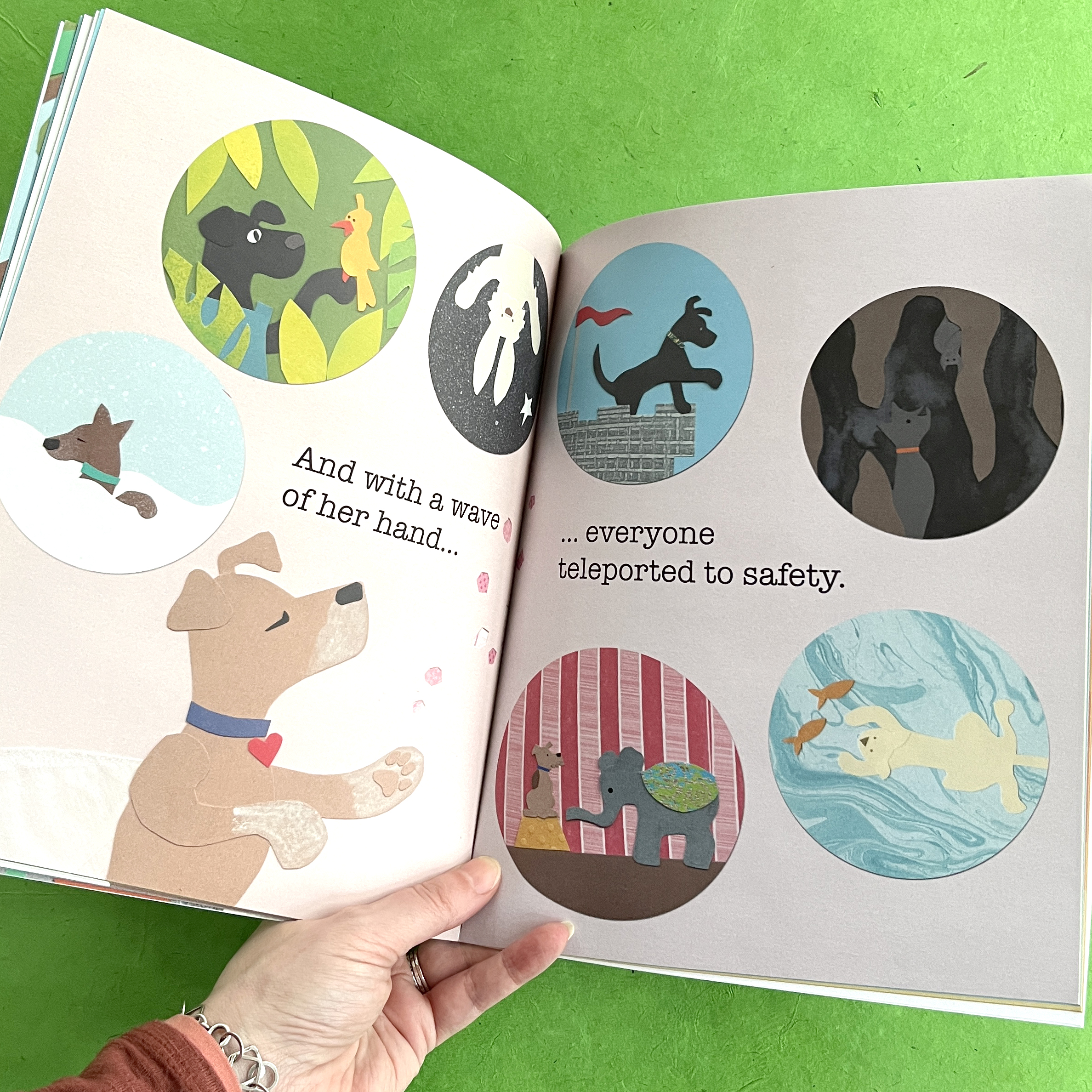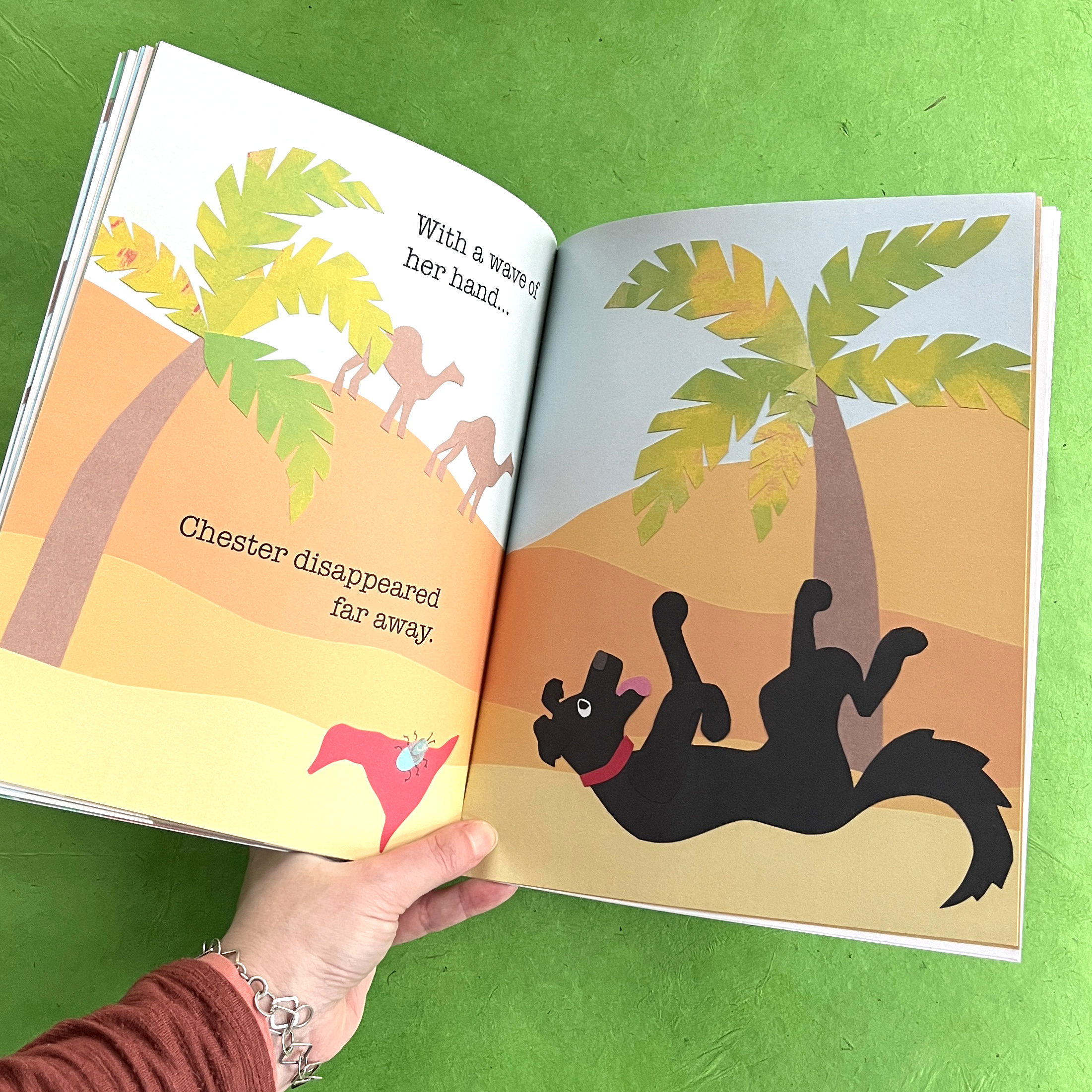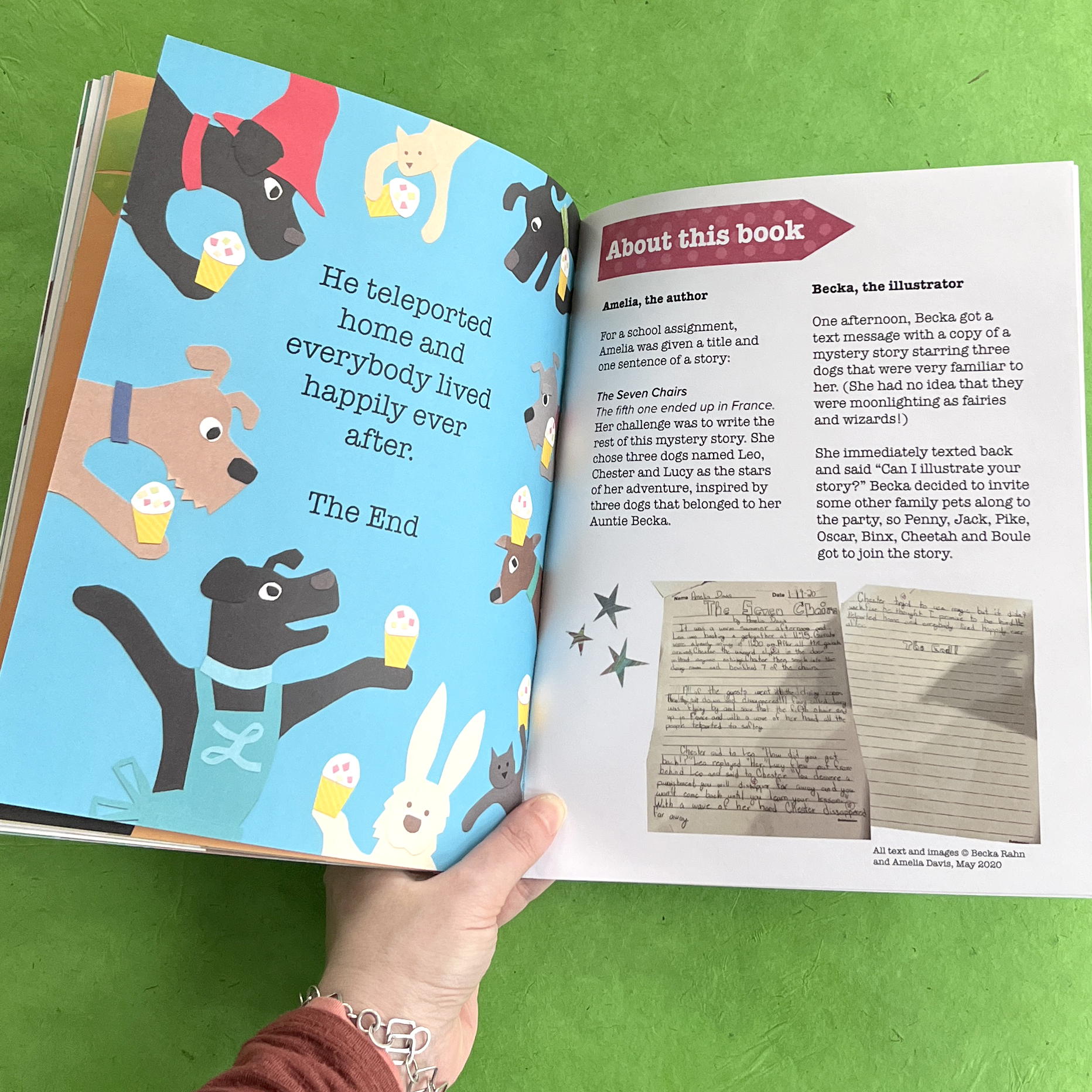 The Seven Chairs
Leo the Labrador had all of his friends over for a party, but things didn't quite turn out the way he expected. When a sneaky wizard and a good fairy show up without an invitation, the party guests find themselves in some unusual situations! Don't worry though, everyone gets a cupcake at the end.
Paperback. 8×10 inches, 24 pages. 2020.
I created this book with my niece, Amelia. She wrote the story in January 2020 for a school project where she was given a title "The Seven Chairs" and one sentence of the story, "The fifth one ended up in France." Her job was to come up with the rest of the story. She chose three dogs to be the stars of her mystery: Chester, Leo and Lucy. Which happen to be the same names as three much beloved former dogs of mine. Since my dogs were the ones having the adventures, I asked her if I could make the illustrations to go along with her story. The illustrations are made with cut paper collage.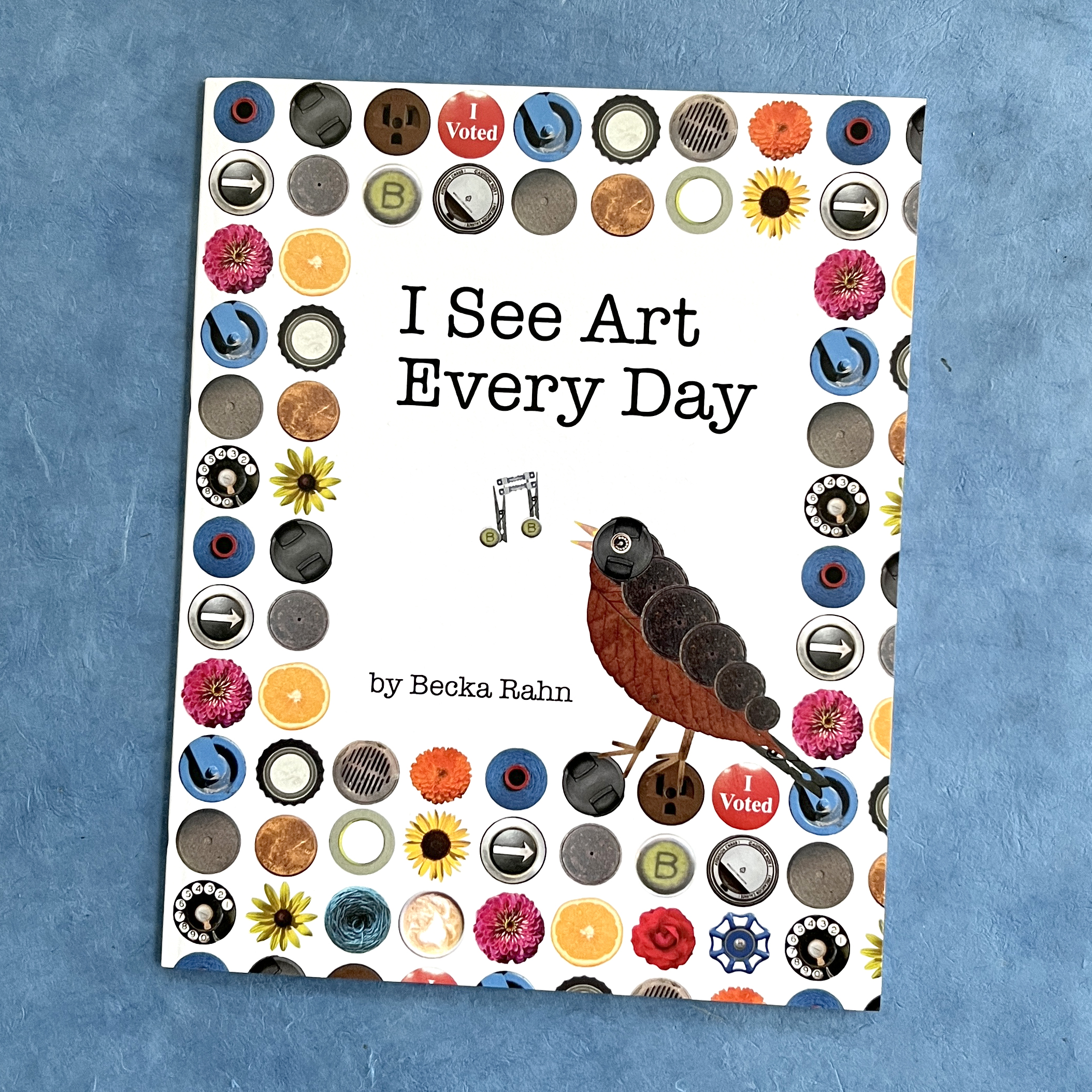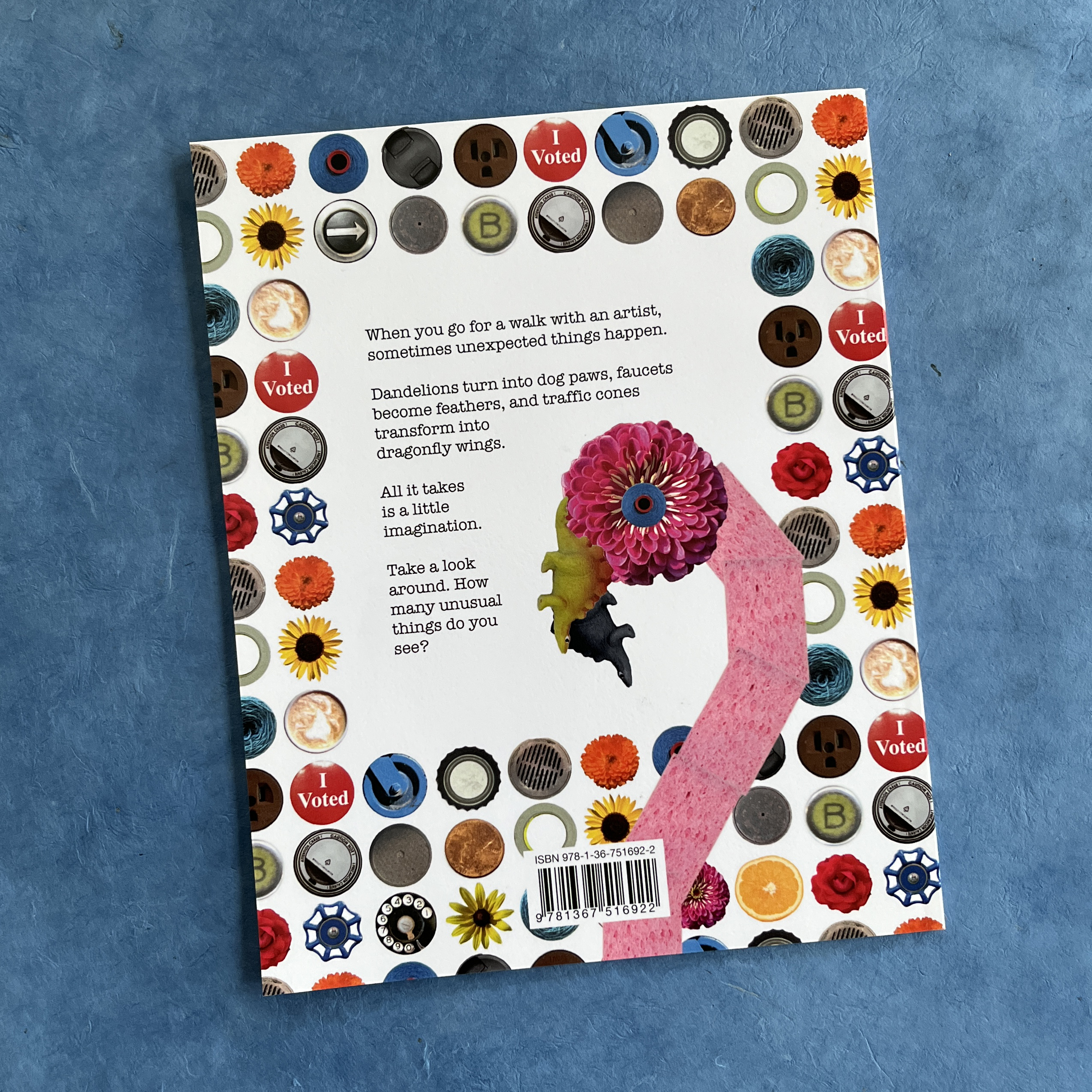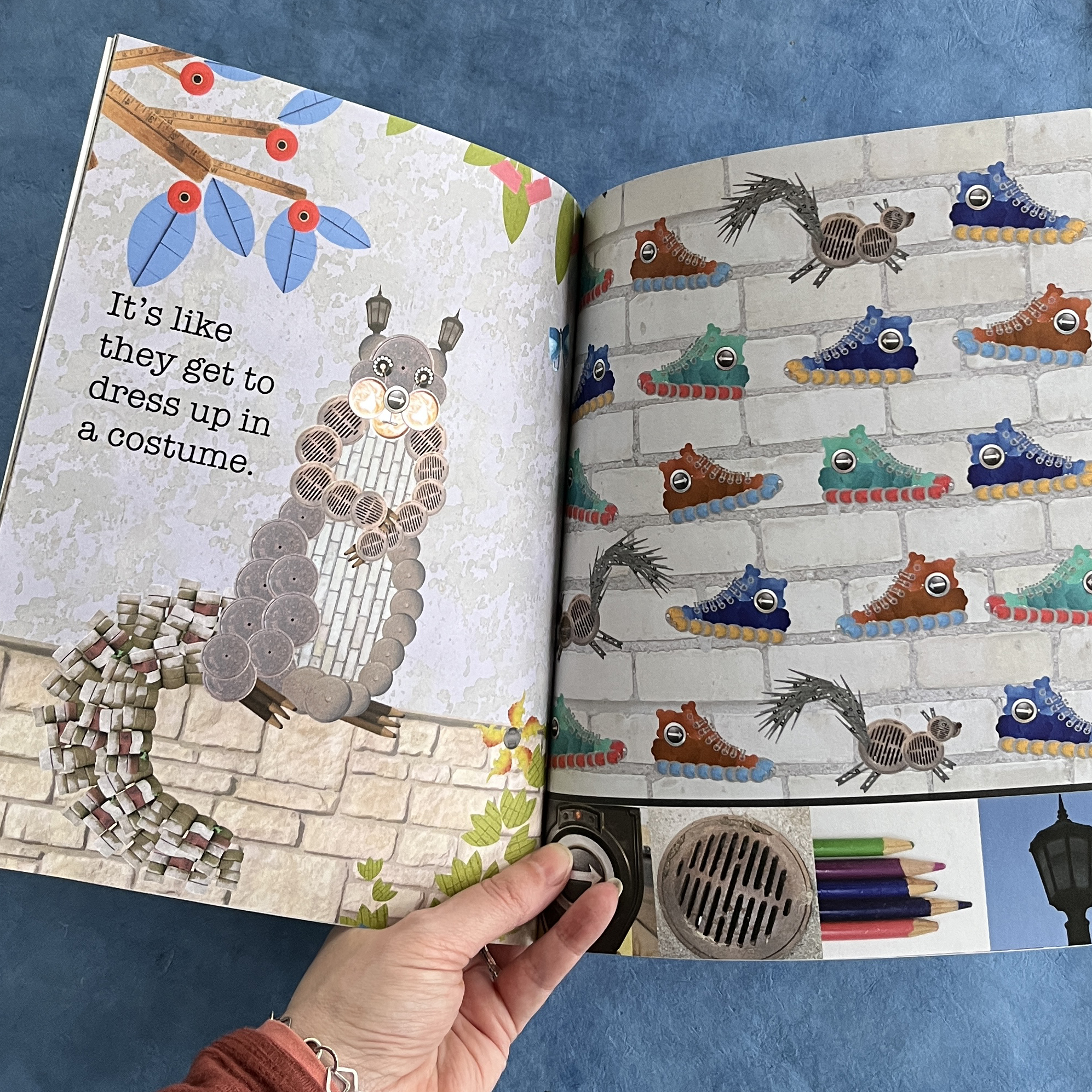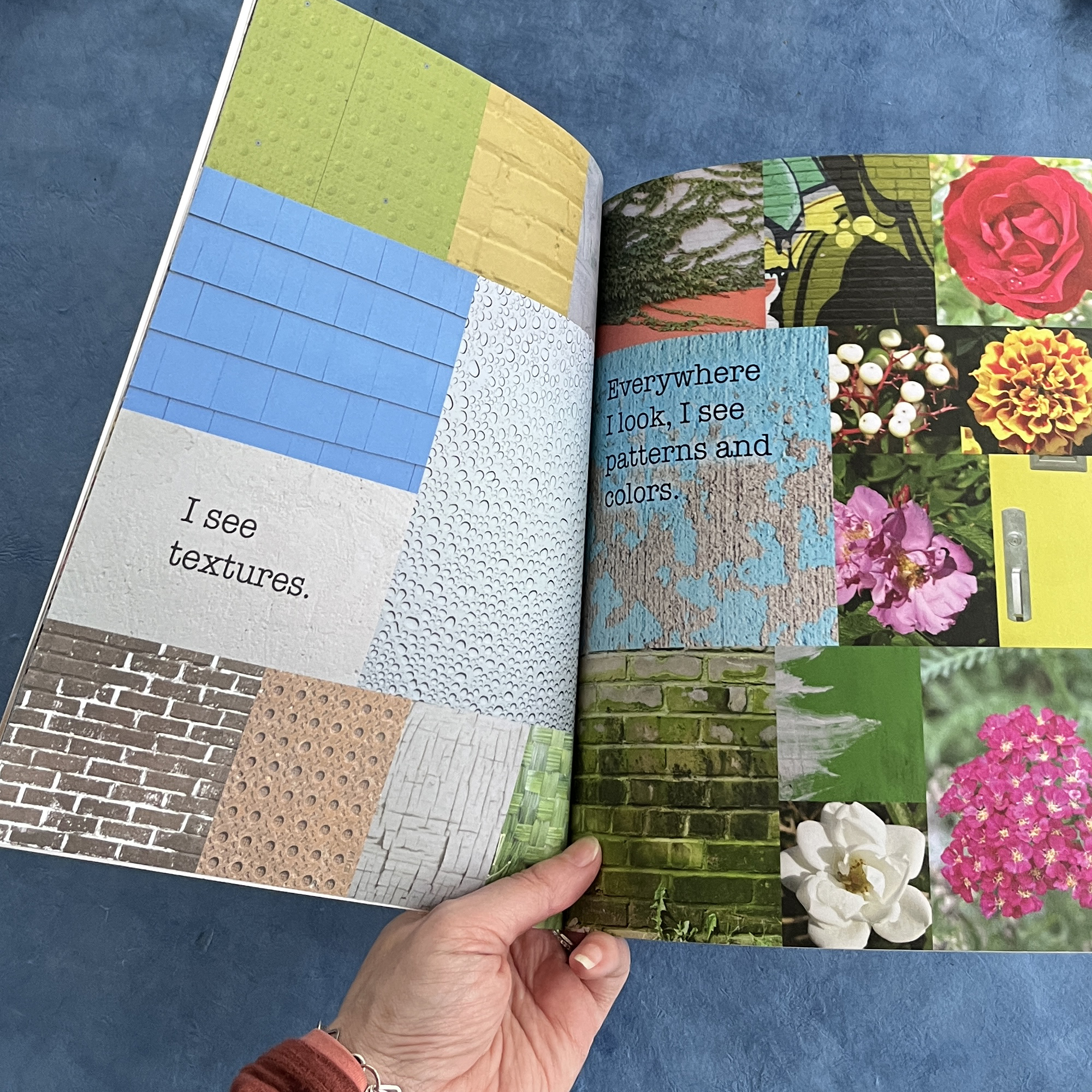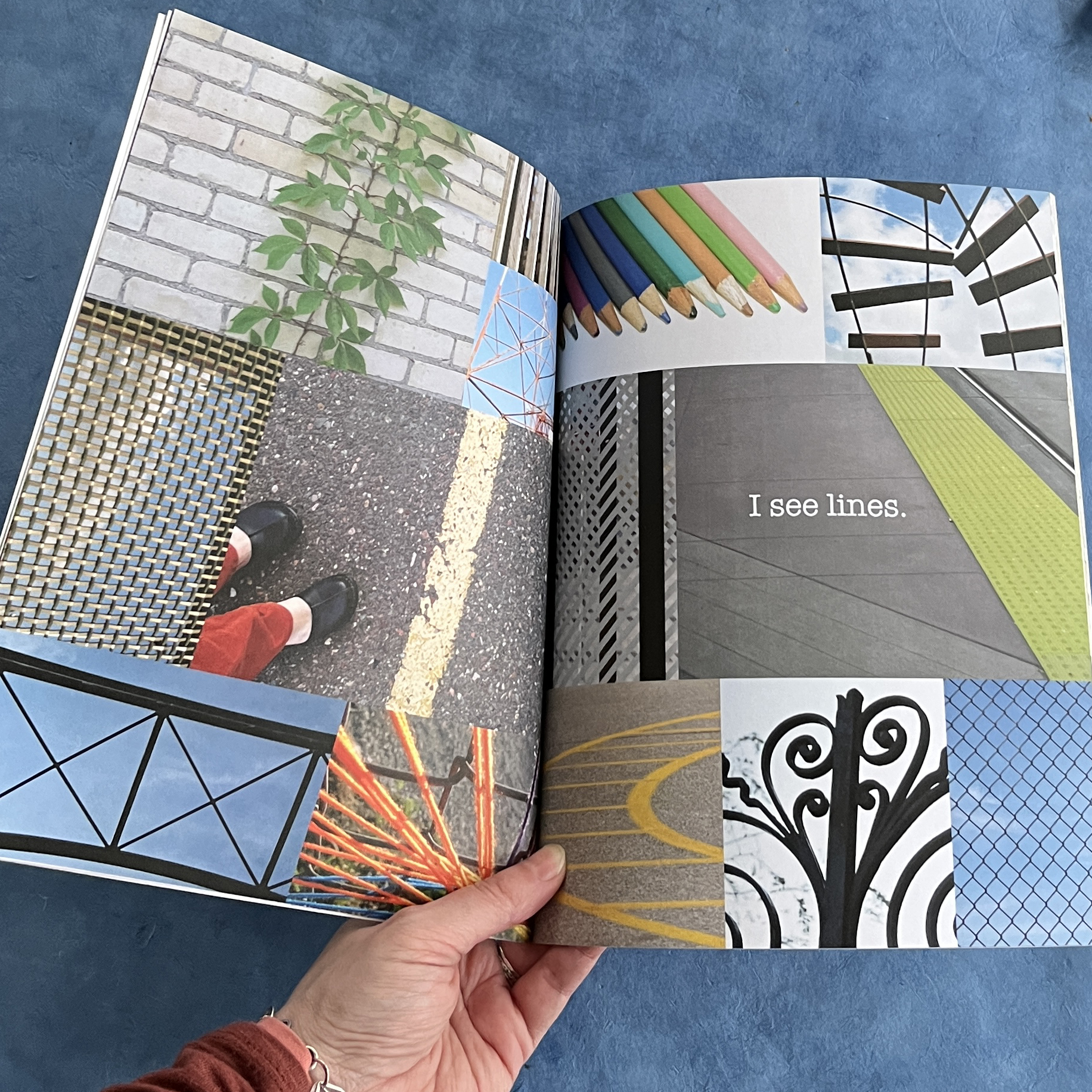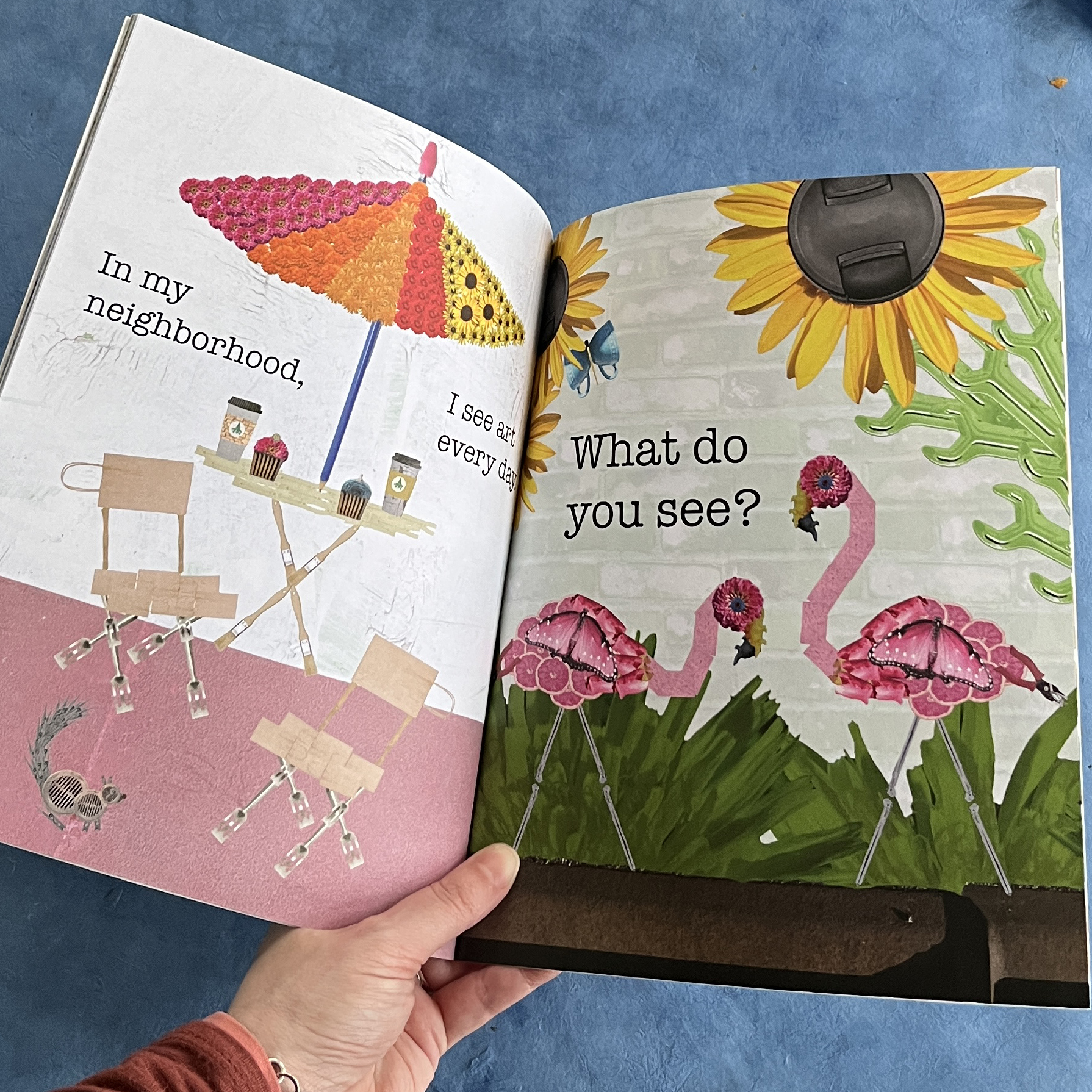 I See Art Everyday
When you go for a walk with an artist, sometimes unexpected things happen. Dandelions turn into dog paws, faucets become feathers, and traffic cones transform into dragonfly wings.
Illustrated with photos and photo assemblages, artist Becka Rahn takes you on a walk around the neighborhood looking for art in everyday objects. The simple story encourages readers to look closely at the pictures because things aren't always what they seem.
Paperback. 8×10 inches. 24 pages. 2016
The book was created to accompany a public art installation in a neighborhood in Minneapolis, MN. The original digital illustrations were made into vinyl wraps that covered three pairs of city utility boxes. The art on each pair of boxes included thumbnails of the original photos to encourage viewers to play an "I Spy" game by looking for the objects in the artwork on the boxes and also throughout the neighborhood.
The Spoonflower Handbook
I am also the co-author of The Spoonflower Handbook, a DIY guide to designing fabric & wallpaper.
Designing fabric, wallpaper, and gift wrap used to be the stuff of dreams. Only a few select creatives got to do it, and it required formal training and significant financial investment. But times have changed, and today anyone with a computer, Internet connection, and idea can upload a file and order their own fabric or paper, printed affordably one yard or more at a time. At the forefront of this revolutionary DIY movement is Spoonflower, a North Carolina startup that produces designs for hundreds of thousands of users worldwide—24 hours a day/seven days a week to keep up with demand.
With step-by-step tutorials and projects that span a wide spectrum of skills, The Spoonflower Handbook is written for both new and experienced users of this print-on-demand technology. Covering everything from equipment to software to working with photos, scans, repeats, vector files, and more, it is an essential guide to a booming new creative outlet.
Available at Spoonflower.com (currently out of stock)