Spend an hour each week stitching in this fun hand embroidery sampler class, held online via Zoom. Each week, you will learn a new stitch and complete a section of the snowflake design. The 8 inch snowflake panel was designed by Becka and is printed on 100% cotton fabric. A pre-washed panel, 6mm iridescent sequins and size 8 beads are included in your class fee and will be mailed to you after you register. You provide the rest of the materials and tools for class. See list below.
You do not need embroidery experience for this class. Beginners are welcome! You can finish your panel as anything you like: frame it, add to a quilt, make a tote bag or table runner.
Featured stitches in this project: back stitch, figure eight knot, pistil stitch, chain stitch, coral stitch, woven cross stitch, whipped back stitch, fly stitch, blanket stitch incorporating sequins and seed beads. Class dates: October 12 – December 21, 10 weeks. No class November 23.
NEW 9/27/23: This is the live Zoom version of the class. There is also an on-demand version of this class and all Zoom students will have access to those recordings if you have to miss a live session or need a refresher. The on-demand lessons will parallel the live class. You only need to register for this session (not both).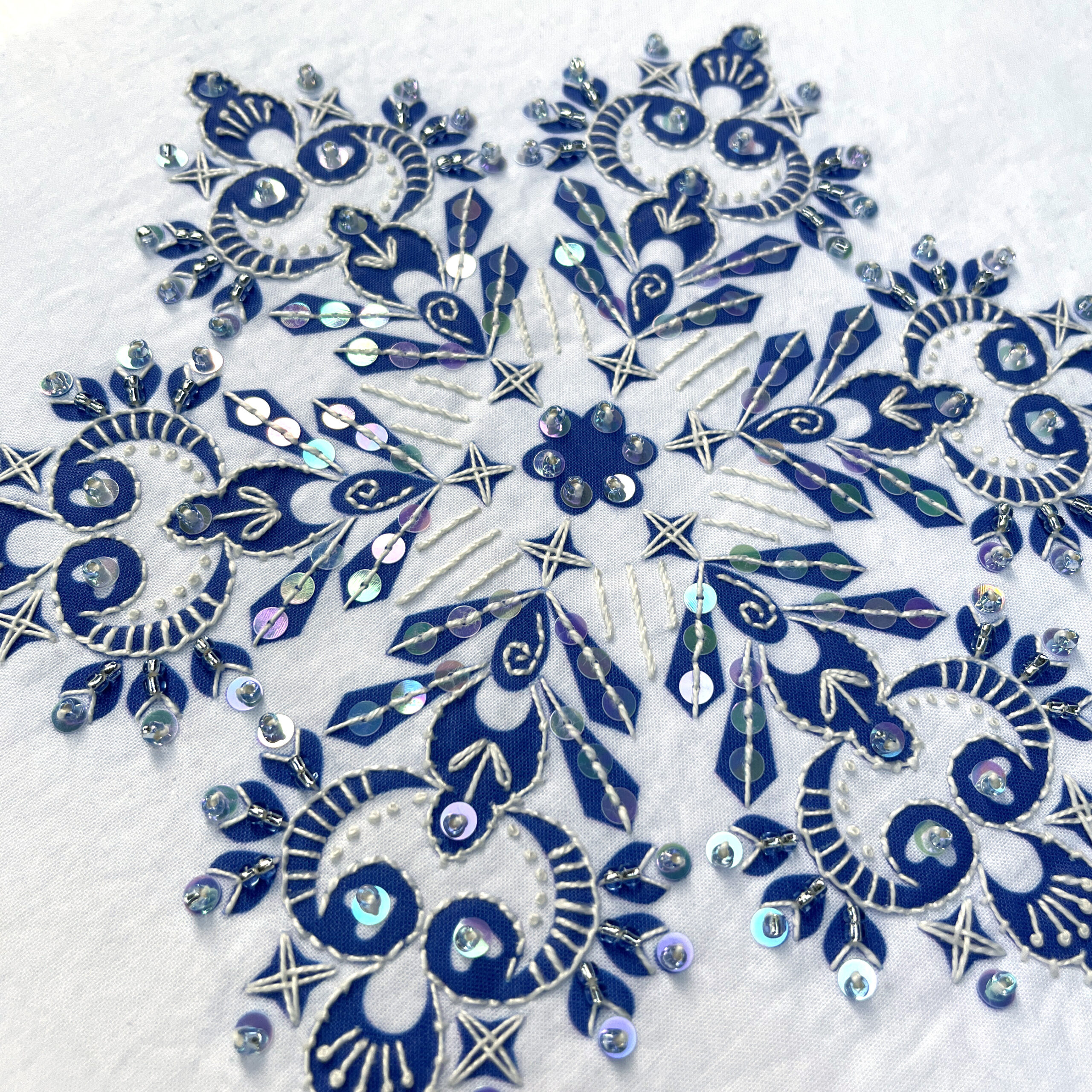 Materials you will need for class:
* scissors
* embroidery or chenille needle
* 5-8 inch embroidery hoop OR lightweight fusible fleece to back your fabric before stitching (instructions provided via email)
* 6 stranded embroidery floss  or size 8 perle cotton
– Choose your own coordinating or contrasting color. Recommended colors: white, aqua, pale blue, variegated blue, silver. Printed snowflake matches DMC 797. Sample in photos is stitched in white perle cotton.