I have been working quietly behind the scenes on a new project for a couple of months.  The neighborhood that is home to Textile Center, Weavers Guild and where I spent a large part of my life during the last 15 years has a really enthusiastic neighborhood association.  And they decided to do a call for artists to make wraps for six (3 pairs) of the utility boxes in the neighborhood.  The City of Minneapolis has a program which allows artists to design these wraps and I was selected as the artist for Prospect Park.  Here are what some of the finished ones (by other artists) look like from the cover of their instruction booklet.  The idea is to bring some art into the community and to help discourage graffiti.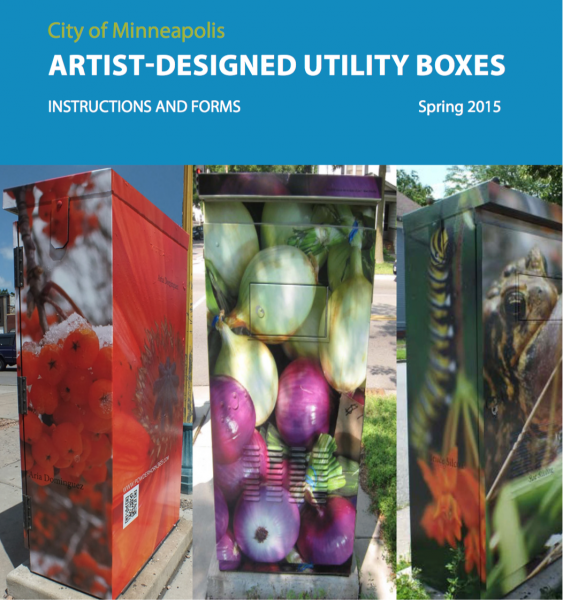 I usually work in fabric and garments, as you all know, but the design skills for these utility box wraps are basically just the same.  I am making a 2-D design and shaping it around a 3-d object.  My first public art!
So, what to put on them?  My proposal to the neighborhood association was to create patterns from everyday objects.  Specifically, I spent several afternoons walking around the neighborhood surrounding these boxes taking photos of objects: flowers, bricks, signs, textures. I collected photos with a theme like circles or numbers and things that are iconic to the neighborhood. I tried to think of things that reminded me of the neighborhood, like the pink roses around the Prospect Park sign that are always buzzing full of bees in the summertime.  I also shot images of everyday objects that you might find in all of the businesses and houses nearby: clothespins, pencils, paintbrushes, safety pins. I have about 450 photos so far and you can see just a few of them up above.
My plan is to use these photos to create patterns, by cutting out, layering and manipulating the images to cover the utility boxes.  I also wanted a way for people to interact with the art, so along one side of the box, I am planning to include thumbnails of the original photos of some of the elements in the design.  This way you can play a game of "I Spy", both looking for the sunflower or manhole cover within my design and looking for that same object in the neighborhood.  There are daycares, a school and community center all in this span of a few blocks, so I hope that the neighborhood kids will notice this.
I meet with my neighborhood committee this week for some feedback on the initial designs and I plan to post regularly here to document the progress of the project.  Just look for the "ProspectPark" category to follow along.  I am hoping they love what I have done so far and I can share some sneak peeks with you very soon.