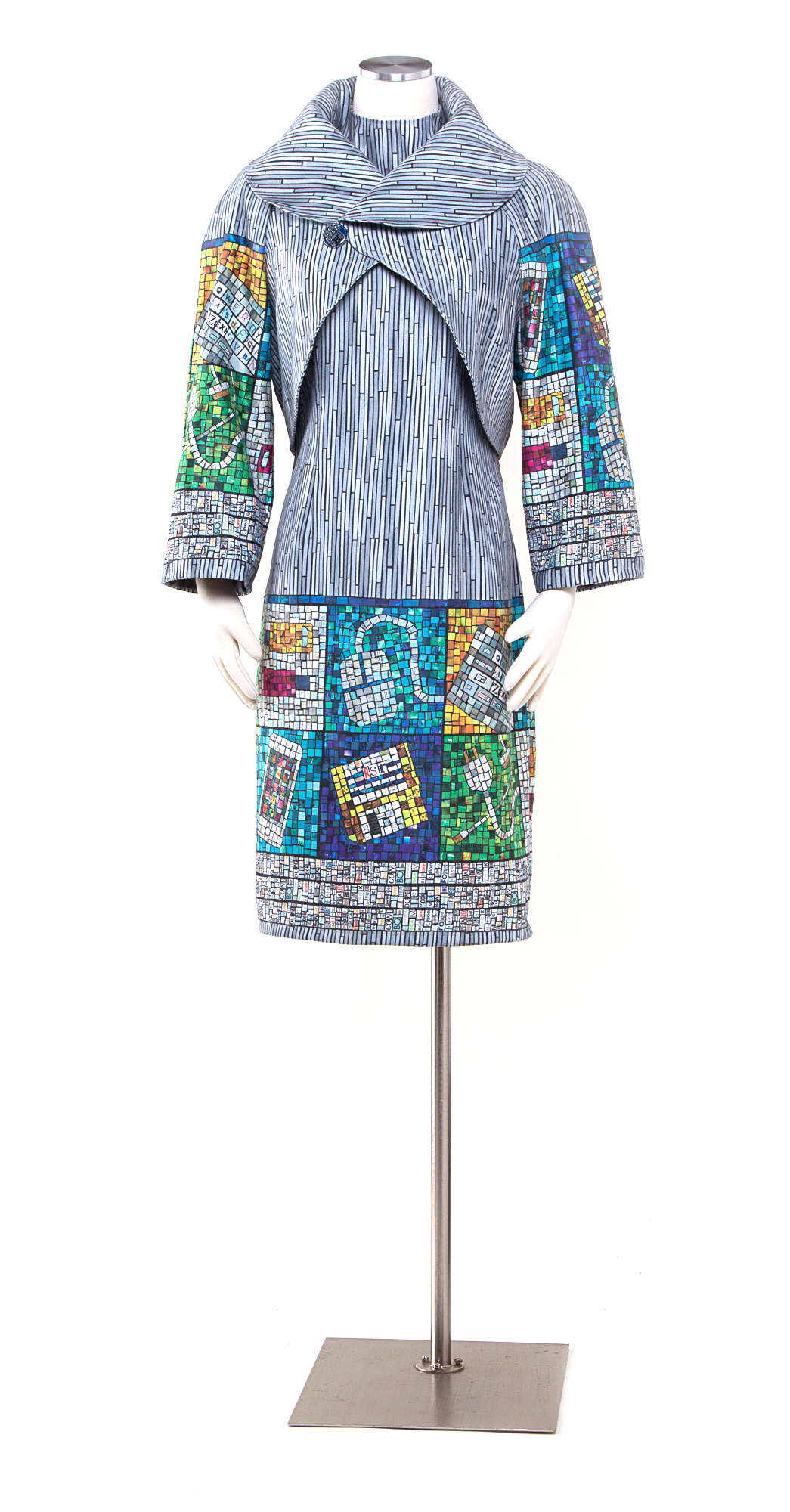 Faking It
Sometimes a comment about your work sticks with you for years. One of the first digitally printed fabric garments I made was a dress that I wore to an art gallery opening. Two visitors came up to me and struck up a conversation about the dress, asking if the fabric was made using batik. When I explained with excitement that it was actually digitally printed photographs of ice, they looked at me and said "Digitally printed? That's cheating!"
I have discovered that the relationship between fiber art and computers is often misunderstood. There is an assumption that if you use a computer, that it does all of the work; you just press a key and Photoshop magically creates art. Because I used a computer to create part of my piece these commenters, and several others throughout the years, decided that it wasn't real art.
So, I decided to make Faking It a celebration of "fake" art made by computers. I started by creating imitation mosaics from recycled magazine paper with images of computers and technology: an iPhone, charging cables and even a vintage floppy disk signed with my initials. I surrounded the mosaic tiles with a border of ransom note style words that all are synonyms for fake: false, swindle, hoax, hokum, spoof, flim flam, bogus and so on. The background is made from tiny strips of paint chips in colors titled "pixel white" and "high speed access". I scanned all of this paper art and the design was then printed on to polyester faux suede fabric. The button on the coat is a costume jewel made from a recycled circuit board embedded in resin. And finally, the dress and coat were made using a commercial knock-off pattern of a couture designer dress worn by Melania Trump at the 2018 presidential inauguration.
Digitally printed faux suede.
2018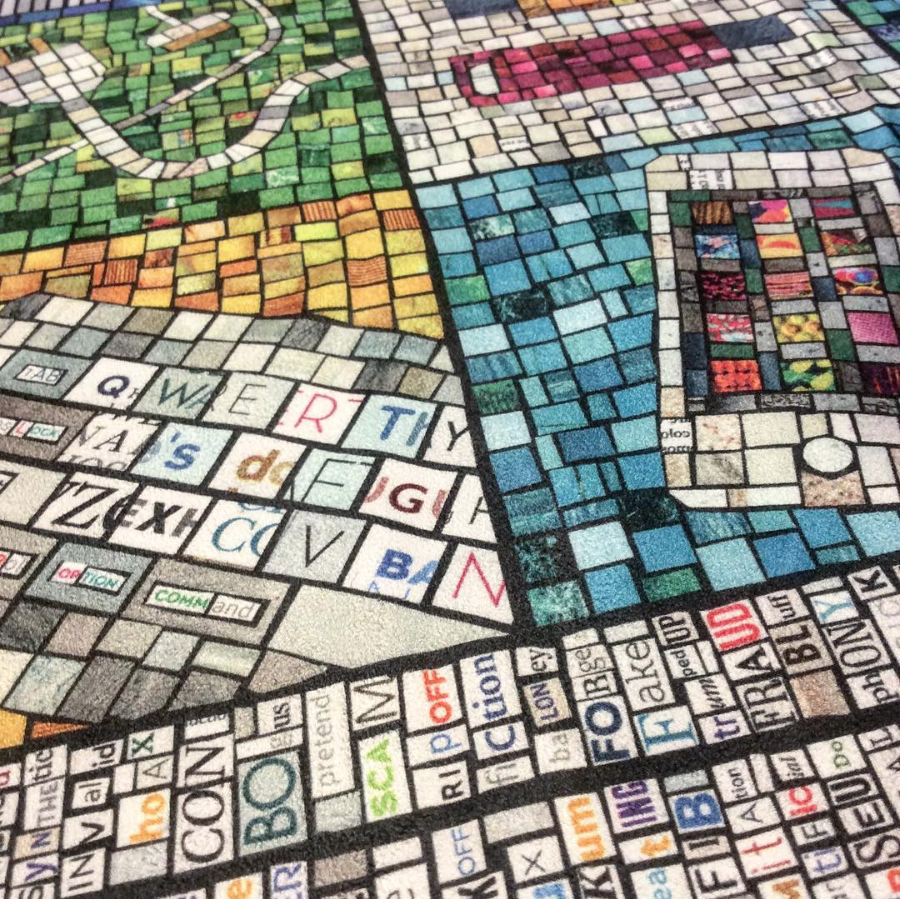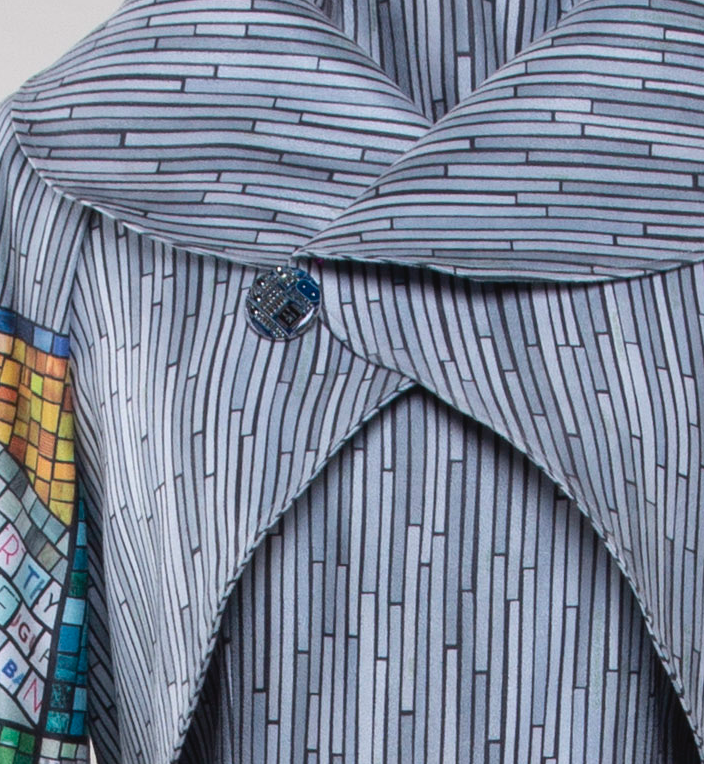 Wisconsin Public Radio did a story about the Fiber Arts in the Digital Age exhibition where this piece made its debut and my work is mentioned.
Fiber Arts in the Digital Age
WI Museum of Quilts & Fiber Arts
September 27, 2018 – January 13, 2019
---
More than the Sum of Its Parts
April 7 – May 24, 2019
---
MN State Fair Fine Arts Exhibition
Honorable Mention Award
August 27 – September 7, 2020
---
Know Your Meme: Stitching Viral Phenomenon
San Jose Museum of Quilts and Textiles
October 2019 – January 2020