I've been teaching a weekly online embroidery class for more than a year now and although my regular students know my favorite threads, I thought it would be great to talk a little more about them outside of class. I do a LOT of hand embroidery on both paper and fabric so I use threads nearly every day. I just finished a large project using all 6-stranded DMC floss, which is probably the kind of thread that most people are familiar with, but it turns out that it's not my favorite one. So, let me tell you about the ones that are my favorites.
Eleganza Perle Cotton
The threads shown on the left side above are all #8 Eleganza Perle Cotton made by Wonderfil. They have had artist Sue Spargo design a line of colors for them and these are my absolute favorite threads to stitch with. Perle cotton is a little different than 6-stranded embroidery floss. Instead of 6 strands, perle cotton has only 2 and they are meant to stay twisted together; you don't separate them like you can with floss. The threads are incredibly smooth and shiny and I don't think they knot up as easily when you stitch them. The variegated colors are particularly nice because the color changes are pretty close together, so when you stitch the color changes often and you don't get long stretches of the same color. There are also some unusual color combos in the variegated threads, like this one called "Conga Line" which I like when I am stitching.
Pictured are Welsh Poppy EZ16 (orange), Paradise Blue EZ10 (blue), Conga Line EZM47 (variegated), Mounted Trousers EZ57 (deep green).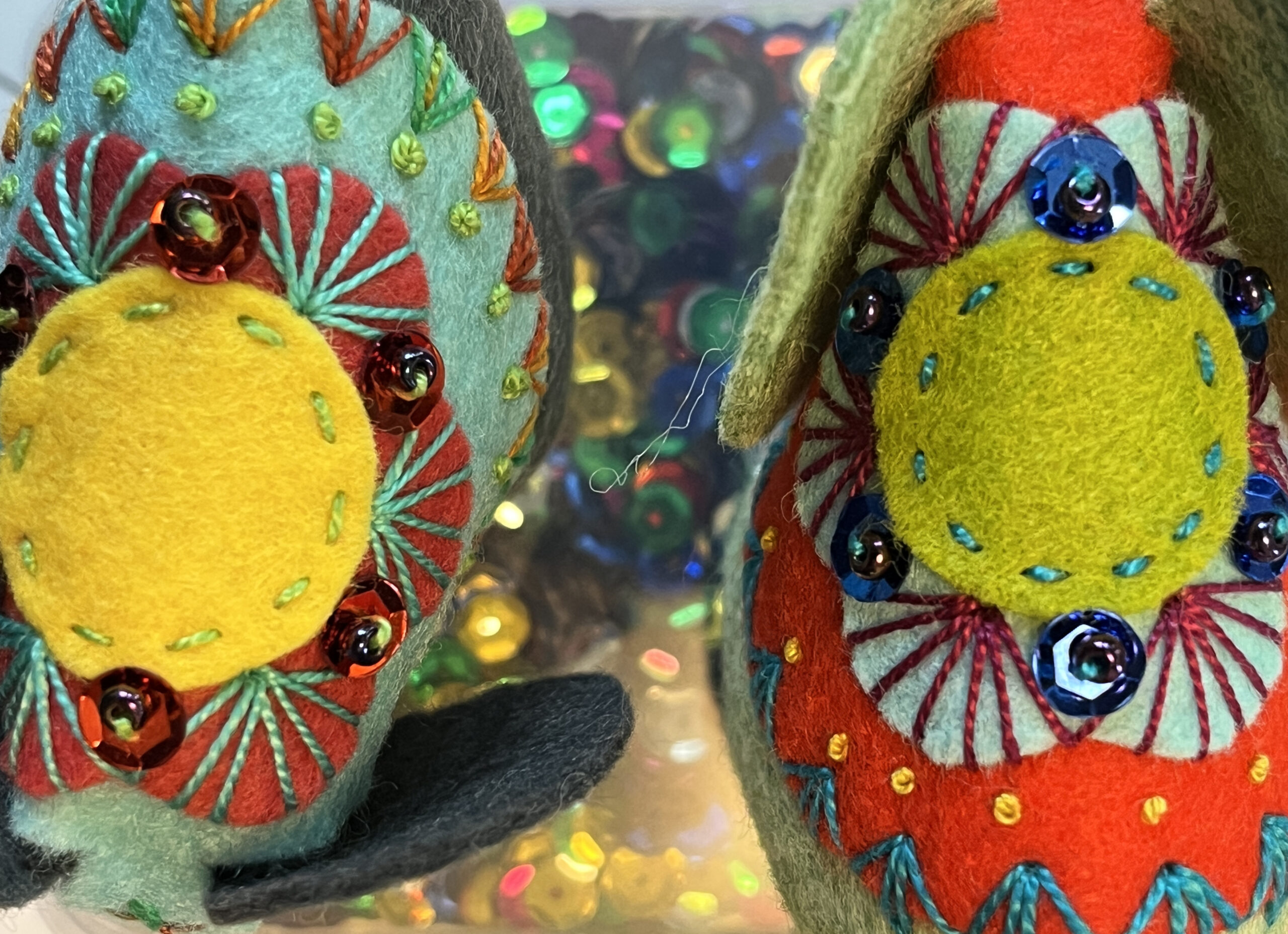 Kreinik #4 Very Fine Braid
I have tried so many different metallic threads over the years and they are always stiff, rough and fray easily. They are difficult to stitch with and some stitches just look ugly because of the stiffness of the threads. The Kreinik braids are completely different. They are still a little more challenging than perle cotton, but the #4 Very Fine Braid is much smoother and easier to stitch with. They are sturdy and they don't leave your piece feeling rough and scratchy. The threads are very sparkly and come in so many colors. It's not just silver, gold, red and green! I usually get mine on Etsy because Kreinik doesn't sell directly from their website, but it's pretty easy to find.
Pictured above are Gold 002, Vintage Burgundy 153V and Aquamarine 684. "Golden" Mrs. Santa shown below is from a pattern by mmmcrafts, stitched by me.