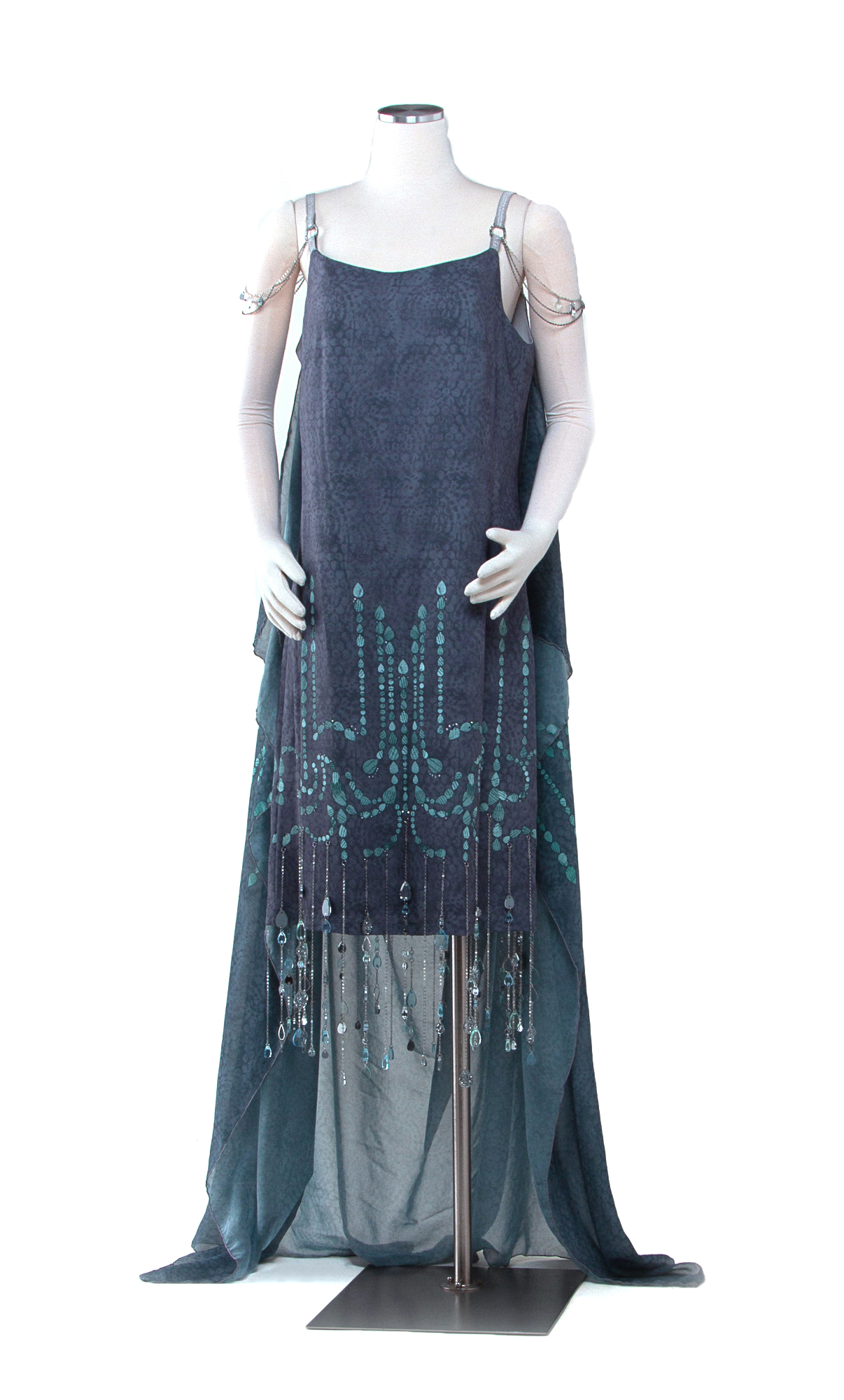 Underwater
My sister and her husband live in rural farm country in southwestern Minnesota. Spring rainstorms this year brought them as much as 8 inches more precipitation than normal, delaying planting times by weeks because the fields were literally underwater. Farming has become an industry of high tech tools, with farmers investing hundreds of thousands of dollars in equipment to help with planting and harvesting. The fact that the fields were flooded means that many of those farmers will be metaphorically underwater as well, with outstanding loans that they won't be able to repay due to low yields in the shortened growing season.
Underwater is a visual metaphor for sinking in debt. The surface design is a pattern of water drops made from recycled IRS tax forms and pages of an accounting textbook. The bottom of the dress is weighted down with "wealth" in the form of raindrop jewels made from sparkling laser cut acrylic and silver plated chains. The shape of the dress is inspired by Great Depression era gowns.
Digitally printed crepe de chine and chiffon, laser cut acrylic, silver plated chain.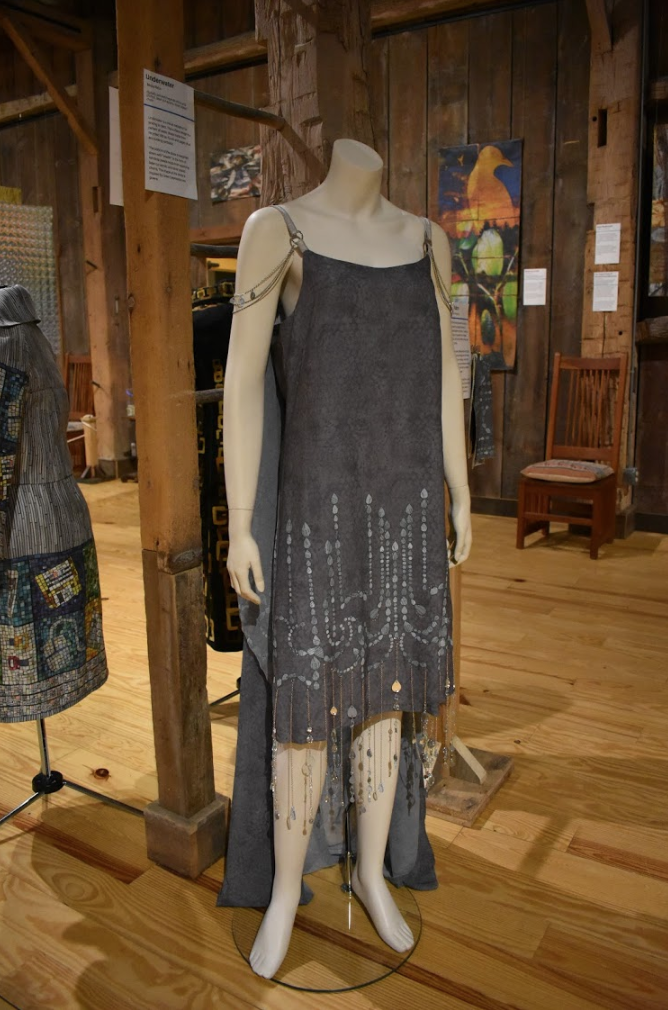 Photos courtesy of the WI Museum of Quilts and Fiber Arts from Fiber Arts in the Digital Age exhibition.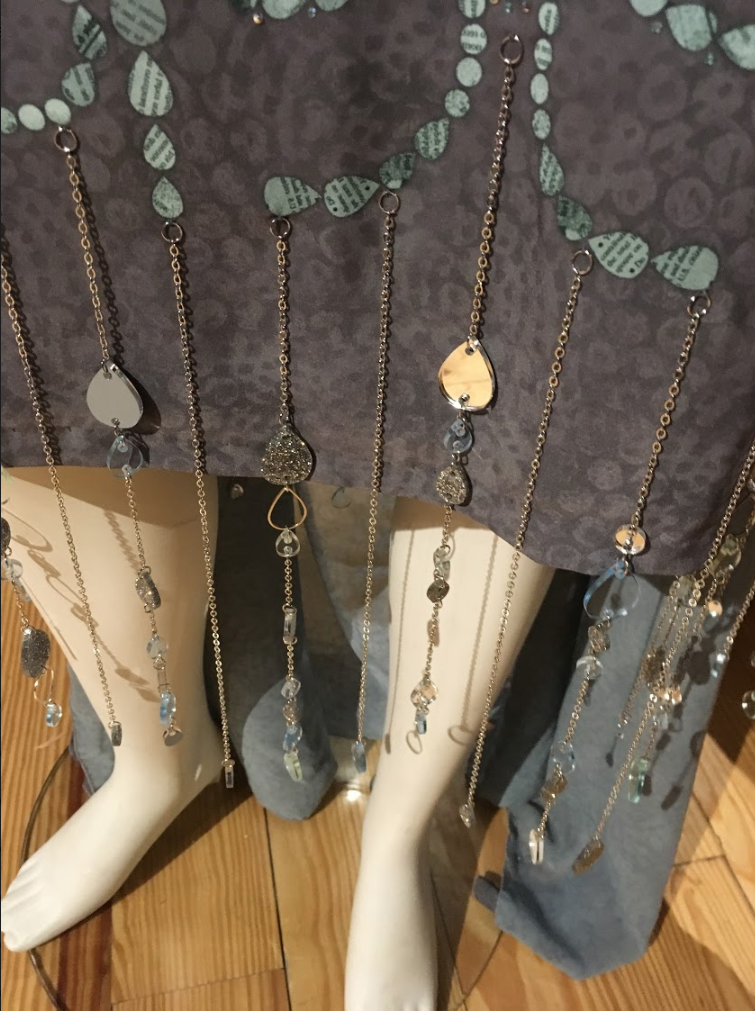 Learn more
Wisconsin Public Radio did a story about the Fiber Arts in the Digital Age exhibition and my work is mentioned.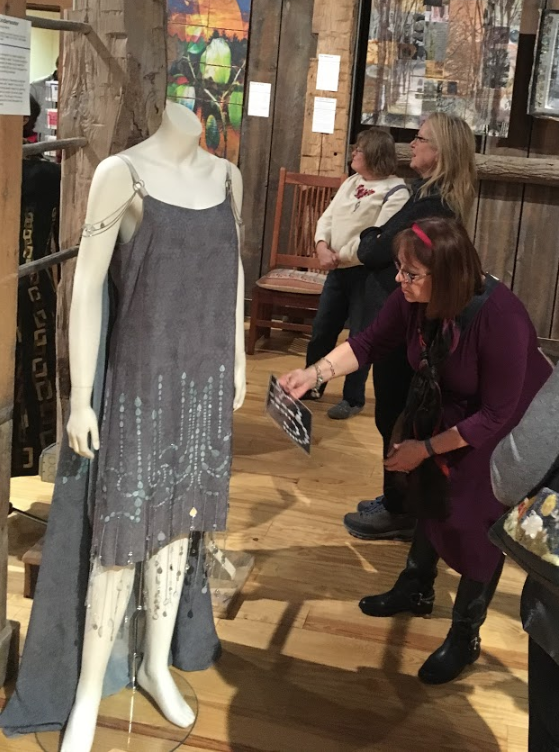 Part of the Fiber Arts in the Digital Age exhibition theme was to help viewers understand the "digital" parts of the fiber art pieces. We wanted to show all of the steps to making a digital design, so I sent several pieces of the original paper art used to make the designs and swatches of extra fabric so viewers could see all of the parts up close. I encased the paper art in acrylic pages so they were able to be handled by viewers. You can see an exhibition visitor here holding up the paper design to compare to the digitally printed fabric.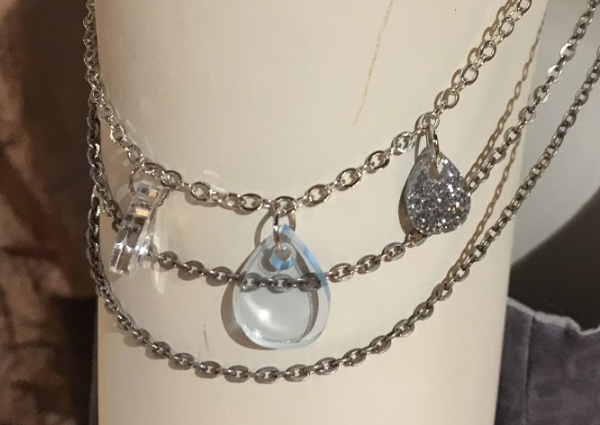 On exhibit
Fiber Arts in the Digital Age, WI Museum of Quilts & Fiber Arts, 2018
Connected, North Suburban Center for the Arts at Banfil-Locke House, 2021