Edith from Renaissance Ribbons reached out to me a little bit ago with a question. She had read my post comparing Spoonflower's Celosia & Performance Velvets and wondered if I would share my thoughts about the digitally printed velvet borders that Renaissance Ribbons makes. I thought it sounded like a great follow up to that post, so I asked her if I could share my thoughts here. Edith sent me a couple of samples the next day. (In the interest of transparency, other than providing those samples, this post was not sponsored in any way.)
First impression is that the Renaissance velvet borders are beautiful. Which is exactly what I would expect because their entire shop makes me feel like a kid in a candy shop. The color is rich and vibrant and the print quality is outstanding. There are very fine details in the two designs I saw and those are crisp and precise. The one thing for me that was unexpected was that the pieces were unfinished on the edges. Coming from a shop with ribbons in the name, I assumed that they would be like ribbon with a finished edge, but they are actually just cut pieces of velvet with a built in selvedge of extra color at the edge. I don't think there's anything wrong with this at all, I was just surprised and this wasn't mentioned in the descriptions of the velvets that I saw on their site.
How do they compare to Celosia Velvet from Spoonflower?
I started by laying out a piece of Renaissance Ribbons Border (top) next to a piece of Celosia velvet (bottom) that I had printed in one of my designs. The first thing I noticed was that the RR Border has a very matte finish compared to Celosia. At the bottom of this photo you can see a little of the sheen that my camera picks up in the Celosia. Other than that fabric finish, the colors are very comparable in the vibrance and saturation.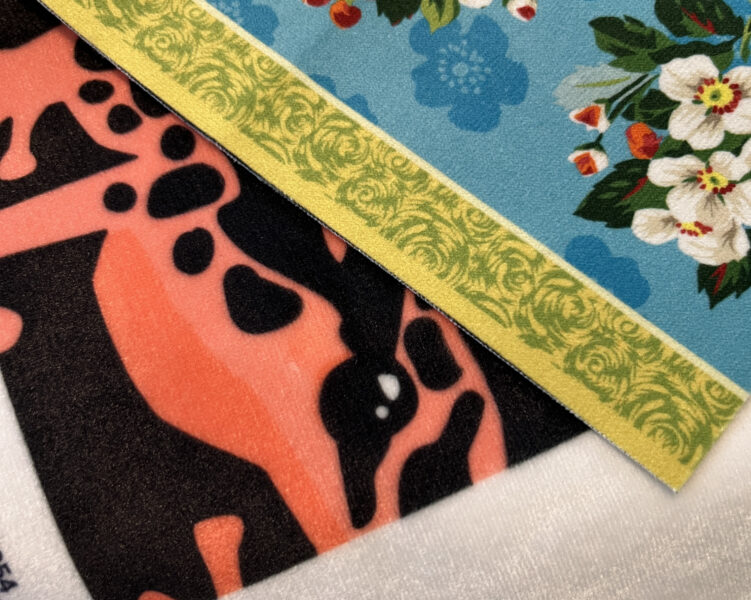 I flipped them over to take a peek at the back. They are both a woven fabric with a very similar look from the back side. The back of the RR Border is a deeper cream color, but the white parts of the design on the front are a nice crisp white. Unlike Spoonflower fabrics, which you can get in a variety of sizes, the Renaissance Ribbon borders come as a 5 inch strip, 1 meter long, which is ready for you to add into your project.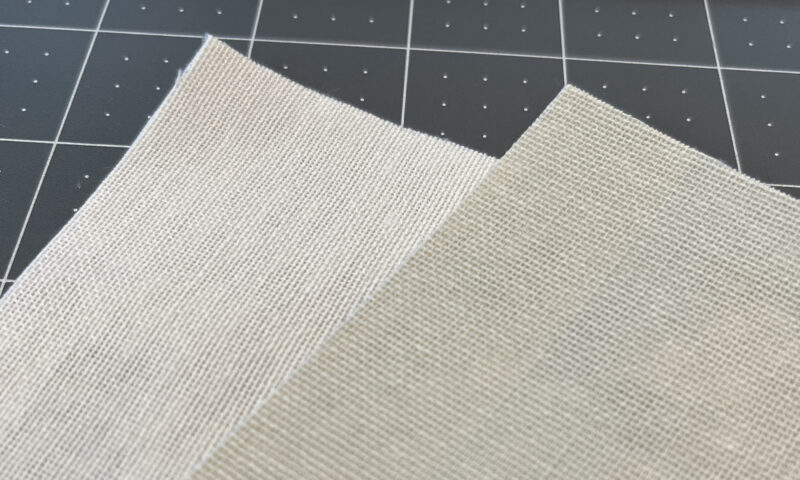 When I crumpled and played with the drape and hand of the fabrics, both were very soft. The RR Border has a little stiffer hand and has less drape than Celosia. I think this is a great feature in something designed to be a border. I would expect that to be pretty stable. Spoonflower says that the pile height on Celosia velvet is about .5mm and I would say that the RR Border is maybe half the thickness of that. I held the two up next to each other so you can see an edge on view. I also think a slightly thinner fabric is probably good for a border, which is designed to be sewn on to something else. Celosia is meant to be a little more like an upholstery weight fabric, so that makes sense that it needs a little more thickness.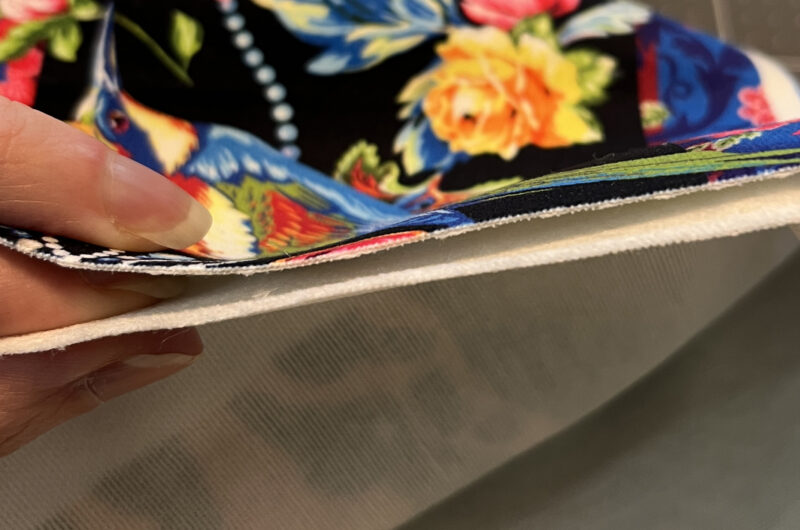 Overall, I think these borders are a great idea and the two dozen or so designs they have on the site are all rich and decadent looking. You can't design your own like you can on Spoonflower of course, but they have an impressive collection of guest designers (Kaffe Fasset, Tula Pink, Mary Engelbreit, Amy Butler) so there's a lot to choose from in velvet or their other woven ribbons. It was fun for me to have an excuse to look at some digital prints from an entirely new source.