One of my favorite materials to make fabric designs from is the humble security envelope. They are the ones with black and white patterns on the inside that your bank statements or rebate checks come in. They come in multitudes of patterns and I collect them every chance I get. I wanted to do a set of new patterns for the holiday season this year, so I decided to illustrate two dozen dogs and cats on security envelopes.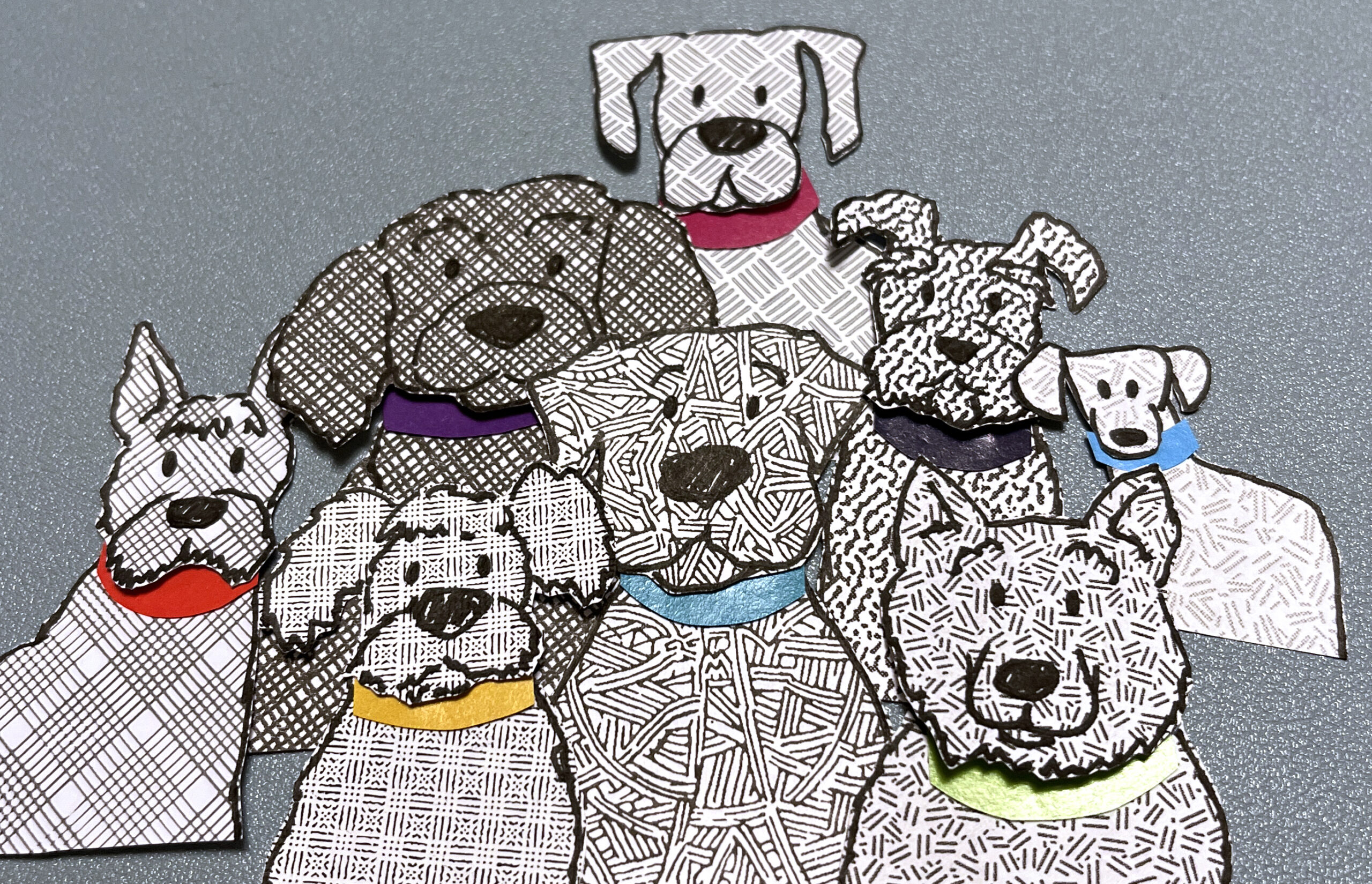 I drew them with a black pen, cut them out and used some scraps of magazine photos to make their colorful collars. Here are some of the dogs.
After I drew them, I temporarily attached them to a piece of cardstock so I could scan them all at once. Then I pulled them in to Photoshop and made a repeating tiles, so you had a continuous pattern of dogs. There's not a lot a magic to doing a seamless repeat like this, it just takes a lot of patience to get everything lined up perfectly to match from one tile to the next.
Once I had finished a seamless pattern of both cats and dogs, I decided to reuse the same art and make a calendar tea towel. I love when I can use art multiple ways to make different designs. For the tea towel, I already had made the months for a different design three or four years ago using ransom note style letters and numbers cut out from magazine pages. I rearranged the numbers to match 2024 and created a new calendar design with a cat and a dog sitting next to each month. Here's a screenshot of the calendar in progress.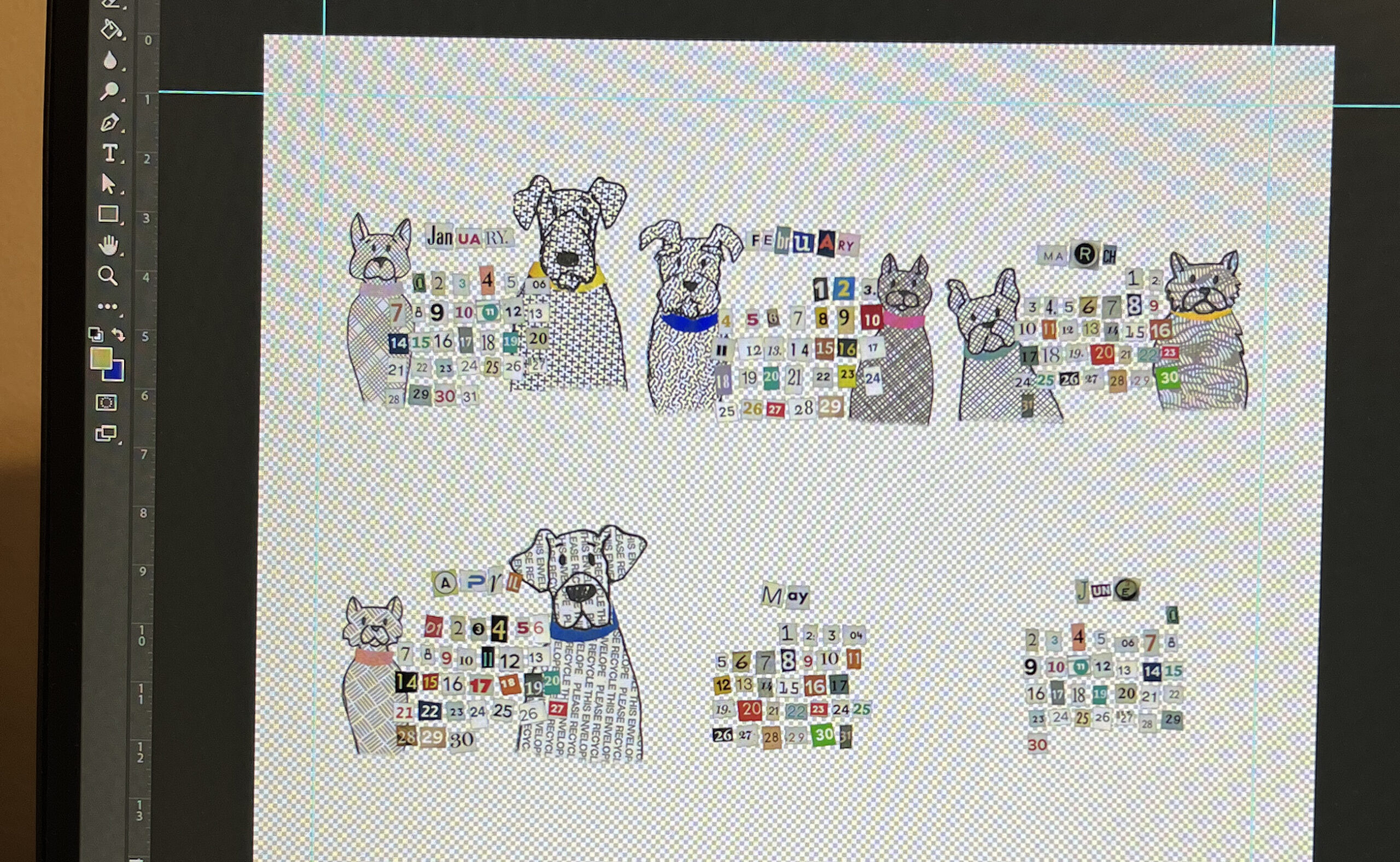 Then, I decided to reuse the cats and dogs once again, but to make holiday ornaments! Once I have the original paper art scanned, I can do anything I want to with the originals. Sometimes I remake them into other things.
To make ornaments, I wrapped some scraps of bookboard with marbled paper that I made in a class. I covered the front side with handmade lokta paper in a solid color and then added one of the cats or dogs on top. I punched a hole in the top with an awl and threaded through some sparkly ribbon to make a hanger. Each one got a tiny initialed signature in the corner.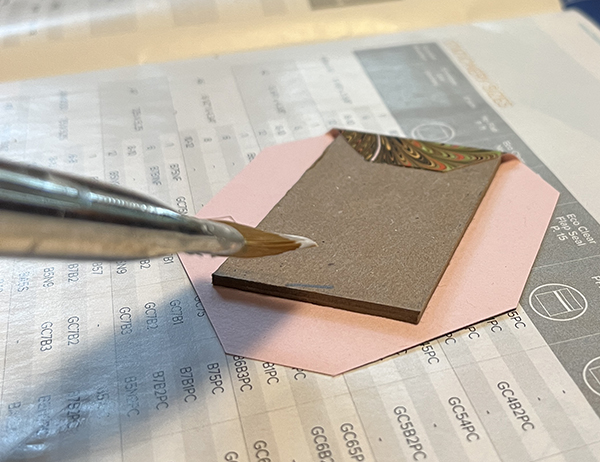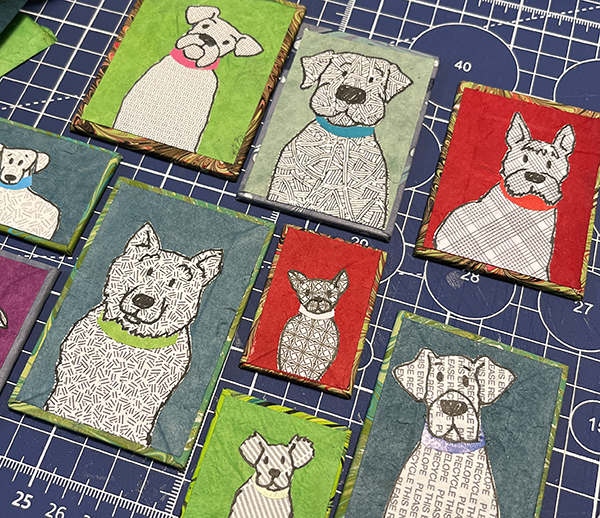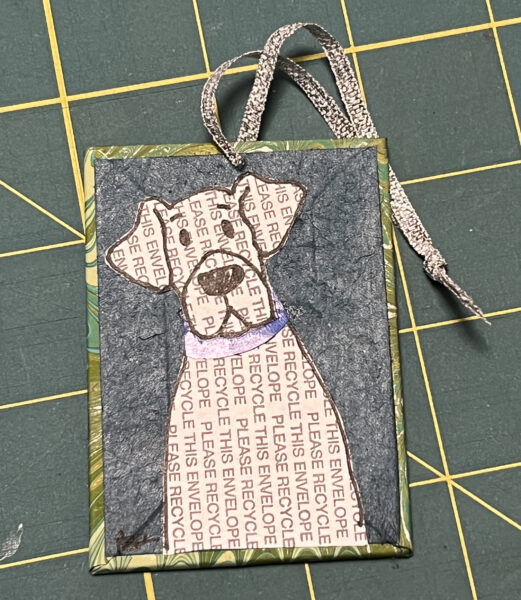 The rest of the ornaments went off to holiday shows at the Northrup King Building and North Suburban Center for the Arts, but I decided that I needed to keep this Stanley for myself. I love this particular security envelope design so much. If you look closely it says "PLEASE RECYCLE THIS ENVELOPE."
I'm sold out of calendar tea towels but you can get them from my Spoonflower shop!