I skipped a week of fabric reviews due to the unsettled situation here in Minneapolis, but I am continuing my fabric review posts today talking about Spoonflower's Dogwood Denim. In this series of fabric review posts I am going to tell you everything I know about these fabrics from having worked with them and give you my best tips and tricks.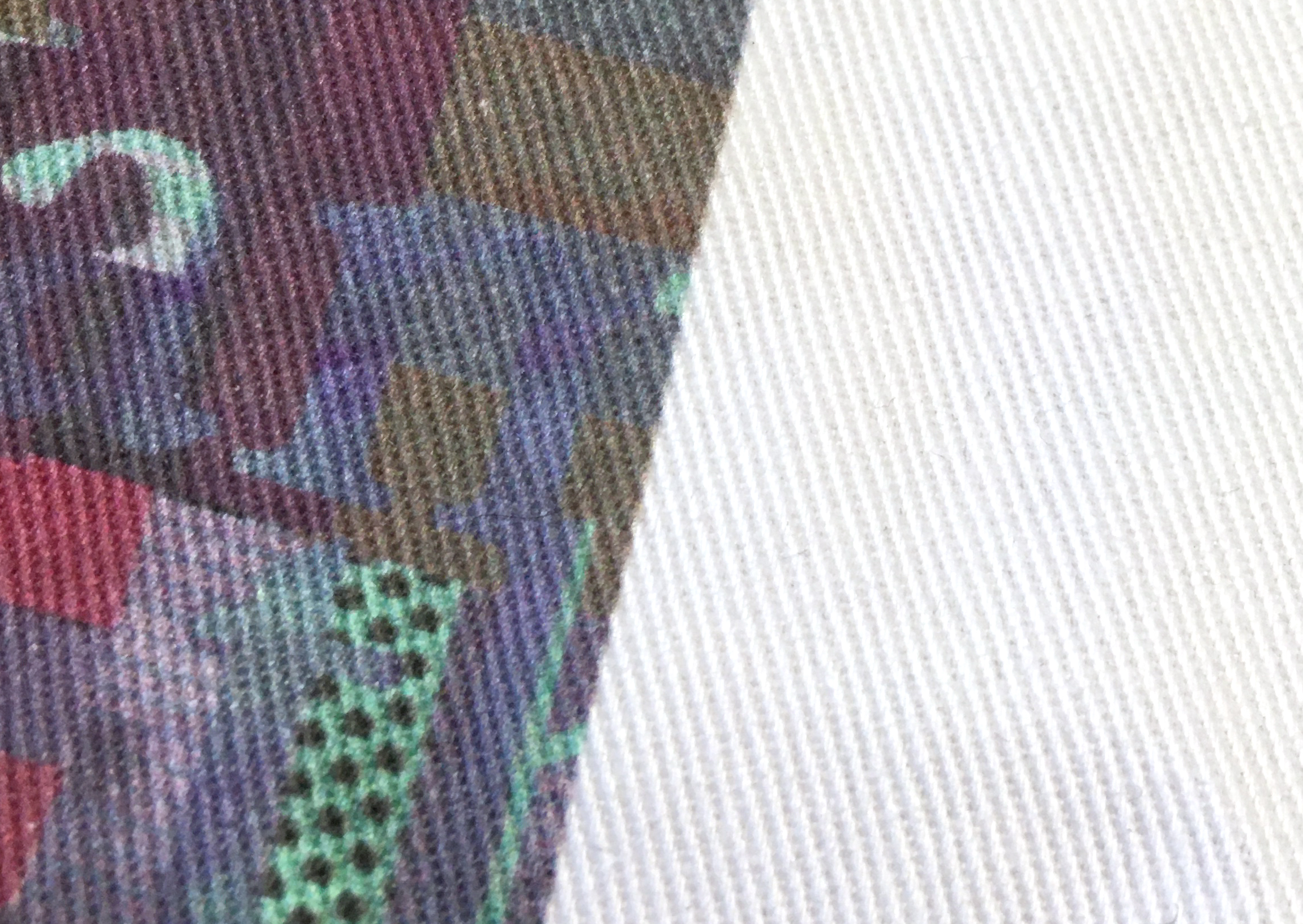 ABOUT DOGWOOD DENIM
Dogwood Denim is a heavyweight twill fabric. Twill is a kind of weave structure that has a somewhat prominent diagonal line because instead of the threads just going over one-under one, twill has threads that go over and under 2 or more threads. The threads are much thicker than the ones used to make Petal Cotton or Sateen, which I talked about in my last post. Unlike the jeans you might have in your closet, this denim has no spandex/lycra and no stretch. This is something to keep in mind when you are thinking about sewing clothing.
Dogwood Denim is 100% cotton and is a nice bright white. It is 11.7 oz per yard, which means that it's almost 3 times as heavy as Petal Cotton and is the heaviest and probably the most durable fabric in the Spoonflower collection. It doesn't tear easily and it is 100% opaque. It has a 56 inch printable width. The shrinkage is marked as 1-2% in width and 7-8% in length. That's 2.5 inches over a yard of fabric (lengthwise) so I would really make sure I washed this before I made anything from it and keep that in mind if you are trying to economize on fabric and use every bit of the length. It also softens up a lot when you wash it; when you get the freshly printed fabric it is very stiff.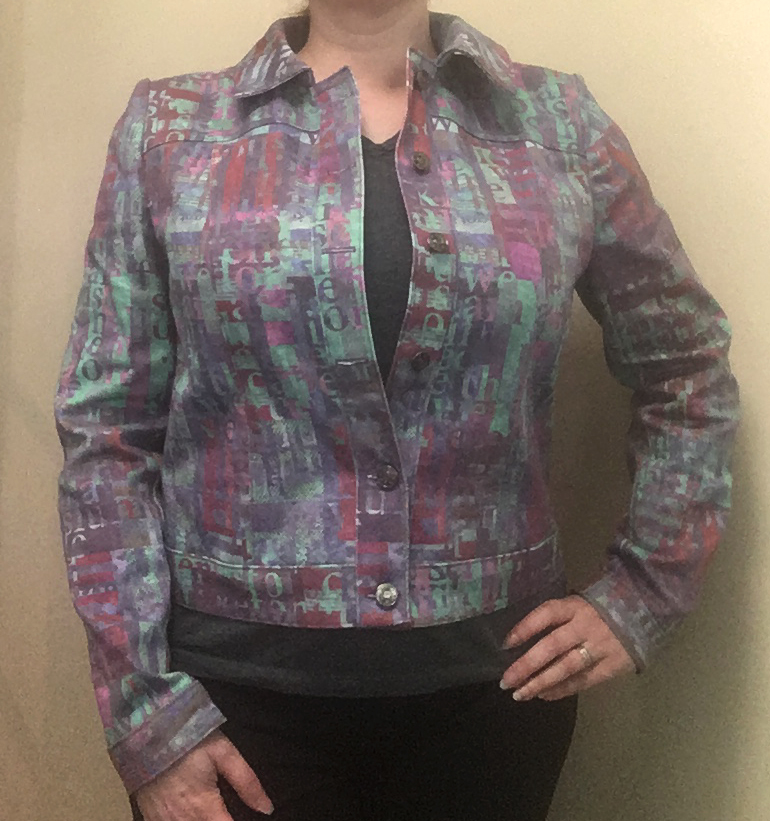 I just this afternoon finished this denim jacket made from one of my designs printed on Dogwood Denim. I made it at least a month ago, but waited until today to put in the buttonholes because I had a problem finding matching thread (due to the epidemic). This is unlined and because this fabric is so thick, I used some scraps of quilting cotton to do the inside facing on the cuffs and hem of the jacket to cut down on some bulk. Definitely use a heavier weight sewing needle in your machine when you are working with this fabric. It's not hard to sew, but if you have 3-4 layers of fabric in a seam, it does get very thick. Although it is stiff and thick, the hand/surface is very soft as you would expect a denim to be. It doesn't fray too badly while you are working with it, but it definitely frays when washed, so I made sure to serge all of the edges as I made this jacket. (Jacket pattern is Burda #7018.)

PRINT QUALITY AND APPEARANCE ON DOGWOOD DENIM
Because of the textured nature of the fabric, you will see that when you print your design. The colors on Dogwood Denim are vibrant and have nice saturation. Above is an example of the same design printed on both Dogwood Denim and Performance Pique. You can see the ridges in the denim may make the edges of shapes look a little less crisp and may obscure some subtle detail. That isn't anything about the print quality, but the fact that the fabric has so much texture already.
This "Number 2 Pencils" design has very fine lines that still print pretty well. Note that this design has a spatter texture that does break up the lines slightly, but you can still see the detail.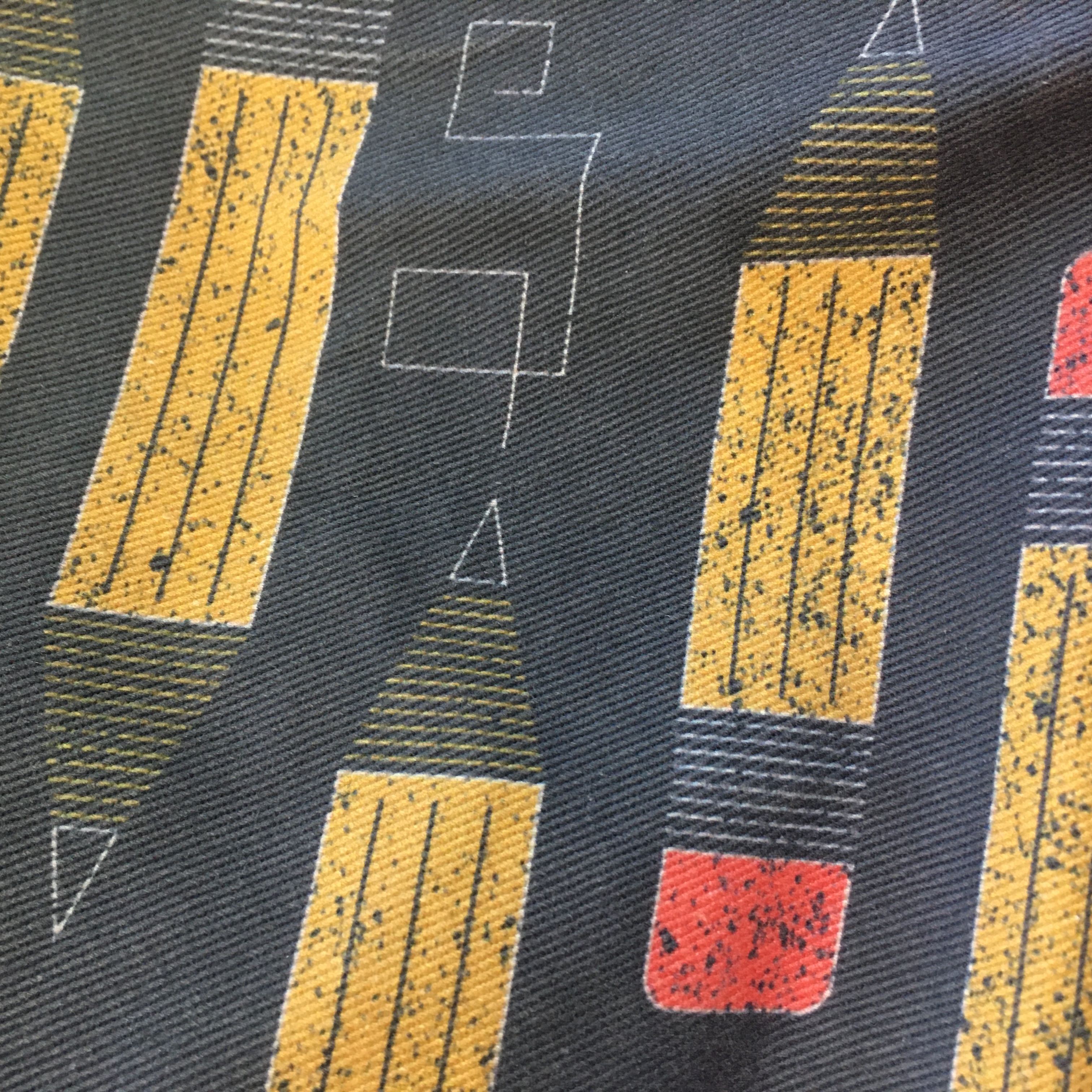 WHAT IS THIS FABRIC GOOD FOR?
I've already made two denim jackets, so you can guess what my favorite project to make with this fabric is! I've also made a pencil skirt, using that pencil fabric. Pun absolutely intended. I think it would be great for pillows or a sturdy tote bag. I have also covered a kitchen chair seat with it. Like all digitally printed fabrics, because the ink is on the surface of the fabric, anything like upholstery that gets a lot of abrasion by contact will fade at the corners and edges as the surface of the fabric gets worn. On lighter colored prints you will notice this less.