I'm starting a new series talking about the different kinds of fabric bases you can print on at Spoonflower. I get an email from someone on a pretty regular basis asking for advice about different kinds of fabric and trying to decide what will work best for a project. I have worked with nearly every fabric base at Spoonflower for some project or another. I've printed my designs, sewed with them, washed them, and worn them. I wrote up a post about the Petal Signature Cotton and comparing it to the other cotton bases a while back. Starting with this post, on Fridays I am going to pick another fabric or two and tell you everything I know about them and tell you about what I like and don't like about each one. I will also use Petal Cotton as a comparison for all of these since this is the lowest cost option and might be the one that more people have ordered a sample of.
I'm going to start today talking about Organic Cotton Sateen and Cotton Poplin.

About Sateen
I have definitely used the sateen for more projects than poplin and it is one of my favorite fabrics. This dress and coat (made for an exhibition in 2015) is made all with Sateen and the coat is lined with Satin. This is not a "coat weight" fabric by any means; I interlined this with a cotton twill to give it the body and weight for a coat. It is 3.8 oz per yard, which makes it slightly lighter weight than the Petal Cotton and it feels slightly thinner in your hand.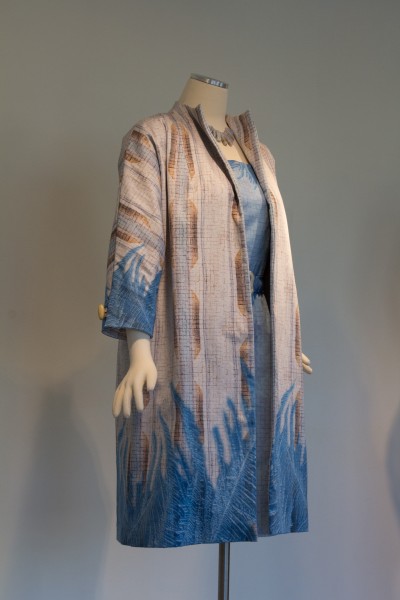 The Sateen has a very silky, smooth feel. It is a matte finish and is not shiny but it does have a little sheen. Instead of an "over-under-over-under" pattern that you think of when you think of a woven fabric, the way a sateen weave is made, it has very fine threads that "float" over several threads which gives it that smoothness.
The Sateen is a nice bright white, similar to the Petal Cotton. One of the parts I like best about it is that it has a 56″ printable width, which is much wider than your typical quilting cotton. That's almost 30% more fabric in a yard than Petal Cotton, which has 42″ printable width. Spoonflower says that the shrinkage rate for Sateen is 3-4%. I did a test of some scraps and swatches a while back, where I measured before and after washing and I found the Spoonflower estimates to be really accurate. What does 3% shrinkage mean? That's about 2 inches both directions on a yard of fabric. So that is definitely something to be aware of and a reason to always wash your fabric before you make something with it. (Moda Fabrics states that their fabrics are expected to shrink 3-5% when washed, so this is not just a Spoonflower thing.) The Sateen is also an organic cotton option.
Sateen frays somewhat easily and so I always serge or finish the edges when I am working on projects using it. It's really easy to sew and I think it takes pressed creases and lines easily. I have made lots of dresses out of it and although they come out of the washer and dryer with a few wrinkles, they are easy to press or steam out. One time (and really only once) I had a little trouble with some color transfer of the pigment from sateen coming off onto my iron, so I am careful not to turn the heat up excessively high and it hasn't been a problem. (This probably has nothing to do with it being the sateen, it's just the fabric I have used the most.) A question that someone asked was "how does it tear vs cutting?" It tears somewhat easily, but it does distort the edge (because of the way the weave is constructed) so I would recommend cutting vs tearing.

About Poplin
Poplin is the lightest of the Spoonflower cotton fabrics. It's marked as 3.3 oz per yard and it's 42″ printable width. It feels much lighter or thinner in your hand than Petal Cotton. It is also very smooth because it is woven with fine threads. Here you can see it compared to Petal Cotton and it is easy to see the difference in the fineness of the weave. It's not as fine as a lawn, but it is the closest you will find in the Spoonflower line-up.
Poplin has a slight creaminess to the color, it isn't quite as bright a white as the Sateen or Petal cotton. It is slightly translucent, shown above with some Xs marked in sharpie on a card underneath. Because it is so finely woven it doesn't fray as easily as Petal or Sateen and it tears very easily with the grain and does not distort. Shrinkage is marked as 5-6% in length and 3-4% in width. I haven't made nearly as many projects with poplin as I have with many other fabrics. There's no real reason for that other than it just hasn't been the right fabric for the project I was doing. I did make several ties and bow ties with it and I did find it wrinkles fairly easily and can be difficult to get a really smooth pressed look. Lots of steam seemed to help. Also, because it is so tightly woven, I did want a smaller sewing machine needle than I typically use in my machine. I tend to sew a lot heavier weight fabrics and the larger needle used for that left a more obvious stitching line (bigger holes) and it just looked nicer with a finer needle.
Print Quality and Appearance on Sateen and Poplin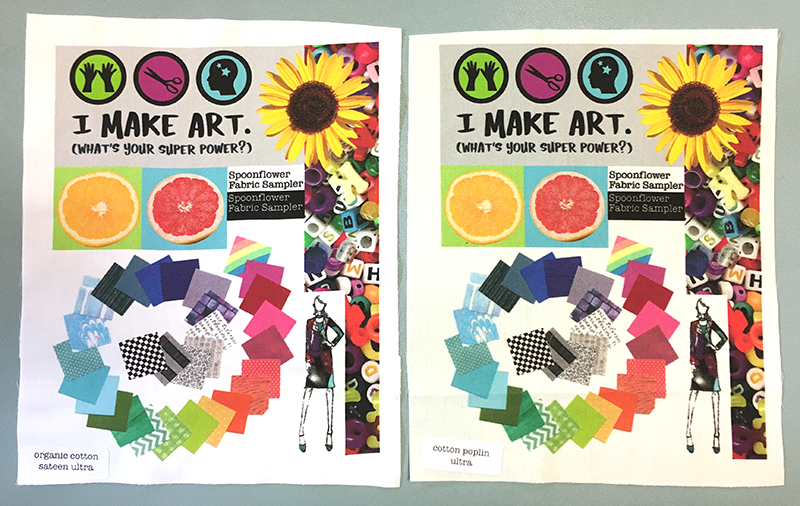 Of all of the cotton fabric options, Sateen and Poplin are probably going to be the best options for designs with really fine details. The fineness of the threads in both fabrics just makes the printing look a little crisper and sharper. This is probably the most noticeable in this example in places like the text. In the close up example below, you can see the same thing printed on Petal, Sateen and Poplin and there is some difference in the fuzziness or softness of the edges of the letters. It's also really hard to capture in a photo, but when I look carefully in the areas of this sample that are photos (sunflower, beads) you can see a difference in the sharpness especially at the edges and shadows. If I were to pick a winner for the crispness and detail when printing a photo, I would go with the Poplin.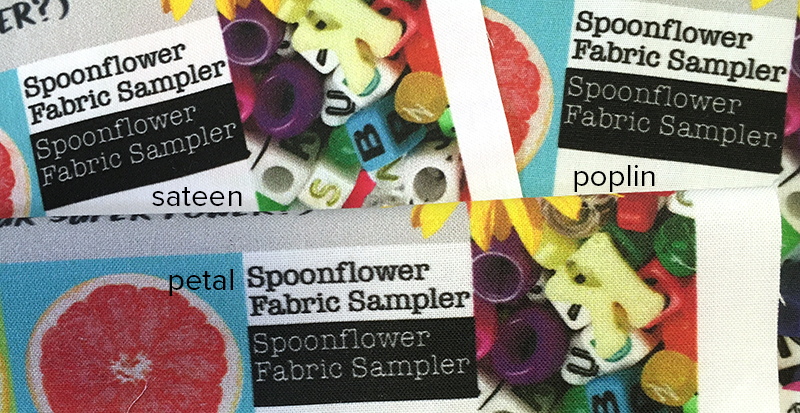 In this example of four colorways of the same design, you can see some of the crispness of the Sateen and Poplin compared to the Petal, but I can also see that the Sateen (far right) has a little contrast boost. I notice it most in the red/pink version where the lighter pink seems just a little brighter compared to the background. It's subtle, but something I noticed.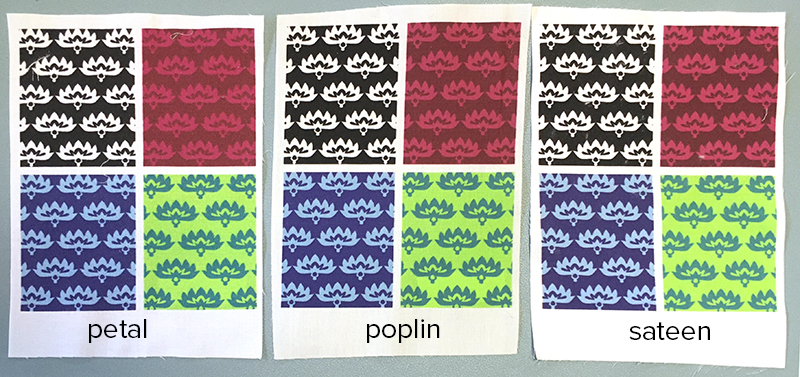 What are these fabrics good for? That is a hard one to answer. Like I talked about with the coat I showed up above, I tend to figure out how to make a fabric work for me instead of worrying about what it is "supposed" to be good for. I think if I were making clothing, I would pick the Sateen over Poplin (or Petal) because I really like the feel of it. For wearables, the tendency to wrinkles would make me nuts with using Poplin because I don't like to iron. (I don't ever buy linen clothing; I just can't stand how it always looks rumply.) If I were picking a fabric for something like an art quilt, especially one with photographic or really textured designs, I might pick Poplin just because of the detail in the print quality.