After I posted my initial comparison with Petal Cotton, Basic Cotton and Kona Cotton from Spoonflower, I had several people ask me about Cotton Sateen. Sateen is my favorite of the lightweight cotton fabrics and has been for a long time. Sateen has a different kind of weave structure. Instead of the warp and the weft threads being evenly distributed, a sateen weave lets the warp threads "float" across the surface of the fabric. I've always found Spoonflower's sateen to be the best for printing fine details; designs always print very crisply. (It's also 56″ inches wide, which means you get a lot more fabric when you order a yard of sateen.)
Holding the Sateen and the Petal cotton swatches in my hand, the Petal feels a little heavier/thicker, but when I weigh them on my postal scale, they show the same weight, so the difference is subtle.
As far as printing, Sateen still is the best for crisp sharp details. Petal is great (and a big step up), but Sateen is just a little sharper yet. On this design you can see it best in the grey-on-grey sections. The edges of the shapes are just a little more precise and sharp. The colors/saturation between the Petal Cotton and Sateen are very very similar. I can see a little difference in contrast. In this design, the greys have a little more contrast on the sateen – the darker shade is darker on the Sateen vs Petal and the yellows are a tiny bit brighter.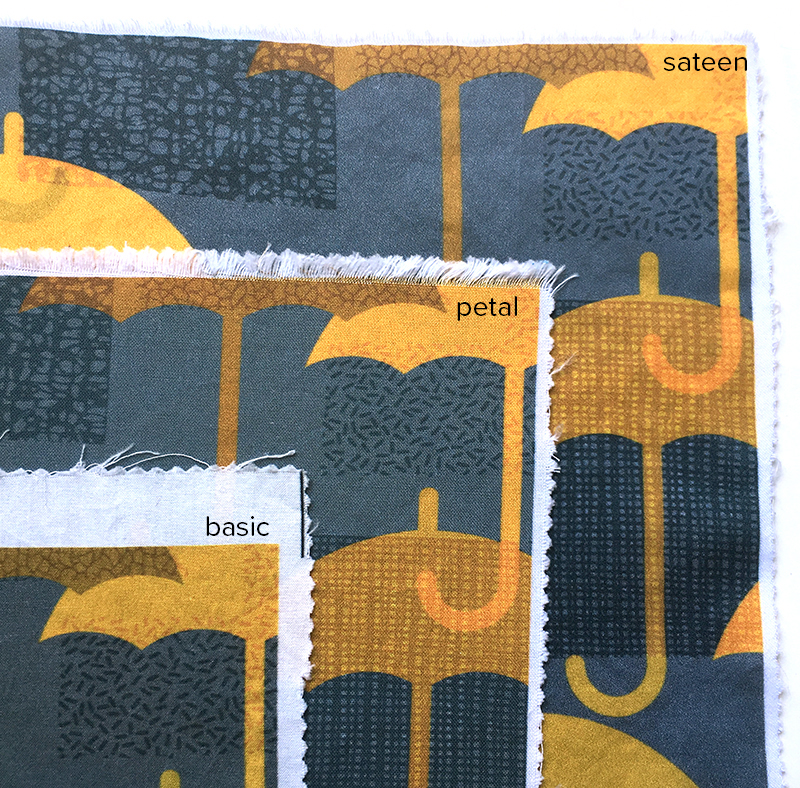 Overall, I think the Sateen and Petal are very similar print wise; the biggest difference is the fabric itself. I have used the Sateen to make a number of dresses and I think it is lovely to sew with. It presses nicely and it has a nice drape. I have ordered some Petal to make a couple of summer tank tops and I am curious to see if the thicker-feeling fabric feels too bulky as a clothing fabric.