One of the most fun partnerships I work on is designing pieces for the Guthrie Theater Store. Last year I did a whole series inspired by Sunday in the Park with George. I have made designs inspired by the Guthrie itself. The photo above shows one of those Guthrie-inspired designs in an ad in the program and one featuring some new designs in another program.
This year they asked me to do designs for their annual production of A Christmas Carol. I know the story, but I hadn't seen their production, so they sent me photos from last year's production. Such fun to study all of the details and colors! Several themes or scenes jumped out at me right away:
Time is a big element in the story and there are clocks prominent in several of the scenes.
In a number of scenes I noticed actors writing with white feather pens.
In one scene of people singing carols around a piano I noticed the wine glasses lined up on the piano.
Bright streetlamps and a tiny bit of snow.
We decided to go for something that was "seasonal" without being holiday specific, so I chose rich vintage-inspired colors and bigger ideas from the story. All of the designs are made from cut paper illustrations using recycled paper.
I started with a design I called Timeless. It is made up of pocketwatches and watch chains. The colors are all soft twilight shades. The chains are also an echo of the chains on the "Ghost of Christmas Past" from the show. The papers I used for this illustration were primarily colored art paper, but "grunged up" with some alcohol ink spray to give them a more weathered texture. The background of the design is a scanned piece of hand-marbled paper, which is also a visual theme I used throughout.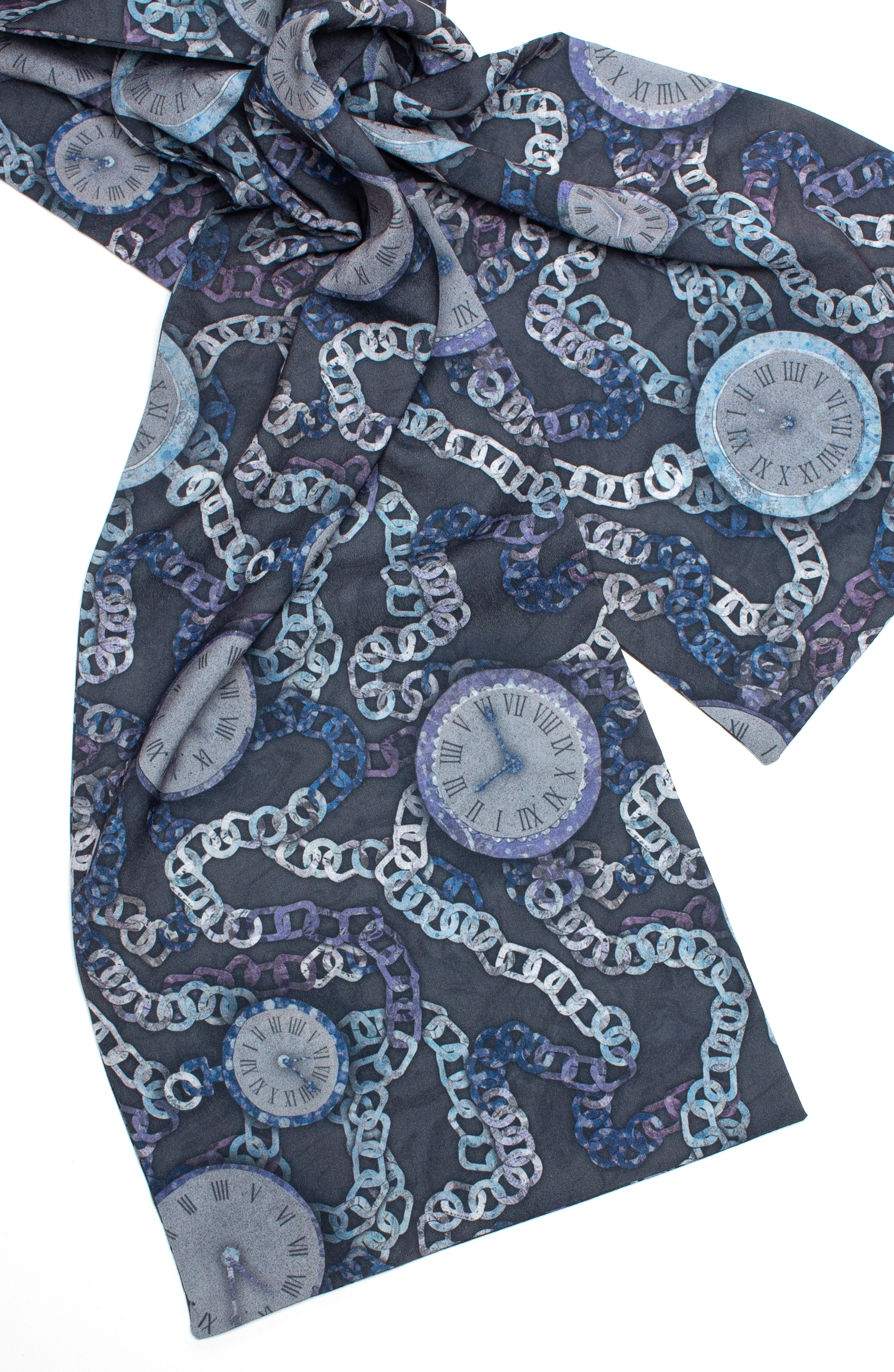 Next, I designed Quills. Quills refers to the feather quill pens you see throughout the show, but is also a little nod to Charles Dickens, the author. The pens and inkwells are all made from recycled paper from vintage issues of Hennepin History Magazine. Hennepin History Museum last year gave away copies from the 50s-80s that were excess in their collection. I also gave these some texture with alcohol ink spatters and a little wash of paint to obscure the text a little bit. I cut the feathers on the diagonal, so the lines of the text on the pages gave the texture to the feathers. The background of this design is a piece of marbled fabric I made and scanned. I chose marbling because that is very often used as the endpapers in old books and I felt like it was a nice fit with my writing theme.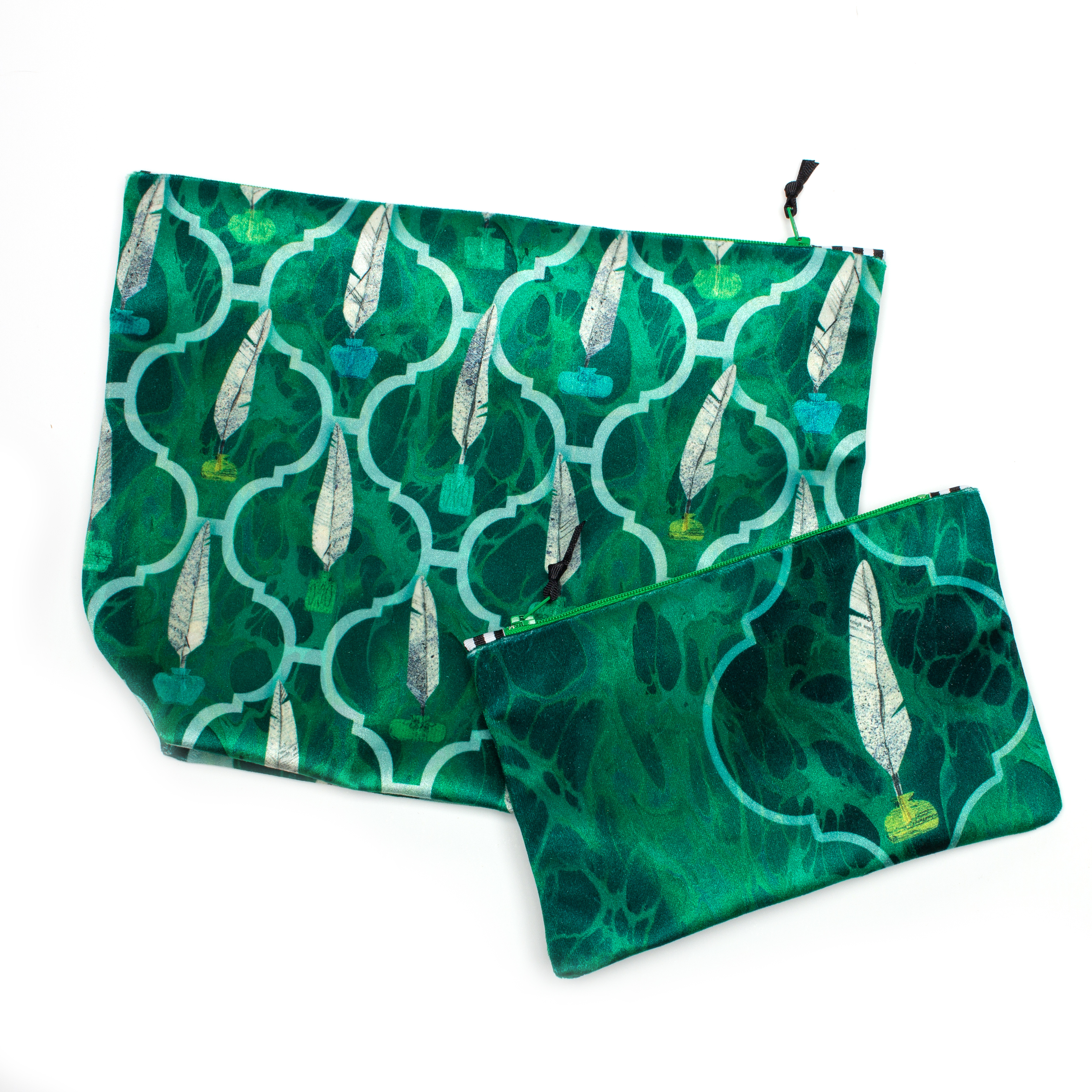 Mistletoe and Forget-Me-Nots started as just a little zipper bag. But Kay (the shop manager) and I decided that we liked it so well that I went back and reworked it into a repeating pattern at two different scales, so that I could make bow ties and larger zipper bags as well. In the Victorian "language of flowers" mistletoe and forget-me-nots symbolize fond memories and a connection that lasts through time, which are strong themes in the story. This illustration is all cut paper overlaid with snow made from spattered paint.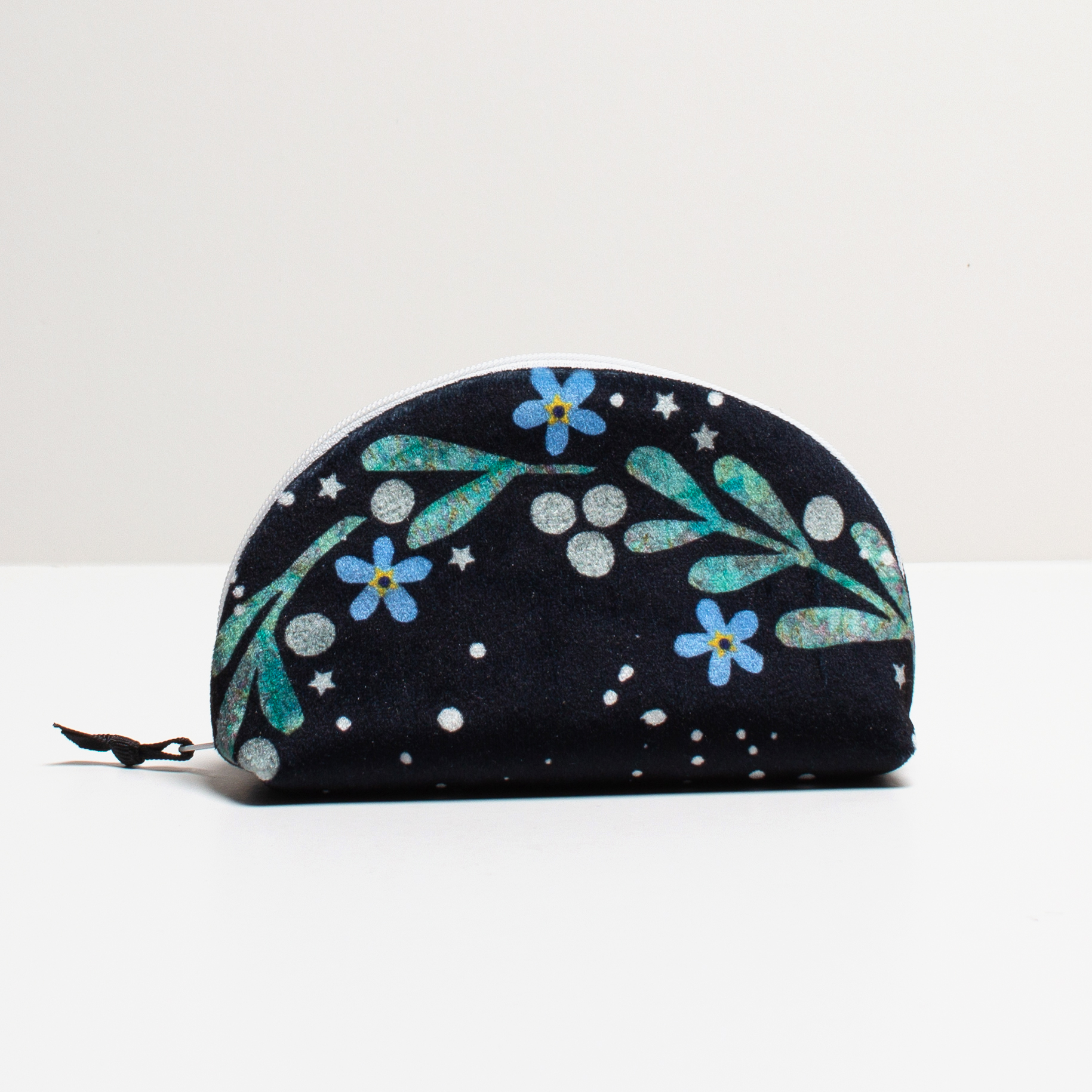 We also wanted a couple of tea towels because those make great gifts, so I pulled two quotes from A Christmas Carol that I thought were great messages for gifts you might want to give. Singing Carols and Lamplight are the two tea towel designs.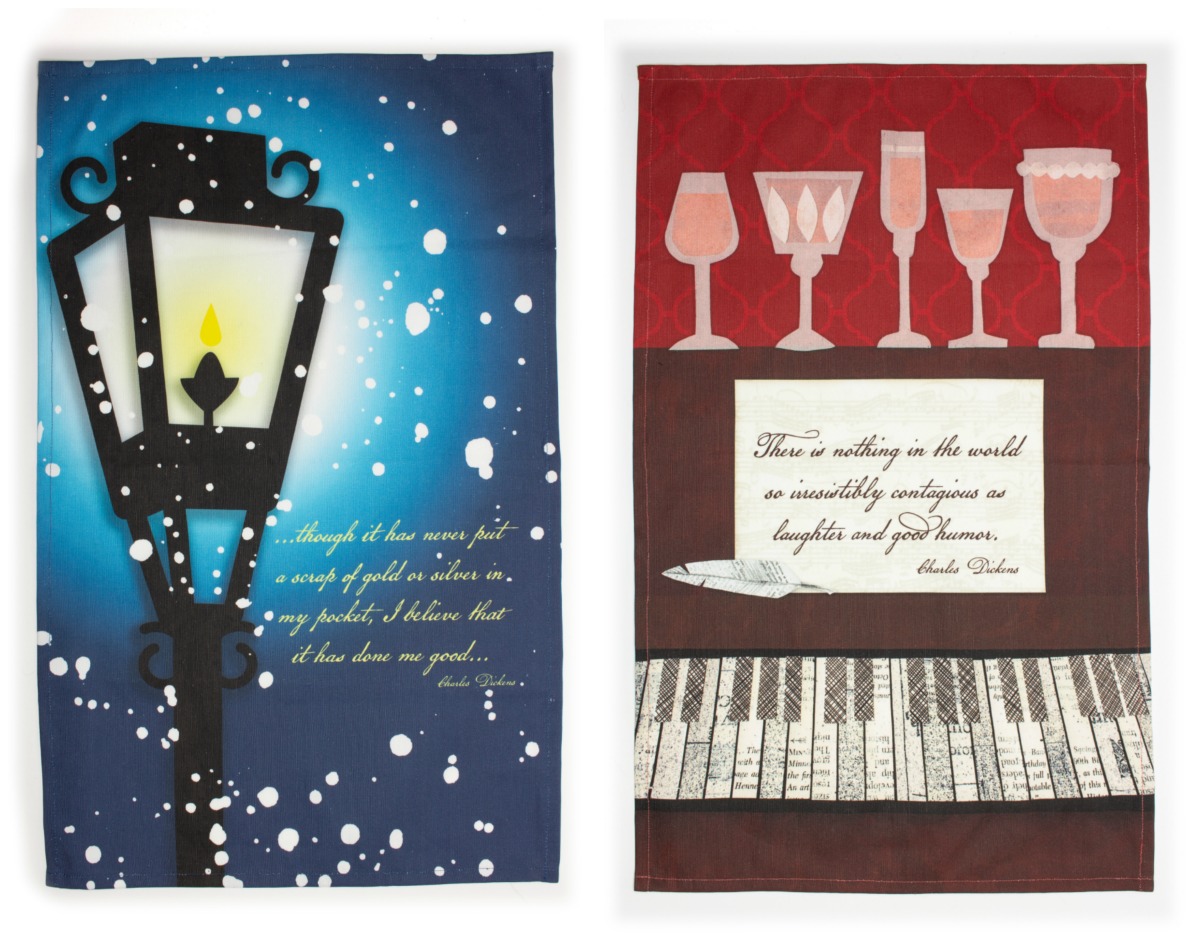 The piano keyboard is all made from more history museum magazines and the pattern from the inside of a security envelope (like the kind you get bank statements in). The wine glasses are made from tracing paper, so they had some translucency. The snow is more paint spatter. The woodgrain on the piano is more marbled paper.
It is really fun and exciting to put together a collection like this based on a theme, especially when you have such a rich story to draw from. All of these designs are available exclusively at the Guthrie Shop for the holiday season, both in the theater shop and in their online shop. The collection includes three sizes of zipper bags (velvet), clutch purses (velvet), neckties and bow ties (twill and crepe), and tea towels (linen-cotton).