Sometime a piece of art kind of takes on a life of its own. This year for the MN State Fair Fine Arts competition, I entered a piece called Growversight. It's one of a series of boxes I've been making all about the theme of detours and unexpected obstacles, plans that go awry, timelines that slip, and projects that run into snags outside of one's control. Red is often a color used to communicate a stop and the theme of the pieces in this series is to talk about things that stop momentum from going forward. So each is made in an analogous color to red, to sort of play with the idea that these ideas were not quite a hard stop or an end, but more the idea of things that were in the way of progress.
I call this series "Portmanteaus". The word portmanteau refers to a suitcase-like container or two words that have been joined together to form a combined meaning. Each of these boxes carries a story, just like a suitcase, and leans in to the idea that every story has an internal or personal version and an external version that you tell to other people. Each piece in the series has something going on inside and outside the box. I love puns and wordplay in my work. For Growversight, I created a paper flower that is pushing off the lid and crawling out of the box. It's a nod to an oversight, or problems you ignore that just keep growing and growing.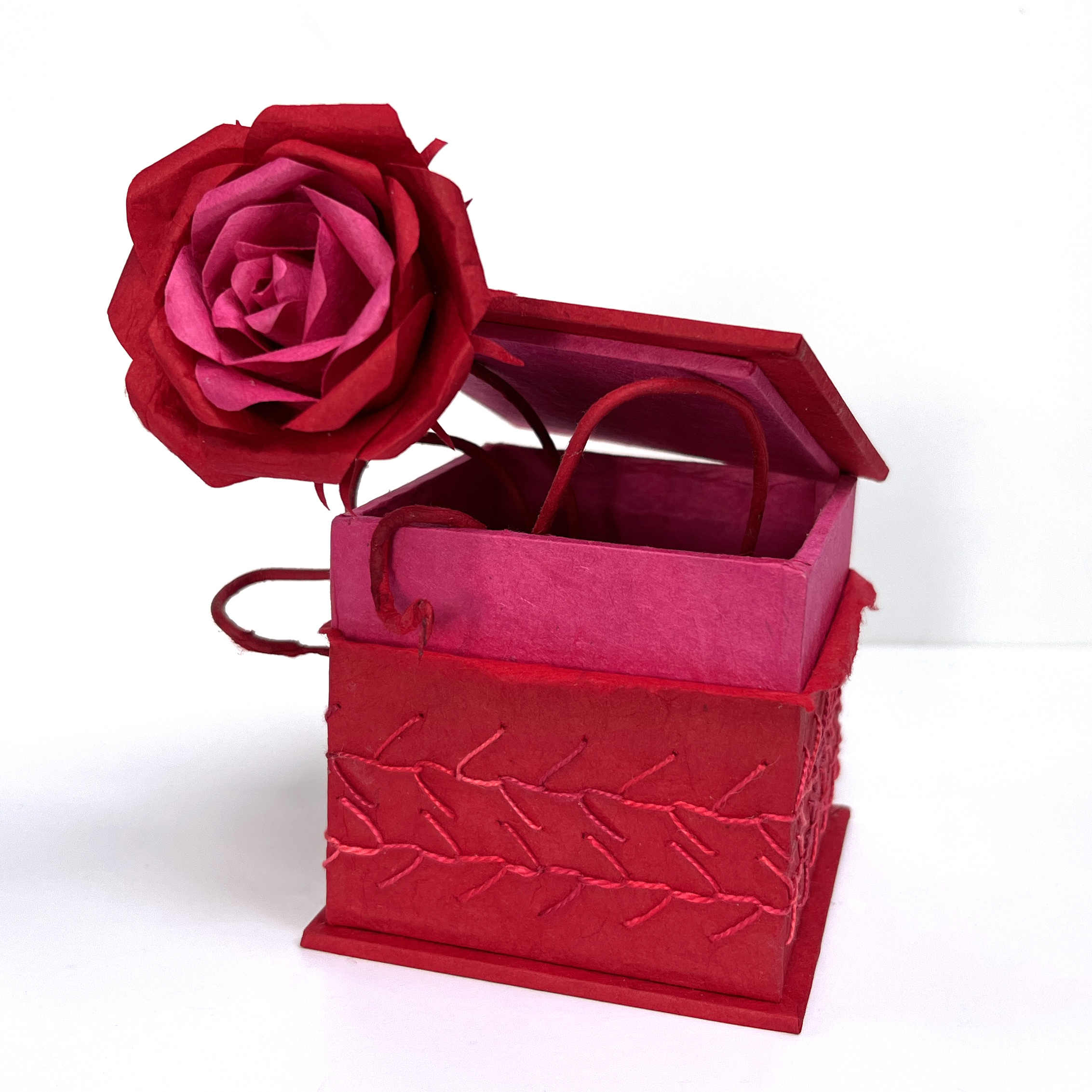 It was rejected from the Fine Arts show. I've entered many times and been turned down far more often than I have had pieces accepted. That wasn't unexpected. But then a friend told me about another show which was celebrating the pieces that were rejected from the exhibit. The theme is modeled after the Salon des Refusés, French for "exhibition of rejects". The first was held infamously in 1863 as a response by artists being rejected by the Paris Salon, an annual show sponsored by the Academie of Fine Arts and the French government. Their protests were heard by Napoleon, whose office issued a statement that said "Numerous complaints have come to the Emperor on the subject of the works of art which were refused by the jury of the Exposition. His Majesty, wishing to let the public judge the legitimacy of these complaints, has decided that the works of art which were refused should be displayed in another part of the Palace of Industry."
The theme was entertaining, so I entered the show and was accepted into the show, which was titled "Rejected". We went to the opening and enjoyed the art in the exhibition.
The story takes a detour when I went to try to pick up my piece. And I mean literal detours. The gallery is situated in a place which is currently surrounded by extensive road construction and two large event venues, where there were police cars blocking streets and officers directing traffic. I spent 30 minutes driving in circles trying to find a place to park for two minutes to run in to the gallery. I finally drove to a dodgy parking garage a mile away and walked back to retrieve my piece, my quick errand now taking up nearly two hours of my day.
When I got to the pick up desk, a kind volunteer found the paperwork and my piece, but insisted that I chat with the gallery owner about their upcoming holiday market. "Your work would be perfect!" she said. Unfortunately, the gallery owner had a different idea. She looked at me, looked at my box, and said "No. That's too fine art. Nobody buys that."
Rejected once again. I appreciate the irony.
She went on to explain the ways that it was a bad fit, the wrong price, and my aesthetic completely unsuitable, while I stood tired and sweaty, with a puzzled expression on my face. (It was honestly pretty rude, considering it wasn't my idea to talk about their holiday market in the first place.) I finally made an abrupt excuse and left, hiking the mile back to my car.
On the drive home, I realized that Growversight would now always have this story associated with it in my head like an imprint. Just like the theme of piece, the story grew while I wasn't looking. So I decided that the piece should grow as well.
In light of its transportation issues, I decided that the original box needed a little cart to ride in. But you'll maybe notice that the cart has four flat tires and a distinctive pattern embroidered around the edge. I love this piece even more now.I am curious to see if it will grow some more the next time it goes on an adventure.