I was invited to show three pieces in an exhibition called Fiber Art in the Digital Age at the WI Museum of Quilts and Fiber Arts. The theme of the show is fiber art that incorporates innovations of the "digital age". I created three pieces that include digitally printed fabrics and laser cut wood and acrylic. This is the first in a series of posts talking about those pieces.
Faking It
Sometimes a comment about your work sticks with you for years. One of the first digitally printed fabric garments I made was a dress that I wore to an art gallery opening. Two visitors came up to me and struck up a conversation about the dress, asking if the fabric was made using batik. When I explained with excitement that it was actually digitally printed photographs of ice, they looked at me and said "Digitally printed? That's cheating!"
I have discovered that the relationship between fiber art and computers is often misunderstood. There is an assumption that if you use a computer, that it does all of the work; you just press a key and Photoshop magically creates art. Because I used a computer to create part of my piece these commenters, and several others throughout the years, decided that it wasn't real art.
So, I decided to make Faking It a celebration of "fake" art made by computers. I started by creating imitation mosaics from recycled magazine paper with images of computers and technology: an iPhone, charging cables and even a vintage floppy disk signed with my initials. I surrounded the mosaic tiles with a border of ransom note style words that all are synonyms for fake: false, swindle, hoax, hokum, spoof, flim flam, bogus and so on. The background is made from tiny strips of paint chips in colors titled "pixel white" and "high speed access". I scanned all of this paper art and the design was then printed on to polyester faux suede fabric. The button on the coat is a costume jewel made from a recycled circuit board embedded in resin. And finally, the dress and coat were made using a commercial knock-off pattern of a couture designer dress worn by Melania Trump at the 2018 presidential inauguration.
Digitally printed faux suede.
---
Here are some detail shots of the fabric design. Each one is made from pages of magazines and catalogues. You can see a video about how I made one of the mosaics for this piece in this post.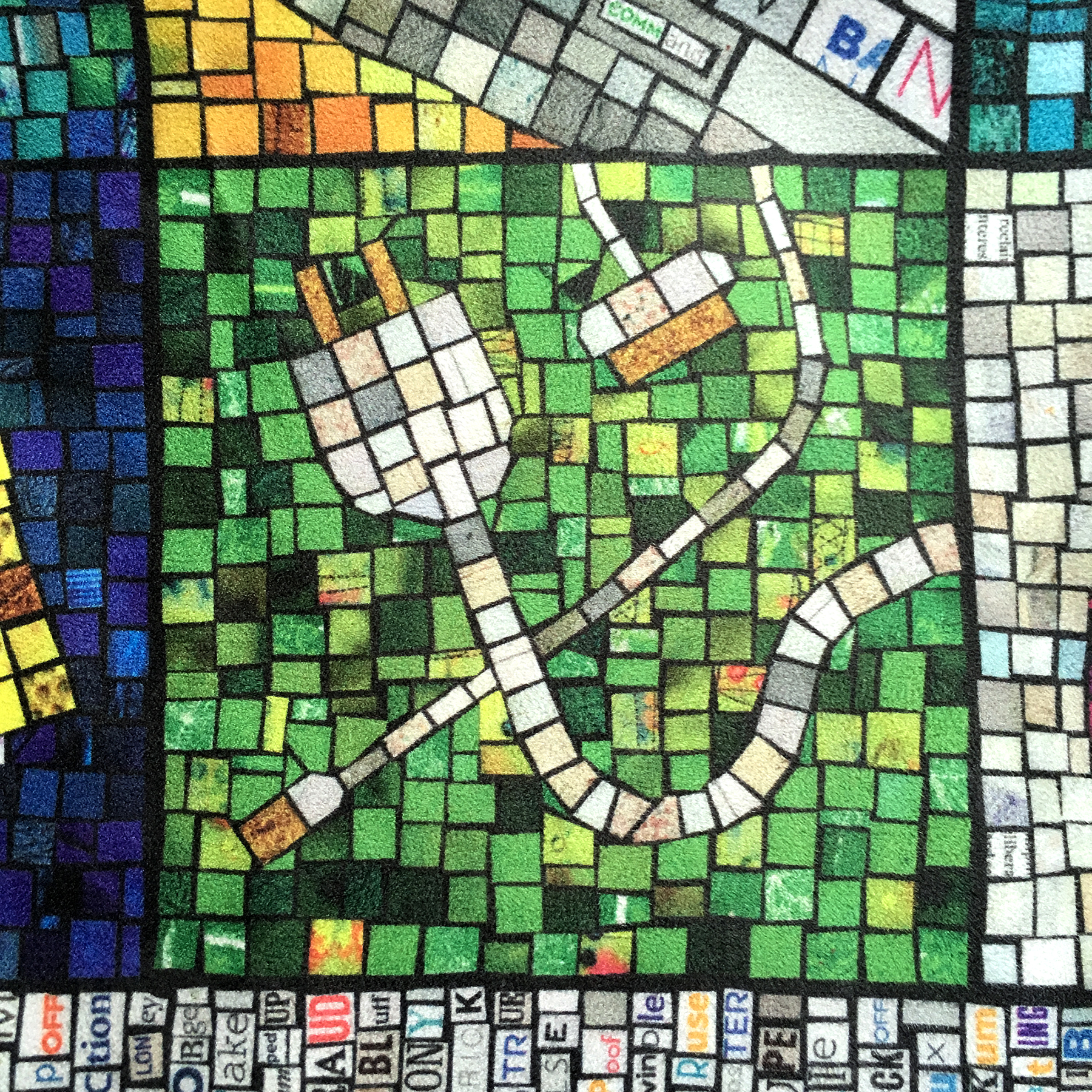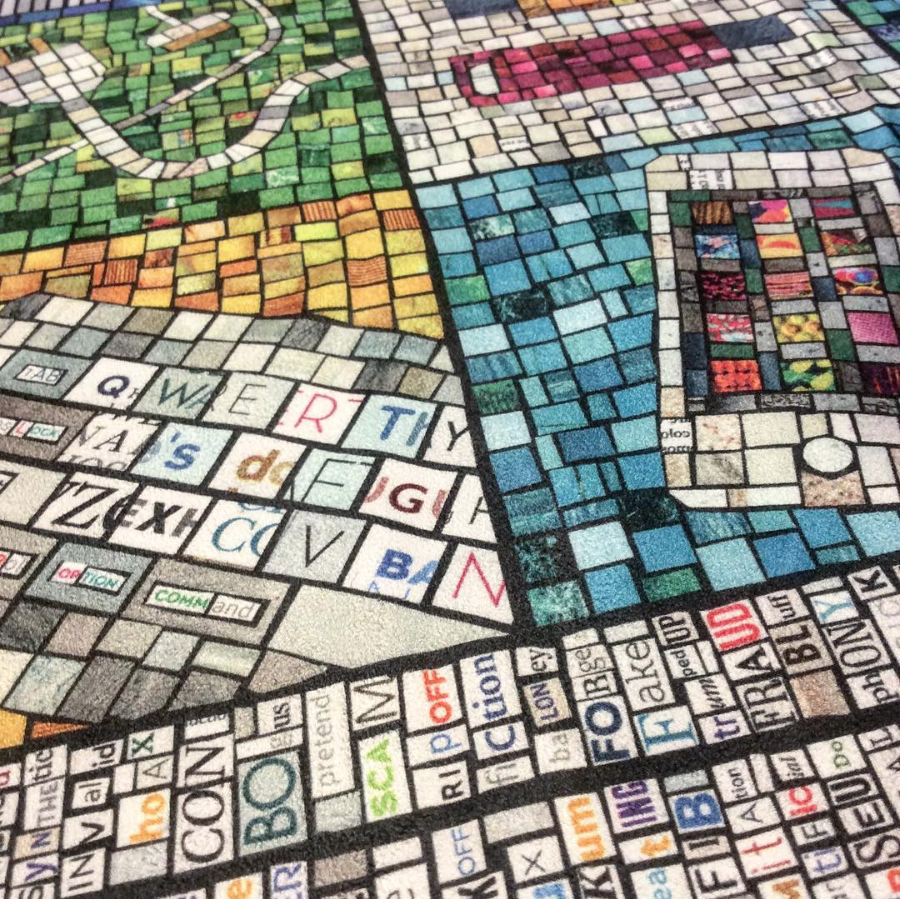 Many thanks to my friends and fans on Facebook who helped me come up with the "fake" word list that makes one of the borders on this print. I posted something asking for help thinking of alternate words for "fake" and they came up with awesome suggestions.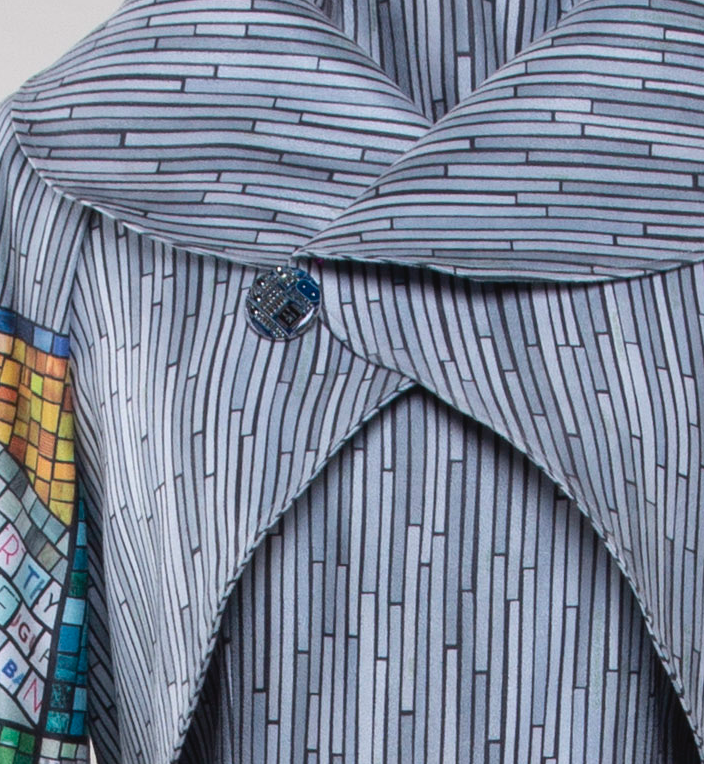 The button on the coat was made for me by Amanda at Circuit Breaker Labs. This isn't a super sharp picture of it because I forgot to take detail shots before I shipped this piece off for the exhibition, but check out her Etsy shop to see how cool these are. (She made this one for me as a custom request, usually she offers them as pendants, earrings, keychains and more.) It was the perfect addition to this piece.
A little secret that you can't tell by looking at this piece. There is actually an extra seam on the back of the jacket because I ran out of fabric. Spoonflower discontinued this faux suede just days after I ordered the fabric for this dress. When I realized that I needed a little more, I went back and they were sold out. Even though I knew it was going to be discontinued soon, I really wanted to use the faux suede in keeping with my fake theme, so this dress really is one of a kind and almost zero waste. I used every scrap I could.
I love this piece. I worked on it for months and I really enjoyed every bit of it. All three of the pieces I made for this exhibition have good stories – things I wanted to talk about, things I had been thinking about and conversations that I wanted to have with people. It felt really good to make pieces that weren't just about pretty or fun or design challenges, but pieces that were talking about something.
Do you have a comment about your work that has stuck with you? Something that people often misunderstand about what you do? Have you ever been accused of "cheating"? Tell me your stories!