I made a handful of these for holiday and graduation gifts this year and I wanted to share this fun idea! I ordered a swatch of Spoonflower's peel-and-stick wallpaper a few weeks ago because I am thinking of updating a backsplash behind the stove in my kitchen. It's currently wallpapered in peel-and-stick, which I did about 4 years ago and it looks awesome, but I wanted to change it up for something different. So, I ordered a swatch of this design by red_tansy but as soon as I got the swatch I realized the scale was too large for my tiny space. So I ordered another in a smaller scale.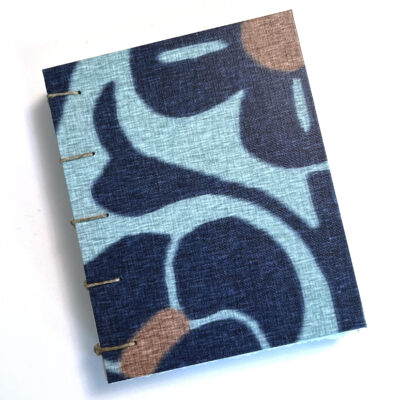 But what to do with this leftover swatch? The answer for me is to make a book! I learned to make coptic sketchbooks a little more than a year ago at a class at the MN Center for Book Arts. I fell in love. These are fast to make and I love the exposed stitching on the binding. In our class, we tore the paper down from larger sheets which gives the pages a torn organic edge, which I also think is so pretty. I love all of the "imperfections" that make these really look handmade. I'm going to start teaching these as a class soon, but if you are interested in making a sketchbook like this, check out StoneBurnerBooks on YouTube. Her tutorials are fantastic.
The paper I have for the inside pages tears down beautifully to make pages for a book that is 4×5 inches, which is a nice pocket size. That also means that you need just a piece of wallpaper 5×12 inches to make the covers, which you can get easily from a 12×24 wallpaper swatch. The peel-and-stick wallpaper is durable and water resistant, which is ideal for a book cover. I know this is going to hold up to use.
If you've used Spoonflower's peel-and-stick wallpaper in the past, they've got a new substrate in the last year and it's very different than the previous one. I love it. Get a swatch! The new wallpaper takes a crease better and it is stickier than the previous version. It's still removable if you use it on the wall, but that makes it even more usable for craft projects like this. Which is the way I use it most often.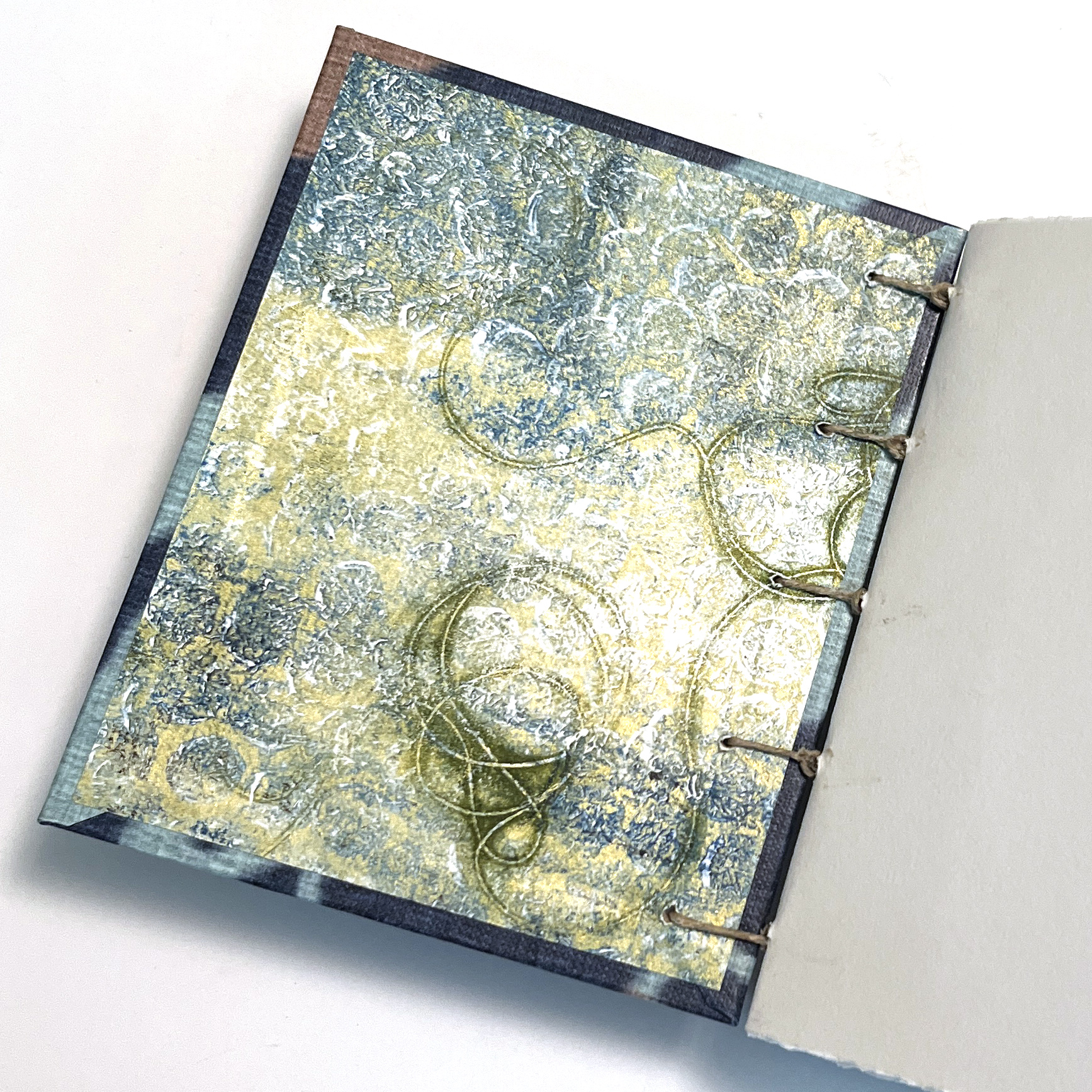 I made the covers from a lighter weight book board and wrapped the outside in peel-and-stick wallpaper. For the inside endpapers, I used a scrap of gelli plate printed paper that I just made in another class. The colors were so perfect when I saw it on the table that I had to choose it. The PVA glue I used for the endpapers sticks nicely to the wallpaper, so you don't have to worry about it peeling up from that slightly glossy wallpaper surface. I let the glue dry overnight under weight to make sure the boards did not warp, but the whole book went together in just a couple of hours.
When I made these for holiday & graduation gifts, I scaled down several of my own designs on Spoonflower so they would be the right scale for a small book cover like this. That's easy to do. And with one swatch I can make half a dozen covers easily.