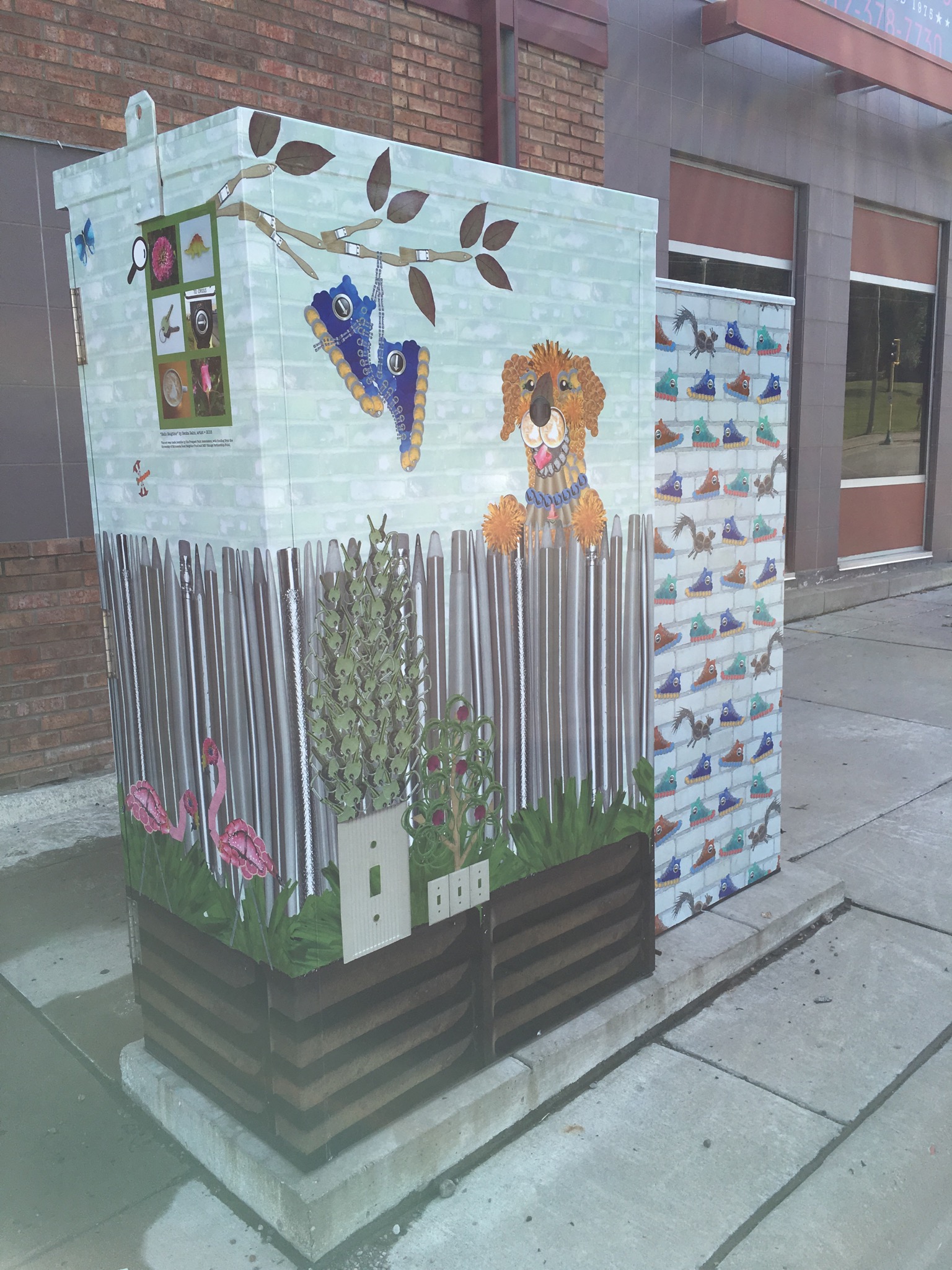 I Spy: Utility box wraps in the Prospect Park neighborhood
The art for the "I Spy" utility boxes was created part of a grant from the Prospect Park neighborhood association in Minneapolis, MN. They applied to participate in a city program where artists create designs to cover mechanical utility boxes in public places. I submitted a proposal to take photographs from the neighborhood and create designs using those photos.
I spent several afternoons walking and capturing over 500 photos of everyday objects throughout the neighborhood. I took photos in the community garden, at the light rail station, and inside businesses that border the neighborhood. I picked up forgotten objects like keys, a toy dinosaur and a lucky penny. I looked for shapes, numbers, and landmarks that were unique to the neighborhood. I photographed cherries on trees, patio bricks, and dandelions growing through cracks in the sidewalk.
Originally, I thought I would make only abstract patterns, like the kinds of repeating patterns I often use to design fabric, but as I started looking at the photos I realized it would be really fun to make everyday objects you might see in the neighborhood out of other everyday objects. So, I started by making a bluejay from my photos of yarn, faucet handles, wheels, a latte, and a telephone dial.
If you look closely, you will see that every object and character is made up of smaller photos of other everyday things. Even the background textures come from found objects in the neighborhood; one is made from a scrunched styrofoam cup, another uses the brick from Pratt School and the painted wood on a charity donation box.
In June 2016, utility box wraps featuring this art were installed on three pairs of boxes on University Ave, where you can see them as public art every day. On each box are thumbnails of the original photos so that you can play an "I Spy" game by searching for those objects as part of the art and looking for them throughout the neighborhood.
Special thanks to the Prospect Park Association, with funding from the University of Minnesota Good Neighbor Fund and MN Vikings Partnership Fund, that made the original artwork possible.  Also thanks to the Prospect Park community with your beautiful neighborhood gardens and architecture. You might have thought I was crazy when you saw me photographing my own feet but you were too nice to say so.
WHERE ARE THE BOXES?
Look Both Ways (29th & University) • Hello Neighbor (Malcolm & University) • Busy Bodies (Bedford & University)
READ MORE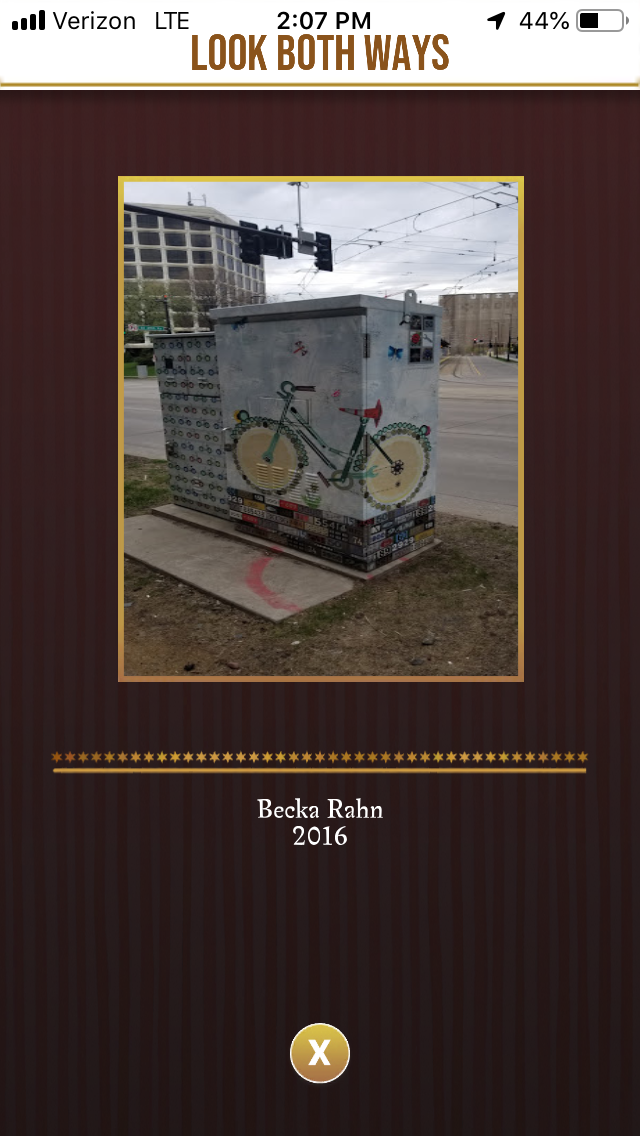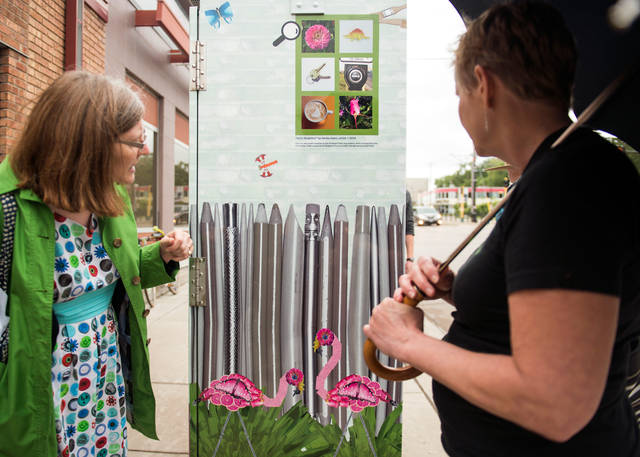 Did you know that this piece of art is a Pokémon Go Stop/Wizards United Greenhouse? I was delighted to find out that this piece was submitted by a local player and is now a part of the game; you can check-in while you play to get game rewards. How cool is that?
GET THE BOOK
Not everyone can get to this cute little neighborhood in Minneapolis to see the art in person. So I took all of the illustrations and many of the original photos and I made a picture book, which is like taking a walk with me around the neighborhood.
To buy
At my Etsy shop (If you purchase this way, I am happy to autograph it.)
Through Blurb.com (print-on-demand, shipped straight to you)
At Textile Center, which is just a few steps away from the "Look Both Ways" boxes.
"When you go for a walk with an artist, sometimes unexpected things happen. Dandelions turn into dog paws, faucets become feathers, and traffic cones transform into dragonfly wings. All it takes is a little imagination. Take a look around. How many unusual things do you see?"  Illustrated with photos and photo assemblages, artist Becka Rahn takes you on a walk around the neighborhood looking for art in everyday objects. The simple story encourages readers to look closely at the pictures because things aren't always what they seem."
HAVE YOUR OWN ART ADVENTURE