A couple of years ago I joined an art organization and went to a monthly meeting with about 20 people. I was excited to be part of a group and to talk about art related things. On the agenda for the meeting was to have a discussion and show-and-tell about our sketchbooks. It sounded like it could be interesting hearing about other people's process (and it was) but I don't keep a sketchbook. That's not a part of my process; I'm not a sketcher. So we went around the room and people talked about how they organize ideas for pieces or make lists of tasks to do. Some made more journal type books with beautiful complex works of art on each page. Some used theirs as a mood board or inspiration source where they created a collage for pieces they were thinking about. All cool ideas and interesting to hear them talk about each version. But when my turn came around the circle, I didn't have anything to show and it was at that point where, unfortunately, I stopped enjoying the meeting.
I do sketch things. Like that little dog up above. I printed out the circle on a piece of card stock and made a sketch and then I scanned it and used it as a guide to draw the version on the right in Illustrator. I am a lot looser when I draw things on paper, so I often do a little rough sketch of characters especially and use that to help me with proportions and placement when I get into the computer. It's a process that works well for me. But this little sketch is probably going right into the recycle bin. I don't usually hang on to them after I have scanned them. I don't need to. It was a sketch that did a job for me and once that's done it's no longer useful. It's like basting in sewing. Super helpful when you need it, but once you are past that step it's pulled right out.
I also have a notebook where I do math. Because I make garments and I often draft or adapt my own patterns, there is a lot of math involved. I am figuring out how much yardage I need or how big a repeat I need to make when I design my fabrics. I need to write those things down because I know I will not remember why or how I got to the numbers by the time I have ordered the fabric and it gets to me. So I make a lot of notes and diagrams so I remember how I intended to lay something out or make it fit on the fabric. I keep these in a notebook because I lose scraps of paper; it's much harder to lose a notebook. It's very practical.
Neither of those things make for compelling show-and-tell.
I rarely make sketches of what I think finished pieces will look like because that's just not the way I work. I always know what a piece is going to look like, but it's all in my head. I don't need to see it on paper. I don't get any value from that. I'd rather be working on the piece than thinking about the piece, if that makes sense.
So when I explained this to the group with the sketchbook show-and-tell, I got a lot of pushback and questions. People mostly thought I was just being too self conscious to share my sketchbook. They asked maybe if my inspiration mood boards were just in a different format and I was being too literal about the idea of sketchbook. There was some skepticism that I really could work the way I said I did. There was a little teasing: we showed off our things and you aren't playing along.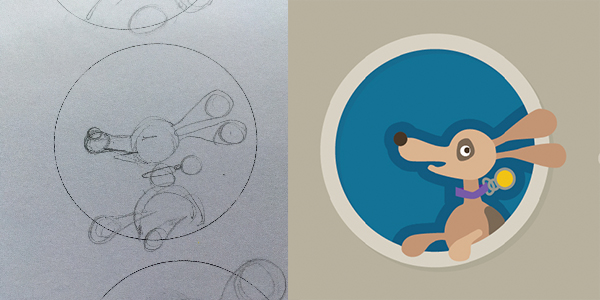 Guess how many more meetings I went to? (spoiler alert: not a single one) A friend, sitting next to me at that meeting, was also a non-sketchbook kind of artist and she made me feel better with a little snark about being the rebels in the group.
I thought about this story recently as I was reading up on a grant opportunity. It's a program for artists to help advance their careers in some way and in addition to a cash award, there are a number of other "benefits" associated with the grant: a series of studio visits, critiques with unspecified experts in the field, a catalog produced of your work. Which is all great. But I don't want any of that.
We talked about no sketchbook; I also don't have a studio. I don't need one. But, wow, I get asked about this so often.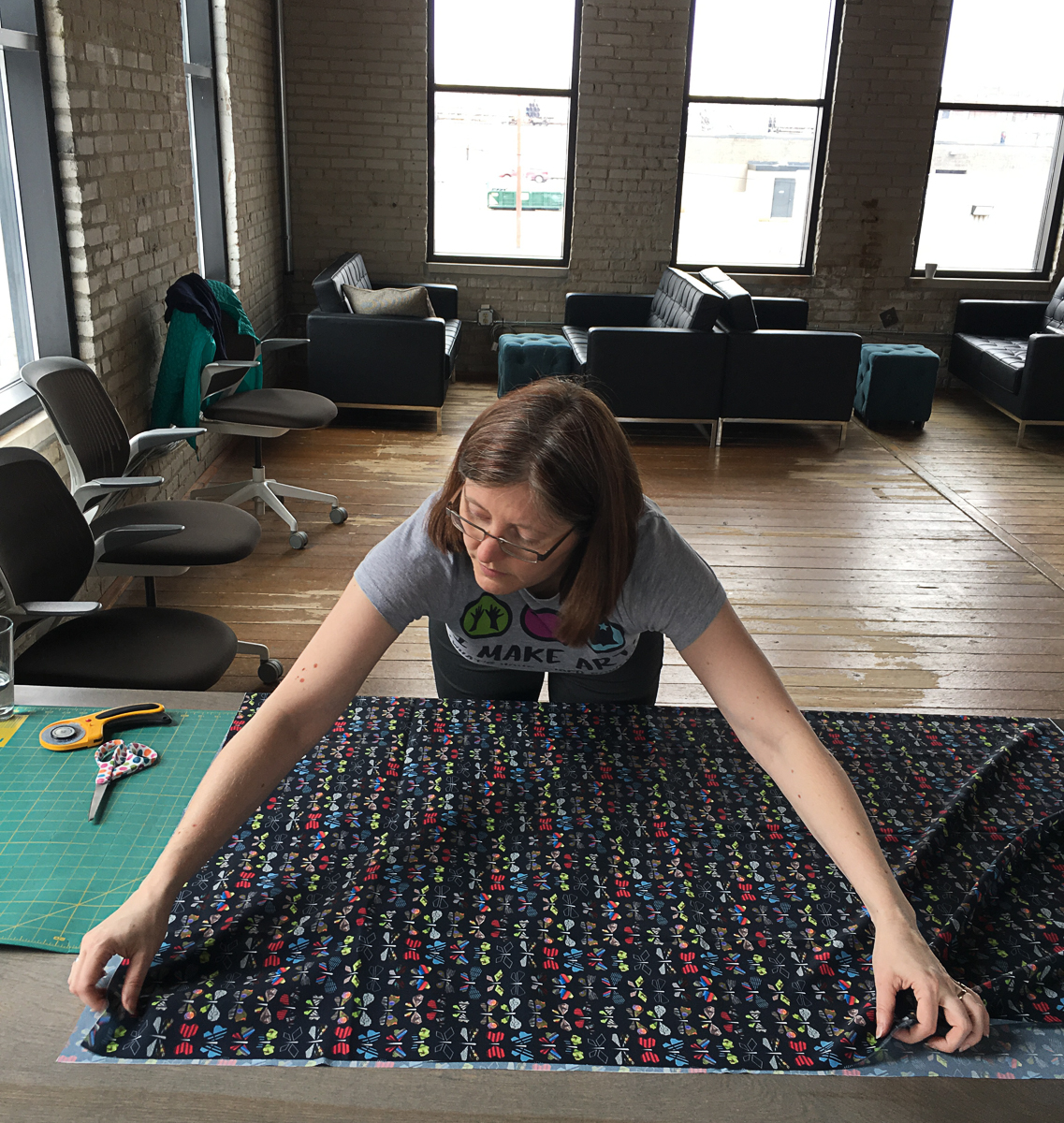 Much of my work is done on a computer. I draft patterns, I design fabrics, I have a whole business of making and selling work and teaching online classes. It's pretty computer intensive. I have a nice Mac with a really big monitor. I can look at an entire fat quarter fabric design at actual size. That's really handy for what I do. I also have a laptop and sometimes I work from the kitchen table or even the back yard if it's a nice day. Sometimes I write from a coffee shop. I have a sewing machine and a serger. None of these things require anything special. Just a desk and some good wifi. Once in a while it's really handy to have a large table to work on. I don't have one, but I have a space I can borrow on the weekends with big tables and great light. I don't need a special space to motivate me to work.
My work isn't about the space it's being made in.
I'm not sure what value a studio visit is supposed to get me, but I really don't think that benefit had my kitchen table, with some dogs under foot, in mind. I like that I can work anywhere basically. I like being at home with my dogs and my tea and not having to have a special place that is required to make art in. Or feeling the pressure that if I am in the studio, I should be producing. The lack of a studio is not holding me back in any way. But I have had to pretend that I have one to match the "this makes you an artist" definition.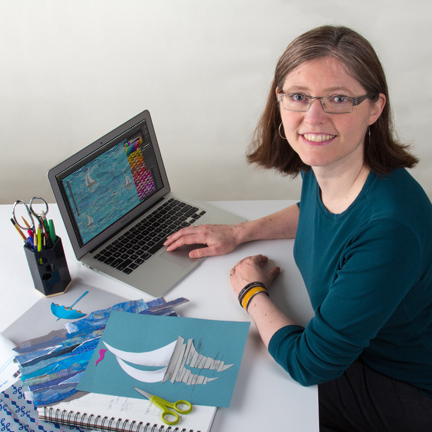 I love this shot of me, but it's a fake studio made from apple boxes and foam core in my basement. I had a great opportunity for something but one of the photos that they needed was a photo of me working in my studio. So I made one up.
And what about those critiques from the grant opportunity?

I belong to a group of artists that meet on a semi-regular basis. Nominally we are a critique group, but really we are an artistic problem solving group. We often bring projects when we are stuck and need some creative help to get past a particular block. We brainstorm, we ask questions, we look at things upside down and backwards and we throw out crazy ideas. We work in different media, so sometimes the great idea to move forward on something is inspired by an art form different than our own. It's a great group. But we don't actually critique each other's work if you look at that definition. Why not? Because I think we get more value out of the collaborating than we do from analyzing.
I just searched and read a bunch of how-to articles and opinions about "why you should have someone critique your art work" and I feel like this comment kind of sums up what I found:

The only way to know if it's good is to have someone else rate it based on some arbitrary criteria (ie line, balance, did the artist convey their meaning)? And I should make changes based on that person's opinion?
I don't think so.
For me, great art is the kind that makes you have a reaction. Love, hate, joy, sadness or even makes you want to gag. But you looked at it, listened to it, or read it and it caused a reaction. It made you smile or remember something or think of a friend or want to buy-it-right-now-so-you-can-have-that-experience-as-part-of-your-life-every-day. You made a connection. The piece that I make a connection to, isn't going to be the same one that you make a connection to and it won't be in the same way. Because connections take two people: the artist and the viewer. And as much meaning and message as I bring to a piece, you're going to bring your own meanings too.
I don't really care if an "expert in the field" tells me that I am doing something wrong or not accomplishing a certain criteria because that person is just one person. With one connection. As a wise man once said "The needs of the many outweigh the needs of the few." One person's interpretation is certainly fascinating, but I am not sure it's enough to make me want to change my work to match their opinion.
So when I look back at that grant application, I don't really want to apply. As much as I'd like the money to help fund some new pieces or get me some space to exhibit them in (who wouldn't?), the other parts of the grant are not valuable to me. In fact, when I read those benefits, they made me feel like I am art-ing wrong. I'm not doing it right and I shouldn't apply for that opportunity because I don't fit the spec. I was discouraged.
And do you know what? That's total garbage.
There's not a wrong way to make art or enjoy art.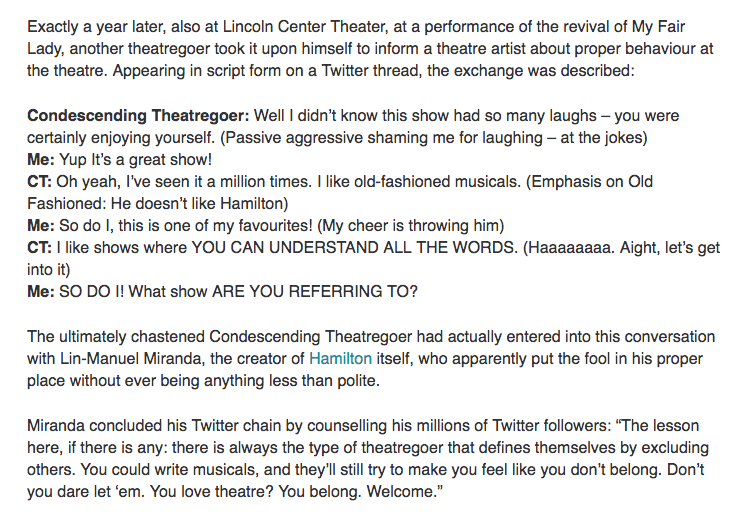 (I give you that story as a screenshot and not a link because the full article is behind a subscription wall.) I saw this when LMM tweeted it. I might have actually reacted to it out loud as I was reading it.
I wanted to write this post as a pep talk because sometimes you just need to hear someone else say it. You aren't doing it wrong. Neither am I. You don't need to have a sketchbook. You don't have to sketchbook a certain way. You don't need a studio. Or maybe that is something that is really valuable to you and you do need it. That's up to you. You don't need someone to tell you that you are making great art for it to be great. It's going to connect in amazing ways with some people and fizzle with others. That's what great art does.