Want to listen instead of reading?
Today is the official start day for my MN State Arts Board Creative Support for Individuals grant. Woohoo! As I was getting ready to start the grant projects rolling I thought it would be interesting to write a little about how grants like this work if you've never applied for one.
I started work on this grant in August of 2021, which is when the application was due. I should have probably started sooner, but this is a new program and I wasn't really sure that I qualified or that had a project in mind to work on. So it was a little bit of a last minute decision. This is the third grant like this that I have received, but the application process has all been fairly similar.
The application
The application starts with a section about eligibility and qualifications. For this grant, for example, I had to be a resident of MN and "have a history of engaging MN citizens in the arts" among other things. This program was specifically designed to help artists stay engaged with their audiences throughout the disruptions caused by the pandemic.
Compared to many other applications, this one was relatively simple. It had a narrative section which asked you to answer three big questions, a basic budget form, and a collection of links to work samples. This is actually the first application I've done which didn't require me to submit photos, which I thought was kind of awesome. Instead you could submit links to web pages, articles, videos or other media that demonstrated your history of working in the arts. I loved being able to link to projects on my website like my "I Spy" utility box covers or the "Reflected Wardrobes" collaborative art I did with participants at the Museum of Russian Art where I think you can get a much better sense of the whole project. All of those include photos of people making art with me, which I think reflects the project so much better than a single photo of a finished piece.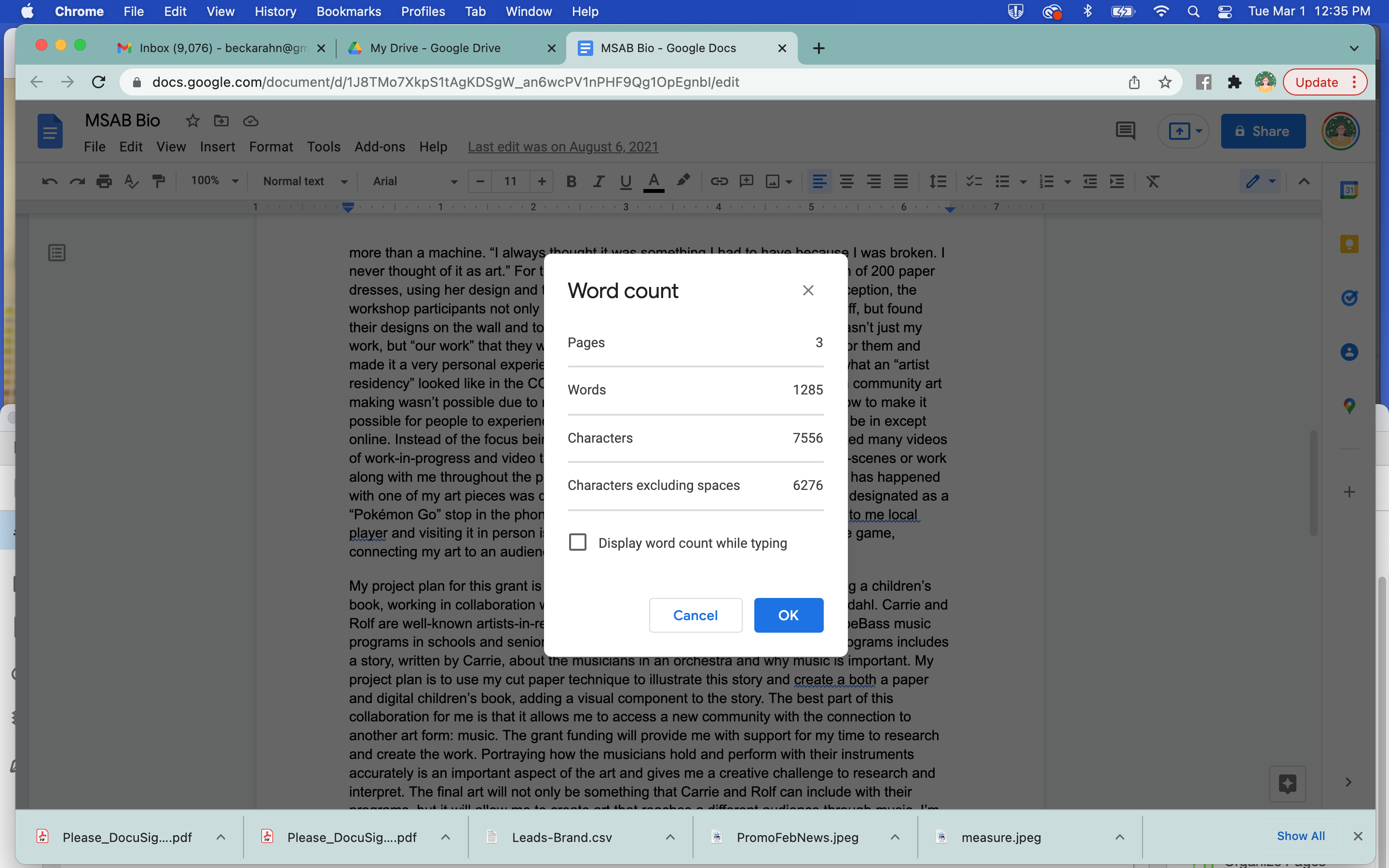 The narrative section is basically where you have to convince the panel that you have a solid project idea and that you are qualified to do it. These sections always have a limited word count and it's never enough. I always end up having to cut and cut and cut what I write to get it to fit into the 5500 characters. For this grant I basically had to answer three things:
How have you engaged Minnesotans in the arts as a creator, performer, or teacher of art? Describe how others have interacted with you and your art. Provide as many examples as you can, given the space provided.
As a creator, performer, or teacher of art, how will you use the funds to remain connected with your community during the FY 2022 grant period?
Reviewers will not see your applicant background form. Please use this section to tell the reviewers what you want them to know about your identity including your cultural background, ability or disability, or geographic location. If these characteristics of your identity influence the work you do as an artist or culture bearer, please describe how. Describe the connections you have to underserved communities as an artist or culture bearer. Underserved communities may include, but are not limited to, residents and communities in greater Minnesota; individuals with disabilities; veterans; individuals in institutions; individuals who are black, indigenous, and/or people of color; LGBTQIA communities; older adults; or others.
Picking a project & goals
For this grant I decided to focus on reaching new audiences. Because of the work I do, which is primarily textiles and clothing related, the people who come to my community workshops are predominantly women. My social media audience is primarily women. I really wanted a project that would help me reach a more diverse audience. So I decided to do something a little outside of my normal work.
In the past few years I have been incorporating more and more paper into my work and somewhat less fabric. I love working with both, but it has been a really practical choice as well. Much of what I love to do with my work is to create collaborative community pieces where I work with a group to make art together and then create larger installations or finished pieces with elements from the participants. But cost is always a factor when doing these projects and very simply, paper is much less expensive to work with than fabric. Accessibility is always a huge consideration for me. Not only is paper less costly, but people are often much more comfortable working with it as beginners. It feels more approachable; you don't feel like you need to know how to sew to participate.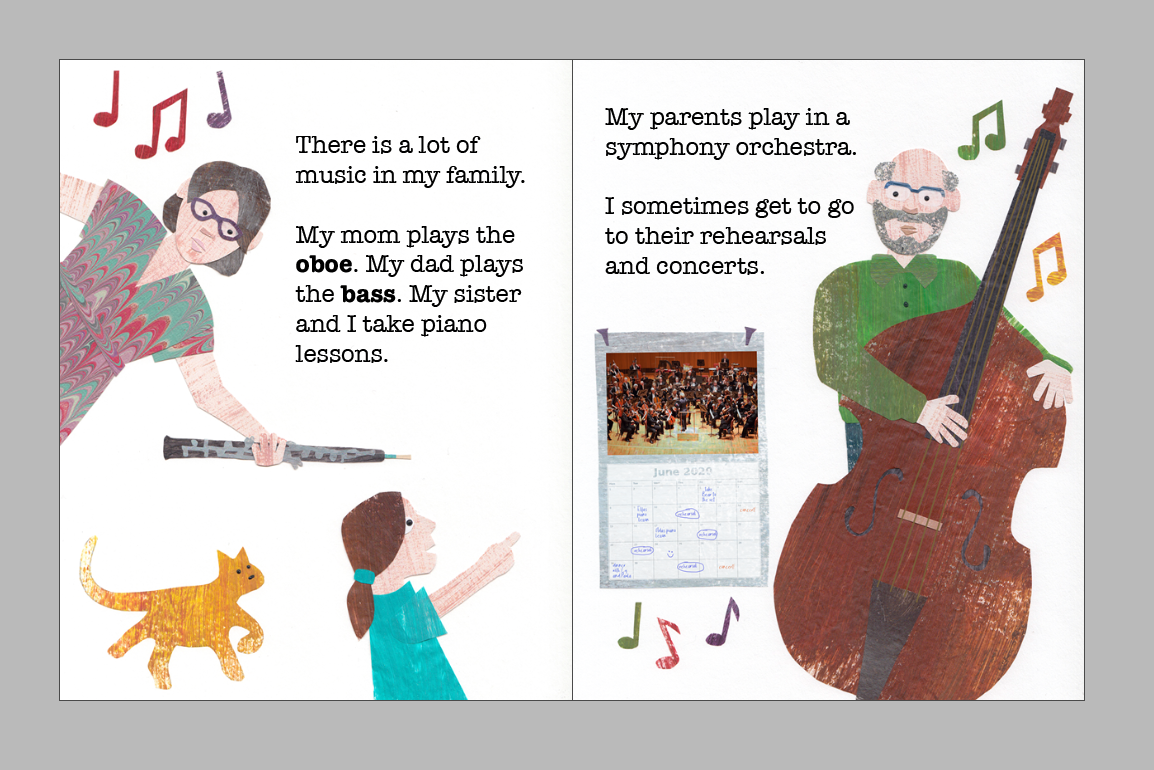 So here's a tiny sneak peek of the project I proposed. My friends Carrie and Rolf aka OboeBass are professional musicians. They do music programs in schools and senior centers all over the region and one of the programs they do uses a story that Carrie wrote about the musicians in an orchestra and the jobs they do. They tell the story and play clips of music, but we have talked for years about how it would be awesome to have a book to go along with the story. So my project is illustrating that story called "Ada's Orchestra". The illustrations will all be done as cut paper collage made in handpainted and recycled paper. This is a technique I use all the time for designing fabrics. (In fact some fabric designs might come out of this project too!)
I did just a couple of pages before I applied for the grant just to test out the idea and see if it looked like it would work and that Carrie and Rolf liked the look and style. I have two big challenges with this project: creating the instruments and making people. The biggest challenge for these designs will be the instruments. It's really important that they look like the real instruments, but I can only do so much fine detail in cut paper. So it's a balance to make sure I get the shapes just right to capture all of the important parts of the instruments. You can see my oboe and the bass here, but the bass is missing its strings and a couple of other tiny pieces that I will add using Photoshop. The second hurdle for me is that I really don't like drawing people; it was a real mental block for me to convince myself I could make something I was happy with. Because this story is about people.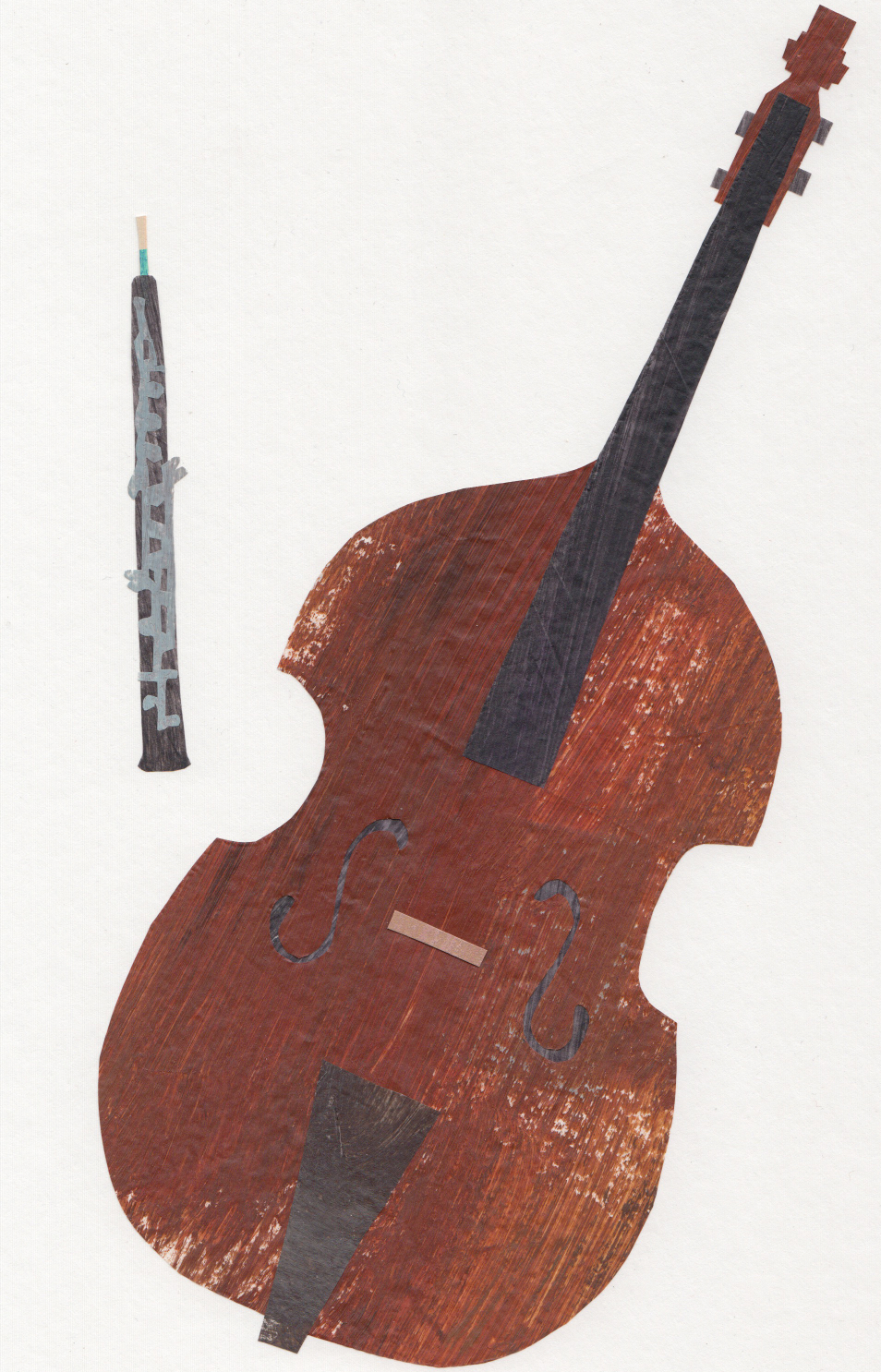 Finishing & waiting
The whole application took me about 6-8 hours to write, edit and complete all of the forms. My mom was my proofreader. I polished up the pages I'd linked on my website and quadruple checked that everything was complete.
Then you submit and wait. The applications all get reviewed by a panel of about 12-14 people that are all from the arts community. I have been a panelist on other grants and it's an awesome experience and a LOT of reading. Panels are usually made up of people that work in all different kinds of art. I am a visual artist, but on the panel there will be dancers, musicians, theater performers and technicians, and arts administrators or the people who keep all of the arts organizations running from day to day. They read and discuss the applications and then give a score based on how completely you answered the questions. Sometimes you can listen to them discuss your application. I did for this one and it was totally nerve wracking hoping that they would "get it" and believe that I could do this project. I always learn a lot listening to the questions and concerns they have. They really thought this would be a great way for me to connect to some new audiences connecting through both book art and music. I'm glad they thought so!
Finally the panel makes recommendations and the State Arts Board meets and approves those recommendations for funding. I found out that I got the grant in mid-January, signed a bunch of paperwork, and today was the first official day that I could start working on it. One of my goals was to write and share a lot about the process of creating this book, so you will see more posts as I go. To celebrate today being the start day I did a little work setting up files to be ready to drop illustrations into and now I am going to go order some paint so I can start making more handpainted papers to start cutting and glueing.