Imagine putting on a blindfold. Then adding some earplugs. And then stepping into a room to teach a two hour class.
I LOVE teaching virtual/Zoom classes. If there is one spot of sunshine that came out of the past few years for me, it's the acceptance/accessibility of online teaching. I jumped in to learning the technology enthusiastically. And I now teach something via Zoom every week from my studio table. It's awesome.
I remember one of the late-2020 classes I taught had a group of 18 or so students and every single person had their camera and microphone turned off. I'm not complaining even for a minute that everyone chose to do that. There are many reasons to NOT have your camera and microphone on and they are all good ones. I support that 100%. But what I didn't expect was how hard it was to teach when there is no feedback at all from students. I felt a little like I had to relearn how to do it.
It takes a lot of energy.
Until I was faced with an entire screen full of black rectangles, I didn't realize how much I relied on simple feedback like students nodding or looking up from their project to know when it was time to move to the next step. It's a like a conversation. I share something and then students share something back with me. But when there's no feedback, it's like shoveling snow. You just keep scooping up the next bit and stepping forward until you get to the end and then you stand there panting.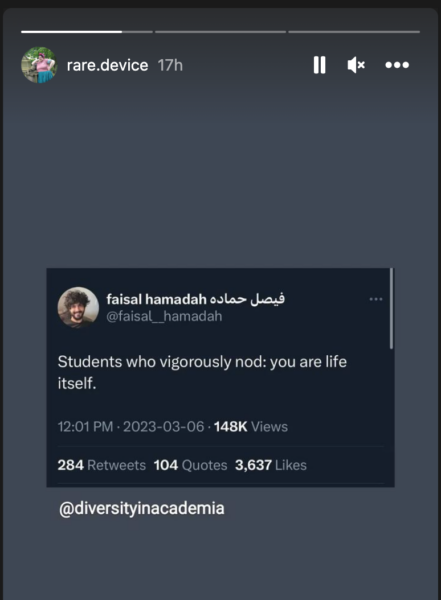 "Students who vigorously nod: you are life itself." This quote popped up today in my Instagram stories and I couldn't agree more. Those nods and smiles and thumbs up are like little shots of espresso. More so than I ever imagined.
The more I thought about it, the more I wanted to write this post with a few "Teacher Confessions" or things that I suspect students don't know but that make my job a thousand times easier and more fun.
1. Questions are never dumb.
I was thinking about a class I taught a few weeks ago. It was a small one and started out with everyone watching quietly from their black boxes for the first 45 minutes. But then someone unmuted and asked a question. And it was like that broke the ice. Soon there was another question and then a comment. And then a "me too" in the chat. And suddenly we were having a conversation.
I wanted to give that first question-asker a shiny gold star sticker! With an in-person class, I can watch and see if anyone looks puzzled or is struggling with a step and I can show a demonstration a different way or explain it differently or do it again. I watch for that. But virtually, I can't see what anyone is doing so I don't know when to repeat or move forward. Until you ask a question.
2. Sharing is even better than questions.
I am not one of those teachers who believes anything is "my way or the highway". I'm there to show you the way I do a thing to get a specific result, but I know that there are always many ways of accomplishing that end result, sometimes more and less successfully. In another class we were working on something with a specific step that we did over and over. So we all had some time to practice this new skill. After a few repeats, someone asked a question and instead of just me answering, another student added "I moved my hand this way and tried this" and someone else said "It was easier for me when I tried it this way". That, my friends, is like winning the lottery. Not only did I learn a new way of thinking about it, but everyone else now had three ideas for ways to do this thing instead of just one.
3. Questions + sharing = community experience.
There's an invisible thing that I think happens when everyone is participating in the conversation too. When someone asks a question, you might think "Oh I wondered that too." or "That makes so much sense now to me too." If you try something another student suggested, you suddenly have something in common with that other person too. It's a shared experience or something you did together. You had the same question, tried the same thing, had the same success or flop. Suddenly it becomes something "we" did, instead of something "I" did. It's a little like that feeling of watching a movie in the theater and everyone lip synchs the line "My name is Inigo Montoya. You killed my father. Prepare to die." It makes you a part of something special. You walk away with a smile.
As teachers we all say "Please ask questions" but the confession part is that I really do mean it. It helps me as much as it helps you (and probably everyone else too.)
When last we checked in with our construction adventure, we had floors. We now have plumbing and electricity and paint and bookcases! The project is actually really close to being finished at this point. But then we had to wait for the snow.
So once we got all of the floors done, they immediately covered them all up with brown paper so they could continue to work without anything getting damaged. Then our carpenter came in and started doing the woodwork. The whole downstairs of the house has all of the original 1920s oak woodwork and we asked them to match downstairs with all of the new stuff. And it's just gorgeous. They recreated the wide base mouldings and the trim around all of the windows. And the paint crew color matched the trim downstairs too. Even though it's brand new construction, that little detail really makes it feel like it all belongs to the same house. I am never in to popular trends and I really don't like the minimalist/modern/Scandinavian style that's everywhere right now, so that meant creating custom mouldings and so on. We figure this is a once-in-a-lifetime project so we are doing it "right".
This little nook is a fun detail. There was originally a hole in the wall here where the previous owners had a space heater. It didn't pass inspection when we bought the house so they ripped it out and there was just always just a hole here where you could see the original chimney from the old furnace. Instead of just covering that up, we added this electronics nook. It will have a glass shelf inside and it's got USB and regular outlets wired right into the side of the cabinet. So we can charge all of our phone/iPad/watch devices. It is right next to where the foot of our bed will be so it's perfect to drop things off when you go to bed.
We also built in bookcases specifically for our board game collection. We have a lot of them and they need a deeper shelf than a standard bookcase. These took a little back and forth with our contractors because, not being big board game geeks themselves, I think they didn't understand when we said they needed to be both extra deep and extra sturdy. We had them paint the inside of these a color called "Indigo Batik", which so far is the one little pop of color upstairs. The shelves aren't there in the photo because they are still working on them, but they will also be blue with a little oak strip across the front.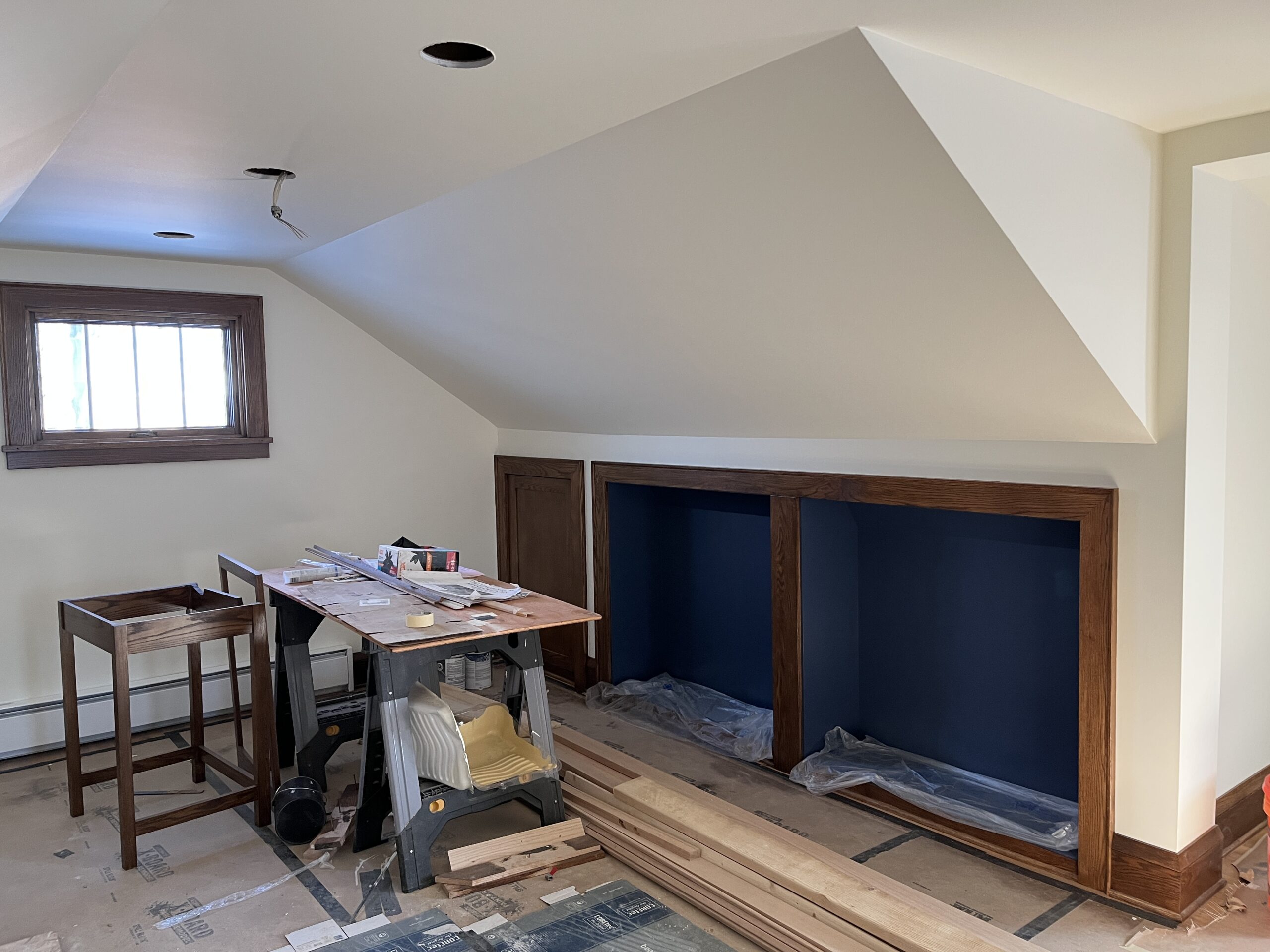 And finally the bathroom is finished except for a last little bit of grout and caulk. One of the treats that I wanted as part of this remodel was to get some tile from my friends at Clay Squared to do a detail in the bathroom. I love tile and as much as I would have loved to do the entire bathroom in one of their tile colors, that was a little out of our budget. So instead I got 5 boxes of their "seconds" tiles in two colors (Pesto and NorthShore) and two sizes and I worked with our tile guy to make a stripe pattern that goes all the way around the bathroom. You can see that in the photo up at the top.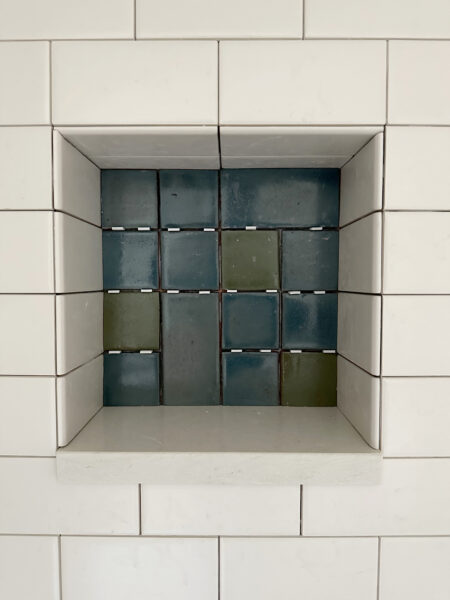 We paired that up with some creamy white subway tiles on the walls and tiny hexagons on the floor. I couldn't love it more. The last few tiles we added to the back of the shelf nook inside the shower. The electrician came back and finished the lights and the heat last week. We've had no heat at all in the space since October, so that has been really nice and cut down on the drafts downstairs. The plumber hooked up all of the plumbing so the bathroom is all ready to go. And both the plumbing and electrical got final inspections.
Today they were supposed to put in the rest of the windows but with 2 feet of snow on the way and lots of crazy wind we all decided that it would be better to wait for next week. So it's been really quiet the last couple of days for a change.
Edith from Renaissance Ribbons reached out to me a little bit ago with a question. She had read my post comparing Spoonflower's Celosia & Performance Velvets and wondered if I would share my thoughts about the digitally printed velvet borders that Renaissance Ribbons makes. I thought it sounded like a great follow up to that post, so I asked her if I could share my thoughts here. Edith sent me a couple of samples the next day. (In the interest of transparency, other than providing those samples, this post was not sponsored in any way.)
First impression is that the Renaissance velvet borders are beautiful. Which is exactly what I would expect because their entire shop makes me feel like a kid in a candy shop. The color is rich and vibrant and the print quality is outstanding. There are very fine details in the two designs I saw and those are crisp and precise. The one thing for me that was unexpected was that the pieces were unfinished on the edges. Coming from a shop with ribbons in the name, I assumed that they would be like ribbon with a finished edge, but they are actually just cut pieces of velvet with a built in selvedge of extra color at the edge. I don't think there's anything wrong with this at all, I was just surprised and this wasn't mentioned in the descriptions of the velvets that I saw on their site.
How do they compare to Celosia Velvet from Spoonflower?
I started by laying out a piece of Renaissance Ribbons Border (top) next to a piece of Celosia velvet (bottom) that I had printed in one of my designs. The first thing I noticed was that the RR Border has a very matte finish compared to Celosia. At the bottom of this photo you can see a little of the sheen that my camera picks up in the Celosia. Other than that fabric finish, the colors are very comparable in the vibrance and saturation.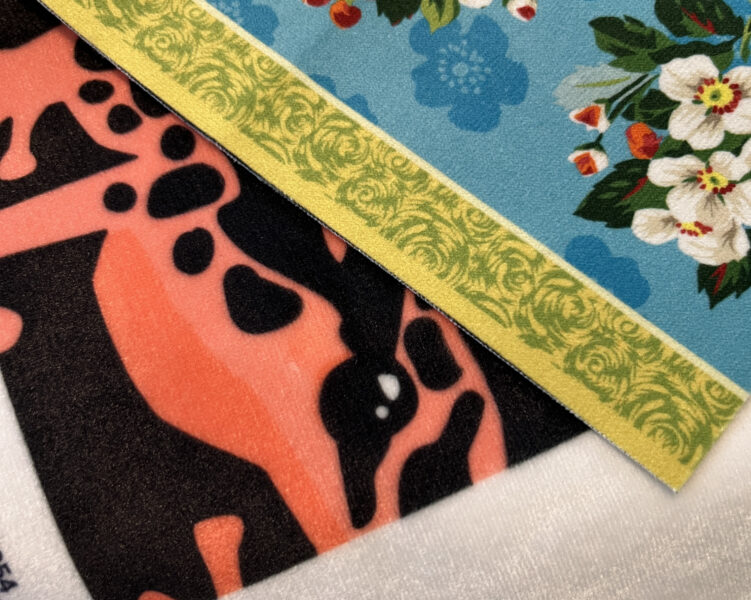 I flipped them over to take a peek at the back. They are both a woven fabric with a very similar look from the back side. The back of the RR Border is a deeper cream color, but the white parts of the design on the front are a nice crisp white. Unlike Spoonflower fabrics, which you can get in a variety of sizes, the Renaissance Ribbon borders come as a 5 inch strip, 1 meter long, which is ready for you to add into your project.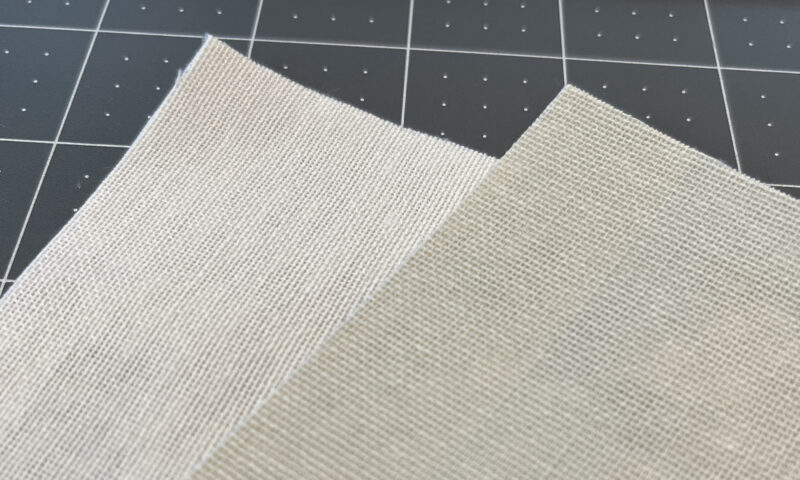 When I crumpled and played with the drape and hand of the fabrics, both were very soft. The RR Border has a little stiffer hand and has less drape than Celosia. I think this is a great feature in something designed to be a border. I would expect that to be pretty stable. Spoonflower says that the pile height on Celosia velvet is about .5mm and I would say that the RR Border is maybe half the thickness of that. I held the two up next to each other so you can see an edge on view. I also think a slightly thinner fabric is probably good for a border, which is designed to be sewn on to something else. Celosia is meant to be a little more like an upholstery weight fabric, so that makes sense that it needs a little more thickness.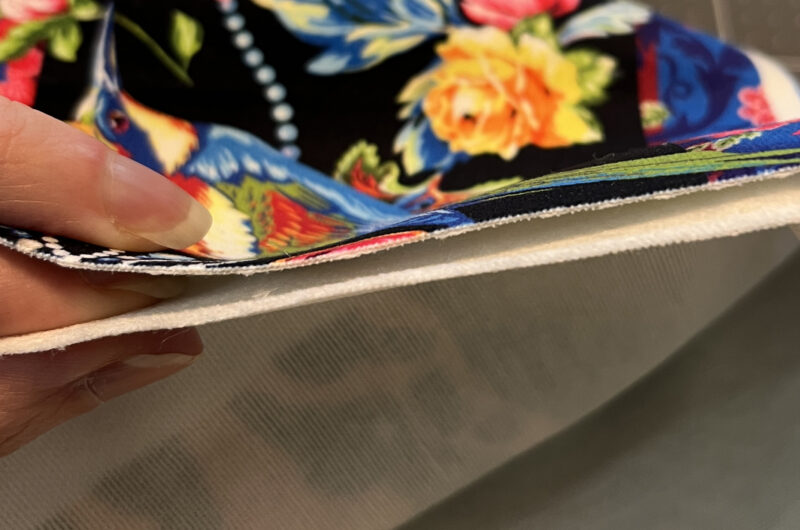 Overall, I think these borders are a great idea and the two dozen or so designs they have on the site are all rich and decadent looking. You can't design your own like you can on Spoonflower of course, but they have an impressive collection of guest designers (Kaffe Fasset, Tula Pink, Mary Engelbreit, Amy Butler) so there's a lot to choose from in velvet or their other woven ribbons. It was fun for me to have an excuse to look at some digital prints from an entirely new source.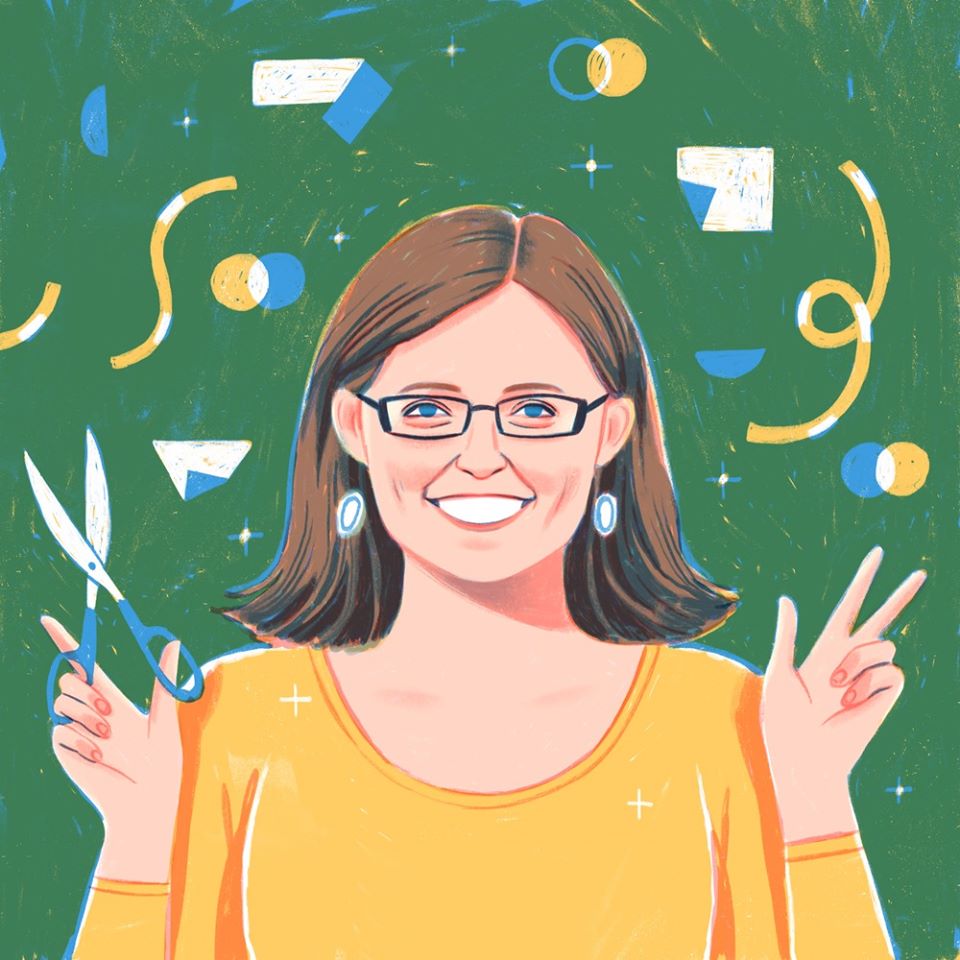 Talking about fabric design, Spoonflower, teaching, and the life and business of being an artist.
Teaching online and in person classes in embroidery, handcrafts, technology, fabric design and artist business skills.
Making wearable art and fiber art geekery.